Aviators are one of the most innovative products in eyewear and offer the most iconic shape in terms of style. Be it glasses or sunglasses, aviators have always ruled the eyewear industry.
Aviator started as a medical necessity for pilots flying planes and soon was adopted by other professions such as the police. Ray-Ban was the first brand to produce aviator, a distinct style in the market. With time, the requirement of having aviator glasses evolved into a style statement, but that's no surprise, as the aviator shape is one of a kind and a star in itself. From flying planes to conquering Hollywood or styling your everyday look, they have dominated it all!
Aviator glasses are as good as sunglasses. You can find this style with many brands such as Marc Jacobs, Superdry, Tom Ford and many more. However, you might or might not be an aviator person; it will depend on your face shape.
Not sure if the aviator style will complement you? Have a look at our list of face shapes that go well with this style.
Oval Face Shape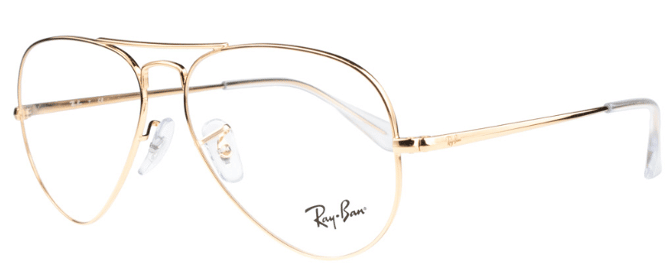 If you have an oval face shape, consider yourself very lucky as most frame shapes suit you. This face shape displays a balanced look with beautiful, rounded symmetry.
Try Ray-Ban Aviator RX6489 3094 55 Rose Gold glasses; they're a chic and feminine accessory for women. This lightweight frame has adjustable nose pads keeping these glasses comfortably in place throughout the day. A broader frame such as this will create more dimension across your face.
Triangular face shape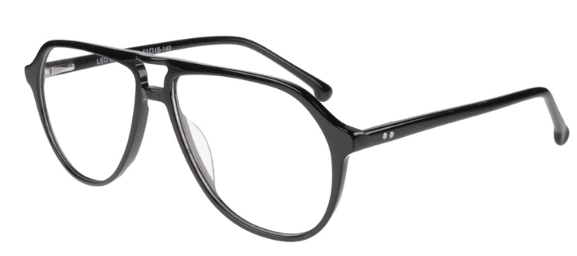 This face shape is usually narrow towards the head and broader towards the jawline. To create more definition towards the upper half of the face, frames with a thick upper frame and heavy brow help create proportion and fullness, such as FGC Leo C1 Shiny Black glasses. This aviator model is sure to add some opulence to your everyday look. Featuring the traditional teardrop shape and thick frame, they are good to pair up with anything and everything. This fantastic model is a brilliant dupe for not Ray-Ban.
Heart shaped face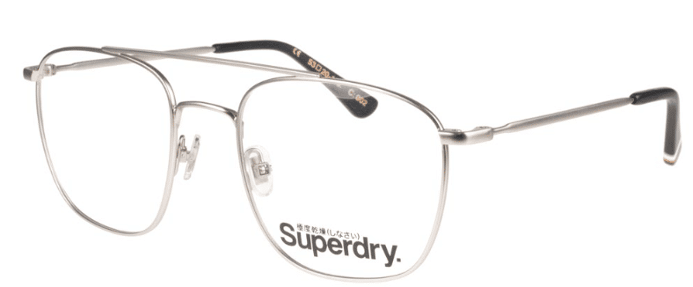 Most suited for aviator style, this face shape features a broader forehead and becomes slender towards the bottom. Rimless frames can add a soft touch to your look. Frames such as Superdry SDO Kare 002 Silver can be a great addition to your collection of aviator glasses. This model is classy and will go with a range of outfits.
Avoid aviator-style glasses if you have a round face shape. The teardrop structure of these glasses will make your face looker fuller, rather, you should opt for shapes such as rectangles or squares. Such shapes will help give dimension to your face shape.
However, if you don't have any of the above face shapes, you can still look for aviators with different styles. With time, aviator style has evolved, you can find a variety of styles under aviator and find the perfect fit for you!
Before making the purchase, you must keep certain pointers in mind:
Pick the frame shape that suits you
Select the size of the frame very carefully, you wouldn't want a frame too big, or too small or it can make for an uncomfortable fit
Select your preferred lenses:
Blue Light – these lenses will protect your eyes from digital screens, best for those who have excessive screen time
Transitions – opt for these lenses to convert your glasses into sunglasses (glasses turn dark) when exposed to sunlight
Sun- tint – these lenses feature a full dark tint on your glasses, turning them into prescription sunglasses
If you're still unsure about the glasses, you can try on your shortlisted glasses virtually, most retailers such as Feel Good Contacts feature this option for their customers to make their decision easier
Did you know you can buy aviator prescription glasses online for less? There's more, you can buy your favorite pair without a prescription too! Try Feel Good Contacts, one of the UK's best and most trusted eyecare retailers. They can help you save up to 40% on glasses when you buy them. You can also benefit from 10% off your first order. If you're unsure about the price and you're just after the aviator style but not a specific brand, you can check out their Feel Good Collection Glasses that provide excellent quality at affordable prices.
Remember, if you're not an aviator person, you have a heap of choices out there in the market to select your perfect frame from, it definitely isn't a lost cause.