If you are passionate about gaming and use gaming PCs, then you have heard about backlit keyboards. These keyboards are also known as illuminated keyboards that have lights fitted inside them.
The lights inside the keyboard deliver illumination around and behind the key, so they are visible in dark environments or low light. The source of light is often made of mini LED lights for increased brightness and energy efficiency.
Most gaming keyboards come with backlit features, and these are famous among gamers. Moreover, you can also use this keyboard for other works.
So, if you are looking for these illuminated keyboards, check out the best keyboards in the tech market.
Best Backlit Keyboards in 2023
A fully-lit keyboard can increase your working productivity whether you use it in your home or office. Additionally, keyboard designs have also experienced big improvements in recent times.
Wireless connectivity, backlighting, comfortable ergonomic shapes, more functions and more keys are some common improvements in branded backlit keyboards. It is wonderful to see how something as fundamental as a keyboard can be developed in various ways.
The brands below provide the best-illuminated keyboards you can get on the tech market. In addition, it will support you in making the proper choice depending on your requirements.
1. Logitech K800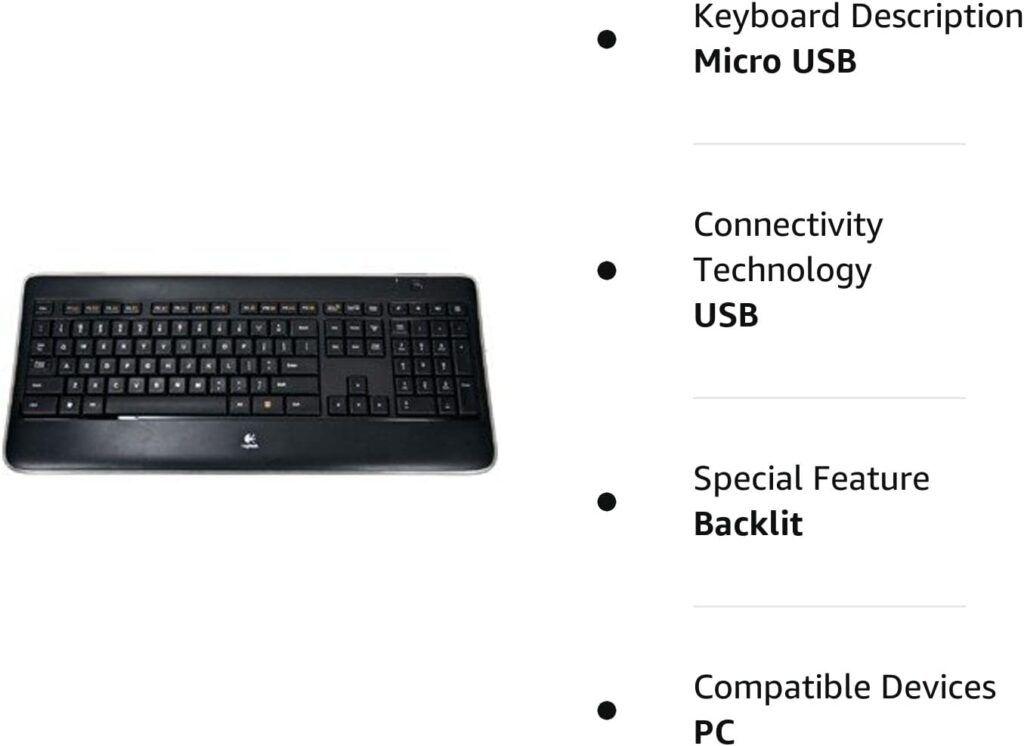 If you want convenience and style in one single illuminated keyboard, the Logitech K800 will be the best option for you. It also offers the best typing experience with comfortable, quiet and fluid typing. Moreover, it features a modern appearance with curved corners.
Logitech K800 is a complete wireless keyboard and removes any requirements for cords and clutter running across your game or work surface.
Here are the features you will get from Logitech K800:
2.4 GHz interface with USB wireless receiver.
Laser-etched keys, Logitech Unifying Receiver, Logitech Incurve keys and perfect stroke.
Integrated palm rest feature.
Rechargeable keyboard with USB port.
Windows 10,8,7, Vista and XP support compatibility.
Powers with 2 AA batteries.
This Backlit keyboard will give you a more convenient working experience even when the lights are not bright enough. In addition, Logitech K800 illuminates its keys for the user, and you can turn it by simply waving.
2. Soke-Six Backlit Keyboard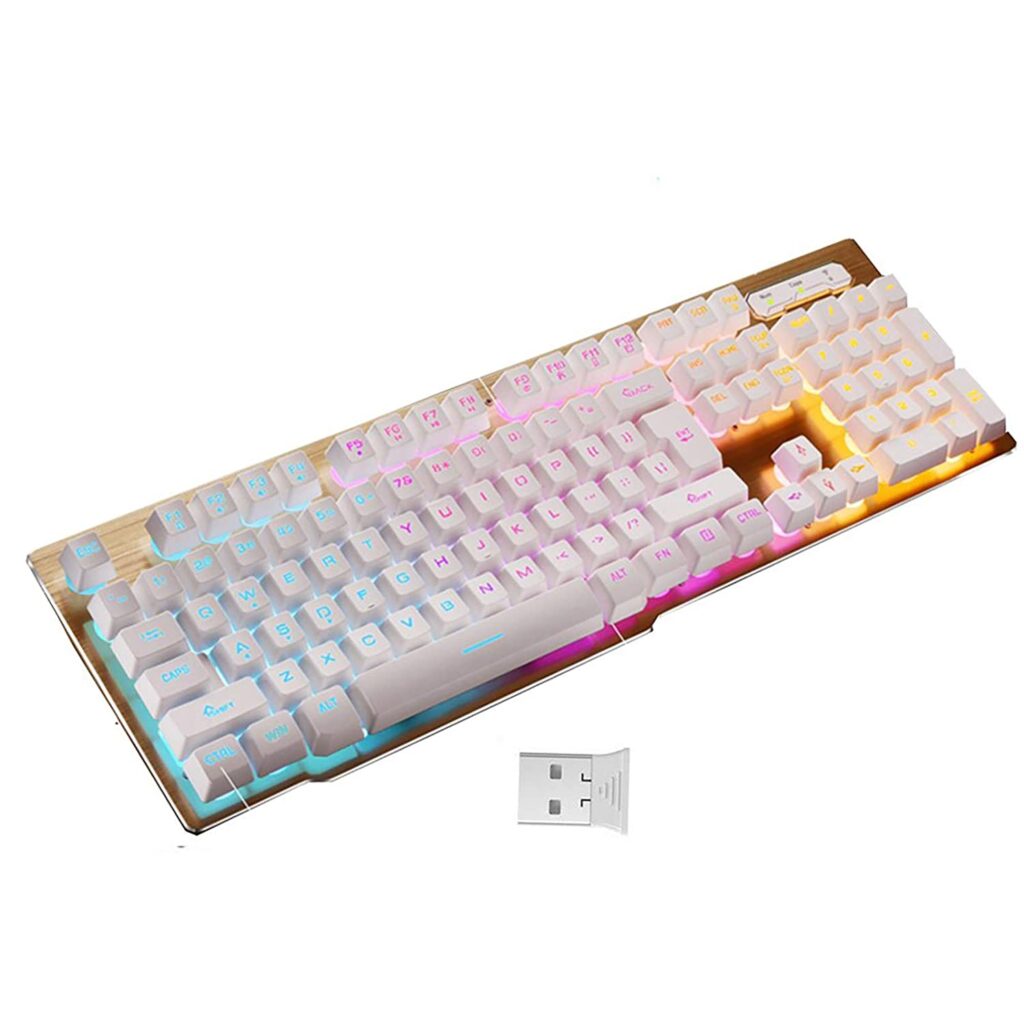 The soke-Six keyboard features a 2.4 GHz quick-charging accessory that illuminates your keys. Regardless of your room's light level, you will never keep up with the work you are doing if the lights go out. This is where you need this keyboard.
Let's have a look at the features you will get from the Soke-Six keyboard:
Chargeable Lithium Battery.
Compatibility: iPhone, iPad, Android, Mac and Windows.
Dimensions: 1.38x 5.39 x 17.6 cubic inches.
Multimedia control keys with 2.4GHz interface.
USB 2.0 Hardware connectivity.
Soke-Six Backlit Keyboard offers suspended keycaps with an illuminated mechanical experience. If you are a gamer, then you will definitely like this keyboard that comes with full control of most applications.
The Soke-Six keyboard comes with dedicated FN multimedia keys by which you can control videos and music volume. In terms of its design, this keyboard employs a metal wire drawing panel, reinforcement and thickening.
It also offers a border-polished appearance, elegance and decoration. Made with an ergonomic design, the Soke-Six keyboard adopts an engineering streamlined key layout for a comfortable writing experience.
You can switch the LED lights to suit your requirements with adjustable LED backlit modes. In addition, this illuminated keyboard also features fast-charging support that permits you to enjoy its convenience with a 1000 MAh large-capable Lithium battery. With full charge, this keyboard can run up to 5-6 days and its charging time lasts up to 5 hours.
3. Pesp Keyboard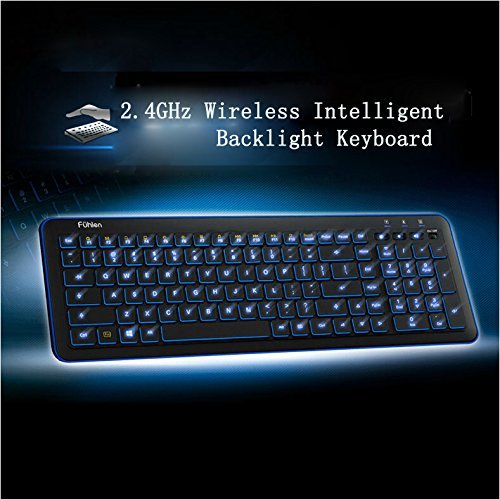 The Pesp ultra-thin backlit keyboard is another wireless gaming keyboard that comes with a USB receiver for PC connectivity. It is each gamer's wish to land a better keyboard that will provide the best gaming experience.
Pesp Illuminated Keyboard is a combination of that, with its exceptional ultra-thin design that permits portability.
Here are the features you will get from Peso Illuminated Keyboard:
In-built Lithium Battery
Compatibility: iPhone, iPad, Android, Mac and Windows
Power off/on the switch with multimedia control keys
2.4 GHz interface with USB mini receiver
USB 2.0 hardware connectivity
Backlit – laser-etching
Up to 10 Meter wireless transmission
Pesp backlit keyboard offers you an opportunity to control your gaming experience with the "Intelligent Hands Recognition Technology". Additionally, you can adjust the light levels through Fn+F6/F5 keys depending on the lighting of your room.
It is a plug-and-play keyboard with a portable USB receiver connection and is fitted with 13 multimedia control keys. It will help you to manage your video playbacks, web players and your music according to your requirement.
4. Matias Keyboard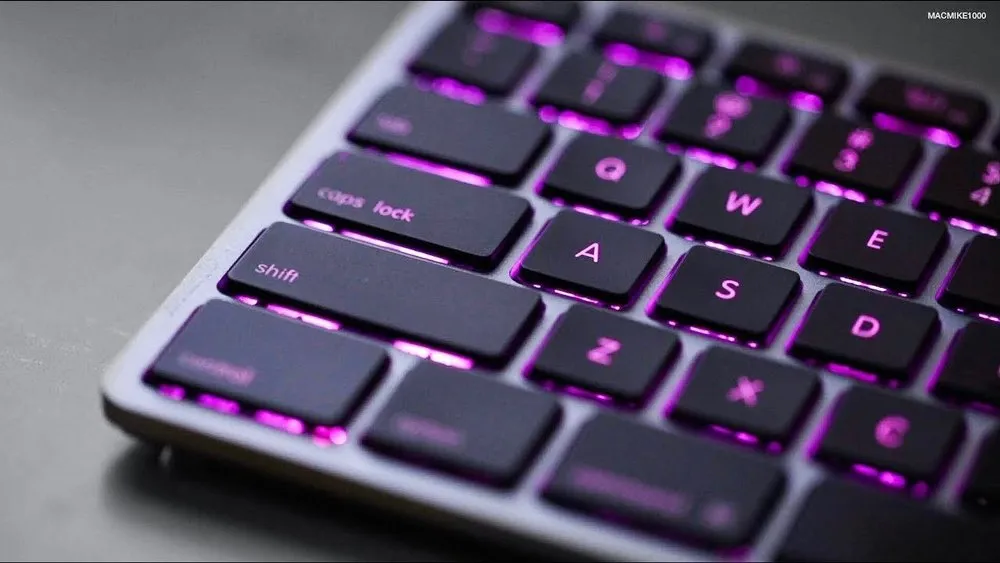 The Matias backlit aluminium keyboard serves multiple users of various devices. You can enjoy its convenience through your PC, smartphone or tablet via Bluetooth.
Matias keyboard makes your work easier by working with up to 4 connected devices through 1 keyboard.
See the features it offers you for your convenience:
Compatibility: Android, Mac and Windows.
Bluetooth reception with 2.4 GHz interface.
USB 2.0 Hardware Connectivity.
Adjustable Backlit feature.
The Matias Blucoil backlit keyboard features a dedicated battery. It means the power runout chances can be dealt with an activated backlit keyboard. The dedicated battery should run between 1 and 2 weeks between charges on usual usage.
Moreover, you can pay for up to 4 devices with the Matias backlit Bluetooth keyboard. All you have to do is press a button to switch between the connected devices. The keyboard adjusts the layout to match every device at each switch, whether Android, iPad, Mac or Windows.
5. TeckNet Universal Keyboard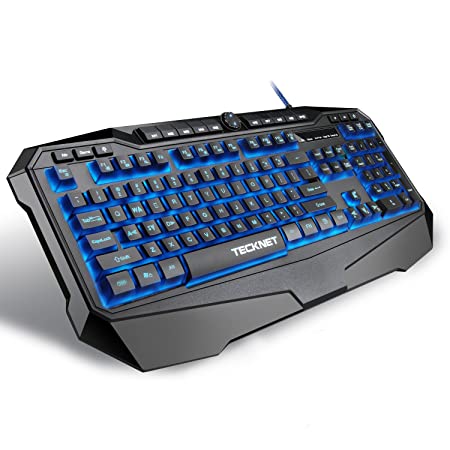 If you are looking for an advanced-featured backlit keyboard, then TeckNet is one of the best options for you. TeckNet comes with a universal ultra-slim backlit 7- colour adjustable keyboard. This is the appropriate keyboard for individuals who want the best innovation in keyboards.
You can use this keyboard regardless of your room's lighting condition or the distance between the PC and it.
Check out the features of the TeckNet universal Keyboard:
Built-in rechargeable Li-Po battery.
Supports iOS, Android, mac and Windows.
Bluetooth 3.0 reception with 2.4 GHz interface.
Backlit illumination with 7 colour options.
You can use the Ticketnet backlit X366 keyboard all day, letting you type in style with the elegance it presents. Use it whenever you feel comfortable with strong Bluetooth connectivity up to 10M.
Characters in this keyboard are stacked from your highest convenience. They are sharply and brightly backlit making reading easier. In addition, it is furnished with an in-built rechargeable Li-Po battery that runs up to 200 hours without being backlit.
You can also enjoy auto-save technology for saving power when ideal and ensuring an extended standby time.
6. Corsair K63 Gaming Keyboard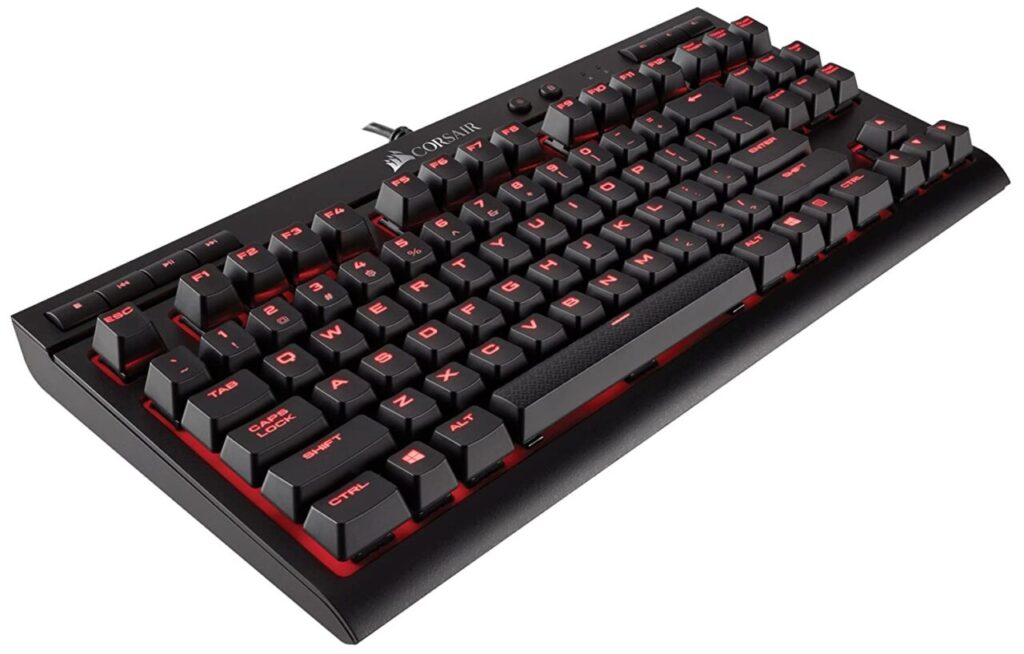 The Corsair K63 provides a blend of multi-hour comfort and service for various lightning ambiences. Don't worry if your room lights are not bright enough, and this gaming keyboard offers great illumination.
Corsair K63 is one of the most popular backlit keyboards that come with a large range of features like:
Media control shortcuts and hotkeys.
Cherry MX red mechanical keys.
128-bit AES encryption.
2.4 GHz interface.
1000 Hz HID keyboard report rate.
LED backlit with Bluetooth 4.2 wireless connectivity.
Supports Windows 7 or advanced versions.
You can enjoy a continuous gameplay experience with this illuminated gaming keyboard. Moreover, Corsair K63 comes with an integrated lapboard with a "memory foam cushion" to offer you a better gaming experience.
This backlit keyboard comes with a per-key blue LED backlight. You can buy it in a stack with the lapboard. You can now experience ultimate gaming freedom with the turbo 1ms 2.4 GHz wireless connection. It also has gold contacts and Cherry MX mechanical keys that ensure precise and fast key presses.
Corsair K63 also features USB wired and low latency Bluetooth connectivity. Equipped with 128-bit AES encryption, it assures you no eavesdropping through these keystrokes maintaining data safety.
On the other hand, the Corsair utility engine provides you with the independence to assign macros to any key or personalise dynamic lighting effects.
7. Logitech MX800 Backlit keyboard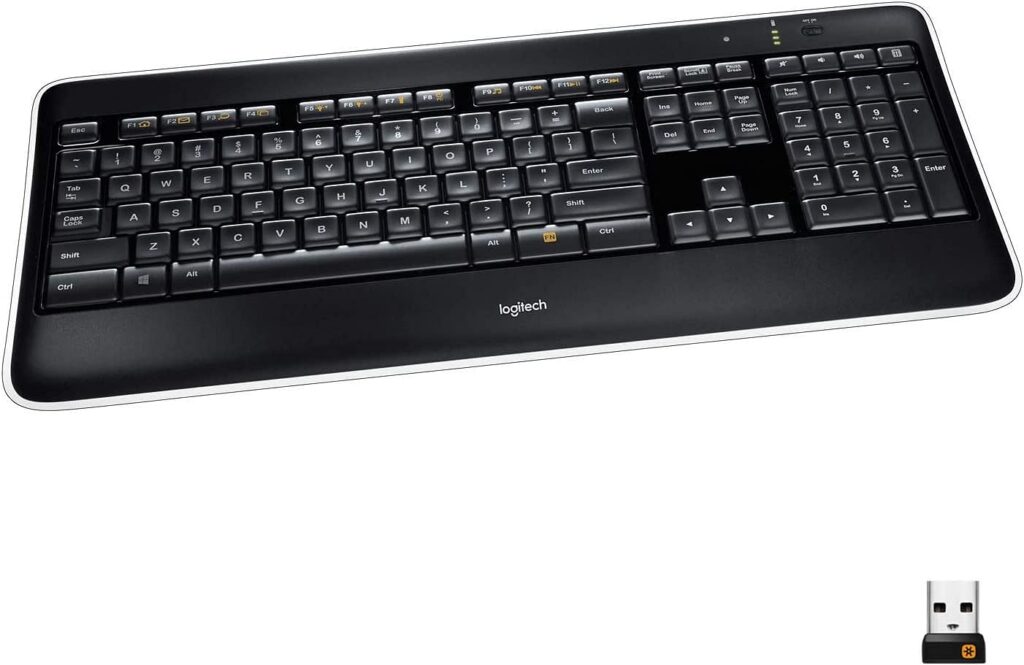 Logitech MX800 backlit keyboard with smart backlight offers the conventional 2 numeric sections, yet with advanced specs. It possesses wireless technology, making it convenient for you to work easily from any corner of your room.
You can move with the Logitech MX800 keyboard across your room without inconveniencing yourself whether you want a close range from your PC.
Here are the features you will get with this keyboard:
Adjustable keyboard angles and height
Logitech Incurve keys
Integrated palm rest
USB wireless receiver
2.4 GHz interface with backlit illumination
In Conclusion
Apart from the above-backlit keyboards, you can also use Logitech K830, HP K500F, EvoFox Fireblade, and many more. A self-lightning keyboard is an attractive gadget that most gamers want for an excellent gaming experience. So, get the best-suited keyboard for your comforting and enhanced gaming experience.