Domain authority of a website is one of the key measures of Google ranking and tells how well your website is performing on search engines. The more authority a website has, the better it will score on Google.
After reading this article, you will learn the following
What is the domain authority of a website?
Why does domain authority matter for SEO?
How can you calculate the DA score of your website?
How can you boost the domain authority of your websites?
What is the domain authority of a website?
In simpler terms, domain authority is a simple metric to analyze your search engine optimization SEO efforts and success.
Shortly, the domain authority is a scale that gives a score to the website from 1 to 100; 1 is considered as the worst, and 100 is considered the highest. According to SEO Melbourne specialists, the Moz DA score is a useful metric for understanding the ranking potential of a website. Generally speaking, the higher the domain authority, the more likely a website is to rank for highly competitive search terms.
Now you will be wondering what does it mean. Right?
Moz, a famous digital marketing hub, has developed this metric, Domain Authority.
Consider this a logarithmic ranking score for a better understanding of placing the websites on different search engine results pages.
Moreover, it measures how well the search engine results pages can classify your domain (SERPs).
Why does domain authority matter for SEO?
The domain authority is a measured factor depending on how Google ranking rules apply to the website. Google has almost 200 ranking components to go through before ranking a website.
This is the reason why SEO experts and webmasters find it difficult to keep an eye on their website's overall performance.
Here, the domain authority score comes in handy because it works by analyzing many Google metrics and determines one score that can define a website's relative performance and reliability.
This also tests how many positive links are attached to your Website, how many visitors visited your website, and many other rating criteria in Google, all of which add up and earn you a score.
As competition between different websites continues to grow digitally stronger day by day. So, it has become important for SEO to keep its domain authority (DA) high in order to keep up with the competition.
How can you find the DA score of your website?
You can find the domain authority score of any Website by using Moz or the online bulk DA checker. Paste URLs in their input box and get results in seconds.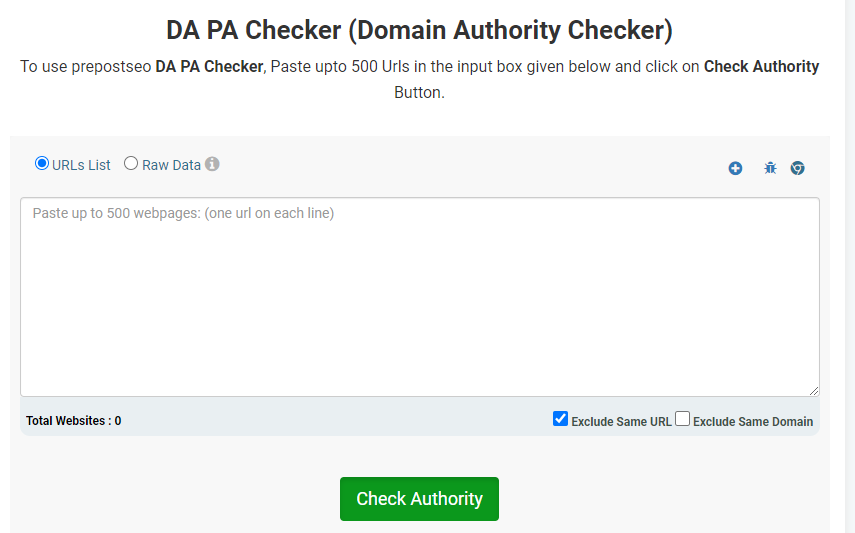 How can you boost the domain authority of your websites?
If your website is having a DA score from 20 to 30 it is much easier to boost it to get a better score. On the other hand, moving a website from 80 to 90 is more difficult to improve, you have to put more effort into it.
Here are the 5 best steps you can implement for boosting your website's DA score.
1. Work on your on-page SEO
From the time the DA score is introduced, it is used to access the efficiency of a website.
High-ranked websites are typically working as a host of high-quality referring domains.
i) Get high-quality backlinks
First of all, make it clear in your head that your domain authority score highly depends on the backlinks you are attaching to your website.
It does not mean that you can get a large number of backlinks from anywhere just to improve your DA score.
The websites from which you get backlinks are important. You just need to attach high-quality inbound links from websites that already have high authority.
Step 1
One way you can get high-quality backlinks is by noticing which of your competitor's content has ranked first on Google.
If a website is ranking high on Google that means it will have a massive number of backlinks so try to create some better and improved content than that top-ranked article by your competitors.
Step 2
Next, use a DA checker to analyze all those high-ranked websites that are publishing your rivals' content.
Step 3
Let all those websites know that you have better and improved content and request them to replace previous links with your links.
You will only be successful when your content will be significantly useful for those websites.
ii) Blog outreach
As a company owner, you can hire a blogger for internet outreach. You have to pay to make them write blogs or web material about your goods and services.
This is a link-building technique that has proven to be highly effective.
If you are working on improving your authority, go for link-building on a blog.
Get in contact with writers that write to appeal to the target audience. Contact them for new or additional guest post opportunities or invite them to talk about your products or services.
iii) Check for broken links
It is also a link-building technique that involves the search for broken links on high-DA websites.
If you find any, offer them better content and get stronger links for you.
iv) Link recovery
Sometimes it happens that you lost your earned backlinks.
Any of the lost backlinks can be relocated by using Moz, SEMRush, and Ahrefs.
You can contact their webmasters to confirm if your lost links have been fixed.
2. Optimize off-page SEO
Working on off-page SEO and making it better is also important.
Off-page strategies are those that do not affect your DA score directly, however, their optimization improves website ranking as well as domain authority score on Moz.
So, it is considered a necessary evil for your website meaning that neglecting off-page optimization can affect the website ranking on Google greatly.
These are the overview of all things that you can improve off-page for better ranking.
So, next, you must focus on creating high-quality marketing content to get backlinks from high-ranked websites.
i) Write high-quality content
Content marketing can be a massive advantage when you are working on increasing your domain score.
It does not only encourage you to keep your main content in order but also creates innovative ways to write fresh content that google needs.
Strong content can attract your target audience and offers useful opportunities for retrieving new backlinks and permits you to add additional keywords.
Here are the following tips you must keep in mind while using content marketing as a key part of your backlink strategy:
You need a strong marketing strategy if you want to get your eyes on your content. This is a way to get more shares and stronger backlinks.
You cannot depend on SEO alone, you should set up social campaigns to share your articles and try accessing every social platform.
If your domain authority is not yet high, you may use PPCs such as Facebook publicity drives to encourage main content and potentially get exposure at an early point.
You need to write something unique and attractive that no one else has read before to get noticed by famous websites.
ii) Optimize keywords in your content
Make sure you are well aware of all the keywords that would be useful for ranking before writing content for your website.
iii) Optimize URL
Most of the writers do not optimize URLs in their text although it is one of the best practices to follow.
Make sure your added URLs are SEO-friendly.
iv) Heading tags
It has been validated by Google that headings and subheading tags provide obvious facts that have been discussed in your article and make your content more readable. So, never forget that.
v) Meta tags
Meta tags are somehow not considered as a ranking metric by Google but still, Moz takes the meta tags description as a significant ranking factor.
Therefore, insert meta descriptions with the main keyword for boosting your website for a higher DA score.
vi) Internal links
Internal links are also a significant metric in Moz's ranking.
It is said that an optimal number of internal links allows users to find your website more easily and help users search multiple sites.
vii) Solve all SEO technical issues
SEO technical issues are also affecting the website ranking from behind the curtain.
Simply, it is the technological steps taken in order to boost the search results ranking of a website.
Here, you need to concentrate on the following technical issues and try to fix them immediately.
Repeated / duplicate/ copied content
Titles tag issues
Not optimizing meta descriptions
Bad/broken internal and external links
Very low/ very high word counts
Not adding images
A lot of on-page links
Slow load speed of the website
3. Be an expert in your niche
This can only be achieved through writing high-quality content and positive social media engagement with the fans and users.
You must know what you are writing and how your content will reinforce your brand identity.
Moreover, it will increase the number of external relationships with other high-quality websites, as well as increase intended traffic.
As an expert in your niche, the addition of Guest Posts on other popular websites is another way to raise your site authority.
4. Advertise your content through social media platforms
Since social platforms are a major role to promote your content on social media.
If you do not do so, your content will be placed just on the Web and not get noticed by people because almost 3.96 billion people are using social media worldwide.
Therefore, advertise your content and inspire followers to like your post, retweet it or comment on it on their different social media accounts.
Social share buttons can also be used directly on websites.
5. Be consistent and patient
While working on increasing your domain authority, you must keep in mind that it's not something that you can do in one or two days.
It is an ongoing process for Moz Crawlers that will take time to notice and analyze your website when you're working on all the steps mentioned above.
So, be consistent and patient and see the results. After implementing these rules, check your DA score again and see if you have got a positive result and improved your authority.
If you have a raised score from 10 to 15 points then the tips are worth following, thus, show some patience and you are good to go with a better score.
6. Why does domain authority matter for SEO?
According to a leading digital marketing executive that specializes in SEO in UAE, DA is a relevant marker to determine the health of a website. A positive DA is also indicative of faster indexing speeds, a well-optimized website, and low bounce rates. Needless to say, that a high DA also affects search rankings and lends authority to a website.