When you finally finish creating your website, work doesn't stop there. Websites also need maintenance to make sure that everything is working smoothly and is up to date.
It's a good practice to regularly test and monitor your website to avoid any unwanted circumstances such as your website significantly slowing down or even stopping working.
One way to avoid unwanted trouble is to have a reliable web hosting Hostinger with 99.9% guaranteed uptime. Another way is to use the available tools to find potential risks before they become a big problem.
In this article, I'll provide eight great web testing tools to use in 2021 to help you conduct regular tests and monitor your website. Let's get started.

GTmetrix is a great tool because it lets you get detailed information about your page speed, performance score, and many more analyses. It then generates a report into five detailed sections, including history, video, and waterfall breakdown.
GTmetrix lets you test your site's speed without having to register, though you're only limited to testing your site from one location, which is Vancouver, Canada. If you wish to test your site speed in more than one location, you'll need to sign up first. Don't worry. It's completely free.
Once you've registered, you'll be able to test your site from seven different geographic locations, different browsers, and also connection types. It also allows you to run Adblock to see how much ads are affecting your website speed.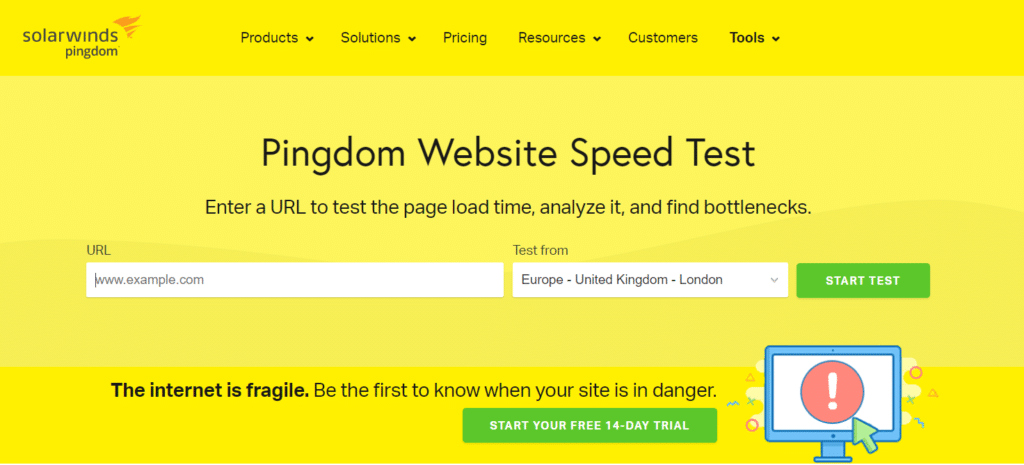 Pingdom is another excellent website speed testing tool. It lets you get detailed reports about your page speed divided into several sections, including performance grade, waterfall breakdown, page analysis, and history.
Pingdom will also examine various elements on your website like file sizes, load times, request types, and response codes. You can do all of this without needing to sign up, and you also get access to test your site from their 70 different locations.
If you decide to register, it will cost you $10 per month. You'll get their synthetic monitoring feature, which helps monitor transactions, page speed, and uptime. You'll also get to troubleshoot an unlimited number of sites and users and then generate shareable reports.

WebPageTest is an open-source, freemium website performance testing tool that supports 40 different locations and over 25 different web browsers. You can use it to get detailed information about your website's performance and simulate tests over a fast network or a slow mobile network.
The tool will then generate a report divided into these categories: performance review, details, summary, screenshots, and content breakdown. It will also grade your site speed from F to A, with F being the lowest and A being the highest.
WebPageTest is a free tool that you can use without registration. There's also the option to go for one of their paid plans for $9.89 per month, but I suggest you only purchase the plan if you're doing more than 1000 tests in a month.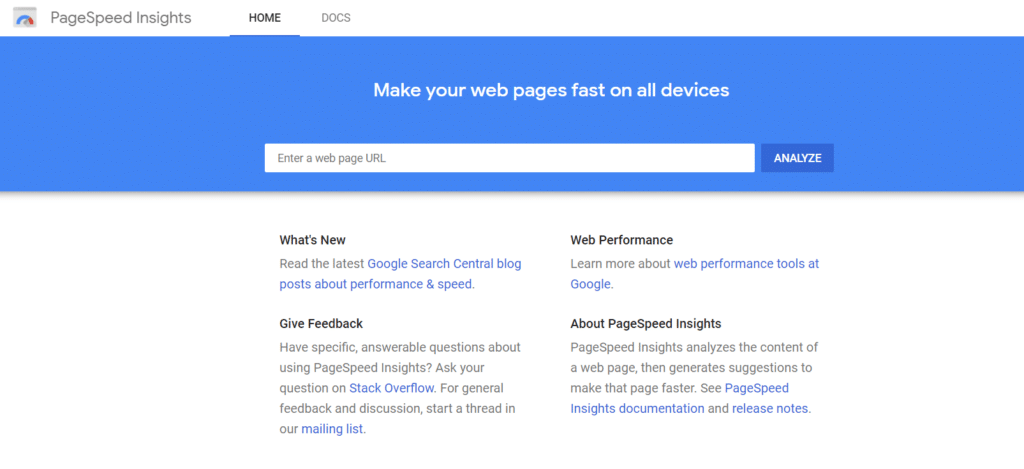 Google PageSpeed Insights is one of the more straightforward website performance testing tools. It has an easy UI with only one input bar for the URL. Once you place your website's URL, it will generate a detailed report divided into multiple sections to see page sizes, diagnostics, and improvement opportunities.
It will then grade your website on a scale of 1-100, with anything above 85 being a great score. It's a free tool and doesn't require any type of registration, though it only provides a general overview that's more aimed at web developers than the average user.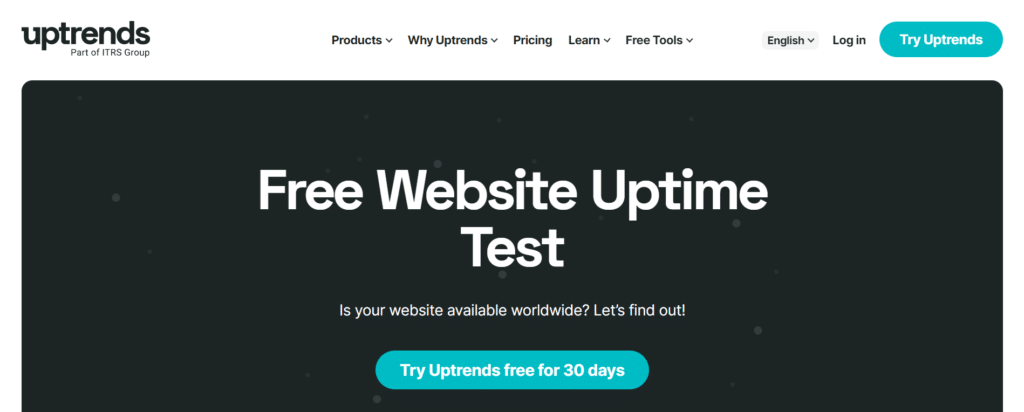 Uptrends is a premium website performance testing tool. It provides an in-depth analysis of your website's performance covering 226 locations to send requests to your website. You can conduct multiple tests, like bandwidth throttling, to test your website under various speed scenarios.
You can try the tool for free for 30 days. Then, you'll need to opt for one of their monthly plans, which starts at $15.47.
With its premium price, you get many features such as multiple monitoring tools like a real user, internal server, transaction, API, and mobile website monitoring. You'll also get email, SMS, and push alerts to know when your site is having performance issues.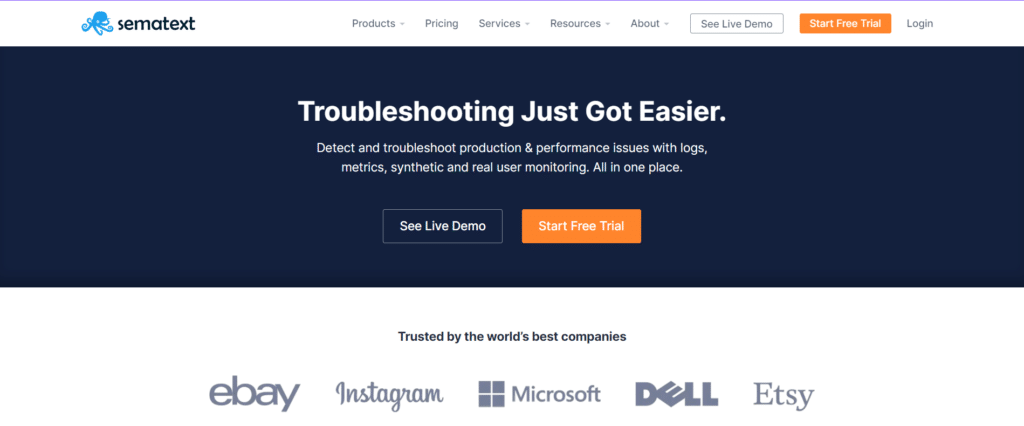 Sematext is a relatively new website performance testing tool. It has an intuitive UI that you can easily navigate to look at the various reports it provides. You can monitor your website availability, API, performance, and third-party issues through their multiple locations worldwide.
It's a premium tool where you'll get a 14-day free trial before having to opt for one of their monthly plans.
What's unique about this tool is the pricing. You can opt for a plan that costs $29 per month to get 40 HTTP and five browser monitors along with 30 days of data retention. Or you can customize your plan and pay only what you need with individual monitors starting at $2 per month.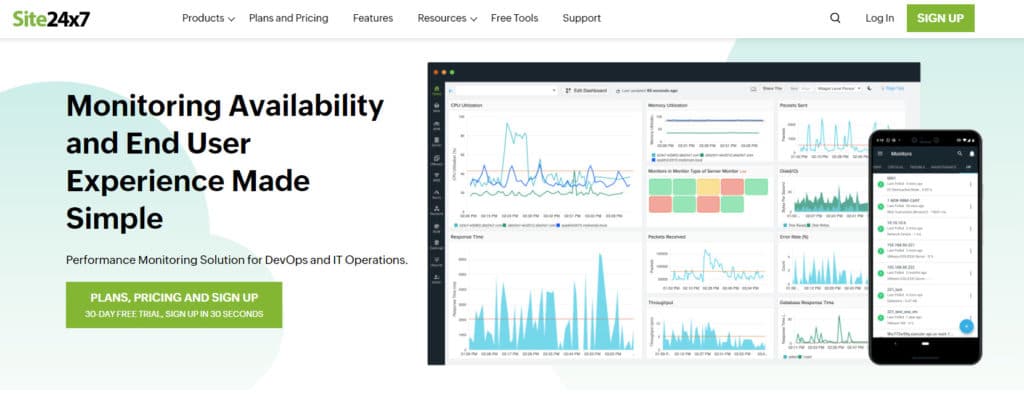 Site24x7 is a freemium tool that provides various monitoring features, like website performance, server, synthetic web transaction, application performance, network, public and private cloud, and accurate user monitoring.
When you opt for their free version, you'll receive five monitoring options with email notifications whenever there's an issue with the monitoring tools. This should be enough for a small website.
Their premium plan starts at $9 per month, and you'll receive ten monitors, status pages, 100k RUM views, 500MB of logs, and access to use over 110 of their testing locations worldwide.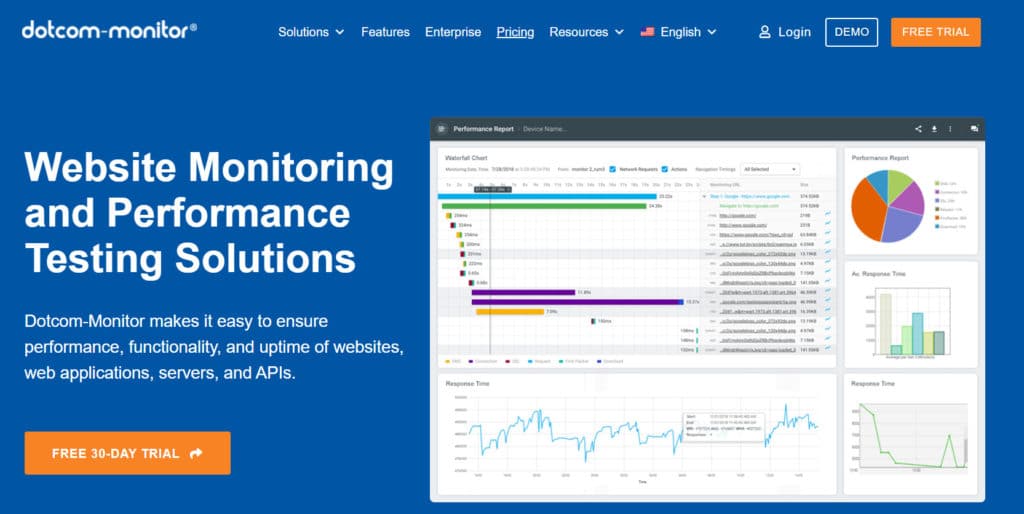 dotcom-monitor is a premium website performance monitoring and testing tool. It provides multiple reports and various monitoring options. You can utilize their 25 different locations worldwide and seven web browsers to check your website's performance.
Your website will be graded based on load and server response times. You'll be able to check how fast your website loaded for someone who visited your site before when they already cached resources on their device.
dotcom-monitor monthly plans start from $19.95 for monitoring and $29.95 for performance testing. You can get a 30-day free trial to test out each of their features.
Conclusion
Now you know the eight excellent web testing tools to use in 2021. Remember that there are free, freemium, and premium tools. If you're just starting out or have a small business website that doesn't get much traffic, going for the free version should be enough for you.
However, if you are a medium to large business with considerable traffic and website size, going for the premium tools would bring plenty more benefits for you. Paid tools tend to include more monitoring tools and significantly more tests and report analyses.