Best Home Theater Systems: Since going to movie theatres sounds like a dream these days, what if you could bring the theatre to your living room?

Well, you can do that by installing the best home theatre system at your home! By doing so, you are guaranteed to add a cinematic effect to your home entertainment system.

If you are thinking of investing in one, then the following list of home theatres will help you decide which one to pick in order to give your room a sound makeover: 
Best Home Theater Systems of 2022-
boAt Aavante 4000DA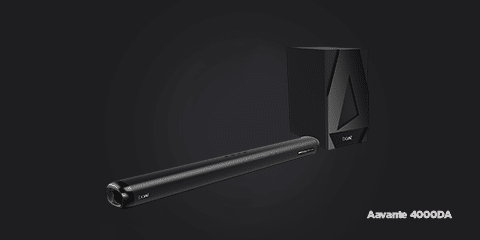 Enthralling sound, gorgeous looks and powerful output – this home theatre system will definitely add finesse to your home entertainment! The premium finish and the classy look & feel of the soundbar blend perfectly with the interiors of your room!

The expansive Dolby Atmos 3D Audio Technology proves you with an immersive and engrossing listening experience. Every note sounds like perfection, all thanks to this 200W RMS HD home theatre! The 2.1.2 channel surround sound allows you to experience cinema-like sound quality in your living room. It makes sure that every corner and every nook of your room is filled with thumping bass and music that makes you want to groove.

Not only this, the easy set-up with HDMI ARC provides a high speed and superior quality connection to compatible devices with a single cable ensuring you have no more messy wires and extra cables.
With Bluetooth v5.0 get optimum seamless connectivity and let the mood set in with multiple connectivity modes: USB, AUX, Optical, HDMI ARC and much more!

You can use the different entertainment modes to enhance your listening experience even further! The master remote helps you keep everything under control, always!

Philips IN-MMS6080B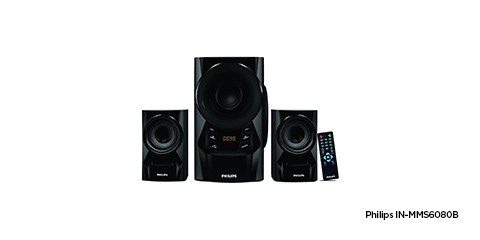 A remarkable product from one of the pioneers in the audio industry, these Bluetooth speakers will instantly amp up your party! It not only just looks good but sounds exceptionally good as well.  Designed with a 2.1 channel sound, this speaker delivers an enthralling 60W sound output. So get ready to feel the real power of music that just fills up your space and transcends you to a musical realm.
And if you are a gamer, then owning this is definitely a good decision for you. Since all gamers want their speakers to have as much bass as possible, the long tube design of this speaker ensures that you get that desired bass. This creates more volume to generate more bass and makes gaming even more enjoyable. The 30W subwoofers further add excellence to your sound quality.

JBL Bar 5.1
Give your living rooms a classy makeover with this minimalistically designed home theatre.

Available in a matte dark grey color, the main soundbar comes with a subwoofer that looks classy and gives your room a nice aesthetic touch.  The two pieces link up automatically when powered up. The bar can sit flat on a tabletop, or be mounted on a wall with the supplied brackets and screws. The front face is all metallic speaker grille, with a white LED readout that tells you what sound source you're connected to.
With Dolby Digital, Dolby Pro Logic II and DTS, your movies, music and video games will never sound more incredible. The soundbar features JBL SoundShift, which allows you to instantly switch between the sound from your TV and the Bluetooth sound from your mobile phone or tablet. The mighty 10'' wireless subwoofer produces punchy bass and brings the action to action movies, and ensures any soundtrack sounds epic. However, there's no selection of audio modes here, like the movies, music or news.

It supports multiple connectivity options like Bluetooth,  HDMI ARC (TV), optical, and USB. It is designed to work with many of today's top TV remote controls, so you can use your existing TV remote control for both TV and soundbar.

Sony HT-IV300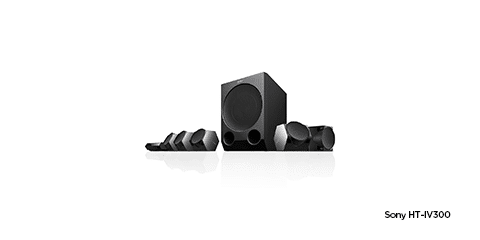 Enter a world of immersive entertainment with this one of the home theatre systems! It's designed with a prime focus on DTH and is one of the few systems that aim to improve your daily TV watching experience. It supports many exquisite features that might come as a surprise for this home theatre price range. 
The S-master digital amplifier uses a simplified and fully digital path that reproduces the digital audio signals without multiple analogue stages. This results in not just more power, but also significantly reduced distortion from the heat build-up.

The unique Clear Audio+™ technology on this home theatre is designed to simplify your audio enjoyment. It automatically converts stereo audio into 5.1ch audio, so you'll be able to enjoy the more immersive sound when watching your favourite TV shows and movies — without having to spend a long time trying to locate the right sound mode. Enjoy extra detail and realism for your favourite Blu-ray movies and still images, thanks to a built-in 4K pass-through and upscaling.

It comes with a veritable bounty of wired and wireless connectivity options, especially for its price. In terms of ports, the setup has 2 HDMI-ins and 1 HDMI-out port, a USB port, an Optical port, coaxial output ports and ports for the system's speakers. When it comes to wireless, the Sony setup offers support for Wi-Fi, Bluetooth, Miracast and NFC.  

Mulo Arena 5000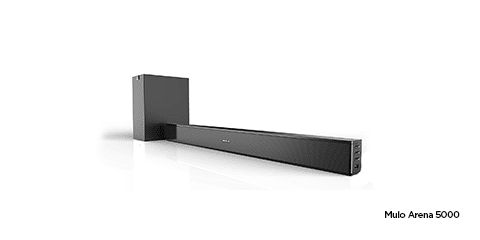 Elegantly designed & compact in size, this home theatre is extremely easy to set up. The stylish and sleek design adds to the beauty of your living space and blends in effortlessly with your room's decor.

The 2.1 channel and wired 25W subwoofer have been designed by engineers to deliver heart-pumping bass which provides a massive sonic boost to your TV watching experience.
Accompanied with the wired subwoofer with bold, powerful sound and high impactful bass to produce an immersive sound that feels like it's moving around the room.

Set your mood right (and just the way you like) by adjusting the bass and treble buttons on the remote. You can also use the four predefined EQ modes for movies, music, news and 3D as per your choice!

With this, you get multiple connectivity options with Bluetooth v4.2, AUX, USB and includes an AUX to RCA and AUX to AUX cable which enables it to work with TVs(LCD/LED/Smart), mobiles, computers and tablets

So what are you waiting for? Plan your "to-watch" list and get ready to re-discover the joy of watching TV with these best home theatres!