One of the most famous manufacturers of pajamas and linen dresses around the world has released a completely new Sleeper Bridal collection and therefore we decided that this news is worth bringing to each of our readers!
Sleeper is a brand that made it possible to combine people's love for home clothes and social events. The idea behind this brand is that women can have more and more versatile clothes, and also so that they can look the most stunning at any party, wearing only their pajamas.
The new collection was created in order to highlight the purity of soul and beauty of the bride, and allow her to spend the happiest day of her life with a smile on her lips.
The Sleeper brand, created by Kate Zubarieva and Asya Varetsa, conquered the world and for many years has been considered by many popular customers like Emily Ratjkowski, Leandra Medine, and a lot of others as the standard of clothing that can be worn both at home and in the street.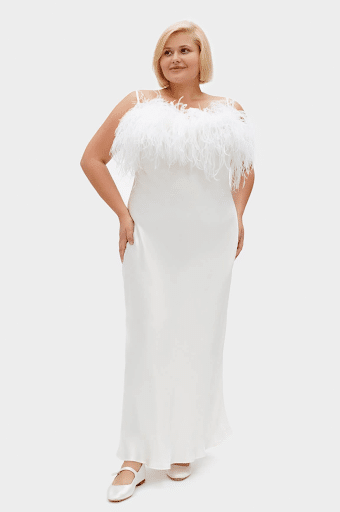 Description of Sleeper bridal collection
The new wedding decorations are presented in the Paloma and Opera models, which are offered in linen and silk. 
These Sleeper women's dresses create an excellent impression of freedom and happiness. 
With these dresses you will definitely remember the day of your wedding and even the sky is cloudy, you will shine like the sun. 
Sure, there is an item in this collection. which attracts the most attention of fashion reviewers – silk ballet flats! "Mille-feuille silk ballet flats" will create a special atmosphere, where a bride can feel like a princess on the day of her coronation.
How Sleeper Appeared
People always have certain interests and desires. And always there is someone who comes up with interesting solutions to make their desires come true. Sleeper has made a dream come true for those who wished for comfort to look stylish and attractive. 
They did not advertise themselves, but the former editor of Italian Vogue noticed and praised the newborn brand. After that, it wasn't long before success arrived…And soon their collection fell into all the tops and many celebrities bought their clothes. 
They had a bunch of interesting ideas that quickly captured the whole world and countries such as the United States became the epicenters of the Sleeper popularity.
Sleeper was launched in the capital of Ukraine, Kyiv, 8 years ago, and over so many years, the women who truly know their worth has become their main audience. Women who have made a lifestyle out of comfort. Therefore, clothes from this label suit them as accurately as possible.
The Kyiv brand quickly gained fame due to the fact that they just raised the sore subject of the difference between street and home clothes. Today Sleeper presents an eight-piece bridal collection which can be described as "a bridal collection of wedding dresses for now and forever."
This collection has become well-known for many items, for example, ballet flats, or a simply gorgeous dress that is very reminiscent of the style of the 90s. Back then people knew for sure a lot about style, but they hardly guessed that it was possible to make a set of clothes so stylish and pleasing to the eye.
Why should you choose and buy at least one item of the Sleeper label?
One of the founders of the brand, Asya Vareta, explains that women of our generation more often choose clothes considering comfort, style, and versatility. So the outfits that women buy to wear once in their entire life are gradually becoming a thing of the past. She also said that their task, when creating this collection, was to create a truly unique environment and make the environment for the most important "Yes" in life exactly the way you imagined it all your life.
And the main thing in this collection is that you can create a whole group of wonderful and dazzling women who will illuminate the entire wedding ceremony with their light. This can be achieved by buying dresses not only for the bride herself but also for the bridesmaids, who will undoubtedly also want to be beautiful to match the future wife. Sleeper off-the-shoulder white linen dress is perfect for a family dinner, while their other garments from the collection are perfect for rehearsals.
Well, and also it is impossible not to mention that all the clothes of this label are made entirely by hand. Each set takes at least 6 to 8 hours and this is not even the limit, so items of insufficient quality are not released and people always receive the goods of the highest quality.
The Benefits of the label and its party outfits
Since there are really a lot of things on the Sleeper site and before we go to brief representation of them, consider the following advantages of their clothing:
Pros
The brand provides not just the

Sleeper womens dresses

, but also lovely gowns and even shoes, so all of their products are diversified.

Sleeper ensures that their apparel is made from only the most safe textiles. They claim that the environment and the health of the buyer of their clothing are of the utmost importance.

Urban Outfitters and Saks Fifth Avenue, among others, distribute it.

Klarna is a payment option that is provided as an alternative.
What kind of clothes can you buy at their shop?
Pajamas are an important part of the brand and should be highlighted separately. here are some particularly popular options:
Feather Pajamas & Sets

No Size Pajamas

Linen pajamas with pants or shorts
The Sleeper team is proud of them, and of the rest of the clothes they provide, as well. So check out what they have here:
Women dress

Linen dresses

Wedding dress

Sleeper knitted cardigans
And many other types of clothing.