Why is it that we subconsciously link our emotions to certain parts of our bodies? This isn't a coincidence. This is because there are chakras within our bodies!
There are 109 chakras within our bodies, of which 108 are located in the physical body. One is located in the astral body (what are we often referred to as aura).
To understand the chakra, brush your palate gently i.e. The roof of your mouth with the tip end of your tongue. You felt a tingling sensation in your face. This is the result of the chakra that is present at the top of your mouth. Isn't it amazing!
Meditation and yoga have been practiced for centuries, modern technology has made it possible to do so from the comfort of your own home. A survey done by Statista claims that 14% of women found are interested in learning meditation or yoga via video calls or virtual classes.

Find more statistics at Statista
According to the spiritual Law of Vibration, all matter is composed of particles that vibrate at different frequencies. These particles vibrate at various frequencies and release energy according to their intensity and frequency.
These particles are also found in the human body, which means that there are immense energies within us. These energies can be unlocked and we can achieve a healthy body, mind, and soul. That's the essence of chakra.
The chakras are a Hindu or Buddhist belief as well as Kabbalah. In Hebrew, Sephirot means vast but confined energy pools that control our psychological abilities. There are seven major chakras (sephirot), which govern our mental abilities. Four of them are located in the upper body and three are in the lower.
There are seven animals that represent seven chakras and are considered to be spirit animals that we should communicate with in order to activate one of these chakras. They represent each of the chakras in a form of similar energy that vibrates and resonates with them on the same level. It would be wise to think about each of these animals when you're trying to heal and balance any chakra. So First Chakra/Root is represented by a mole. The Second Chakra/Sacral is represented by a badger, the Third Chakra/Solar Plexus is a bear, and the Fourth Chakra/Heart is a wolf. The Fifth Chakra/Throat is a personal power animal, the Sixth Chakra/Third Eye is a mountain lion and the Seventh Chakra/Crown is represented by Eagle.
What Evidence is there that Chakras Exist?
Each chakra has its own unique type of life energy. These vortexes of life energy are located along the spine and connect to various internal organs.
The opening and balance of these seven chakras or auras is the key to meditation and yoga. Although the idea of life energy is the core of many ancient schools of medicine, it remains relevant today, but it is still largely theoretical.
These auras are not quantifiable and science has neither proven nor disproved their existence.
7 Types of C
hakras in the Human Body
Out of 109 chakras in the body, there are 7 main chakras. They are:
Muladhara chakra (Root Chakra)
Svadhishthana chakra (Sacral Chakra)
Manipura chakra (Solar Plexus Chakra)
Anahata chakra (Heart Chakra)
Vishuddha chakra (Throat Chakra)
Ajna chakra (Third-Eye Chakra)
Sahasrara chakra (Crown Chakra)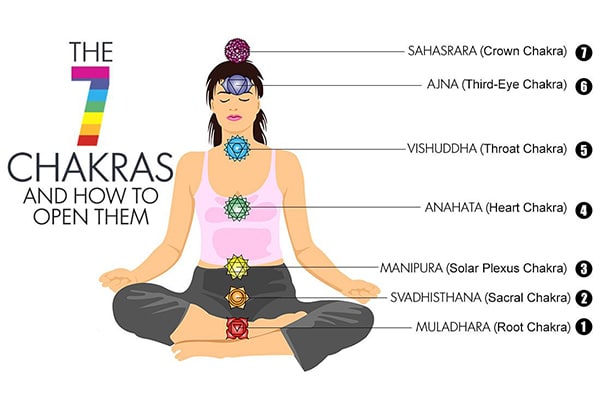 1. Muladhara Chakra (Root Chakra)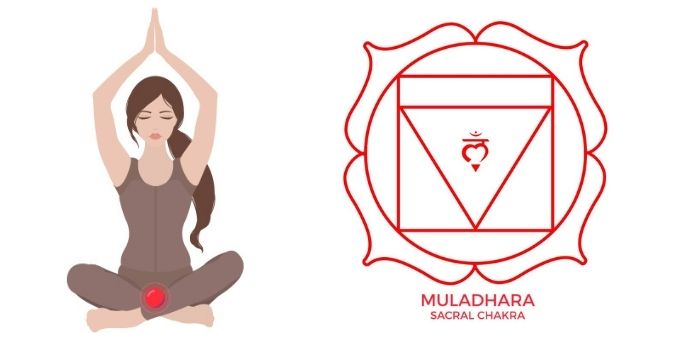 Location: At the base of the spine, just above the anus
Representative Color: Red
Develops from: 1-7 years
Mantra: LAM
Element: Earth
Representative Stone: Hematite
Represents: Safety, foundation, and groundedness
What Blocked It: Belief that one is unsafe, abuse, neglect, financial troubles, childhood trauma, etc.
Ways to Open it: Eating natural red foods, Meditating on the root chakra, Chanting "LAM", and Walking barefoot to promote being grounded.
"Muladhara," which means "foundation," can be translated as "Is this World safe?" "Am I Safe?"
2. Svadhishthana Chakra (Sacral Chakra)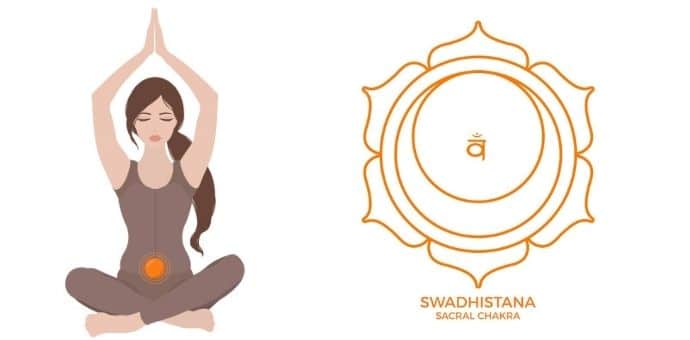 Location: Two inches south of the navel (behind the genitals)
Representative Color: Orange
Develops from: 8-14 years
Mantra: VAM
Element: Water
Representative Stone: Tiger's Eye
Represents: Passion, creativity, sexuality, fluidity, intimacy, trust, and procreation
What Blocked It: Creative disconnect, judgment, conflict, guilt, and past sexual or relational trauma.
Ways to Open it: Eating natural orange foods, Meditating on the Sacral chakra, Chanting "VAM", Deviasana, or Goddess pose.

This chakra controls your relationships with others as well as how you express your creativity.
3. Manipura Chakra (Solar Plexus Chakra)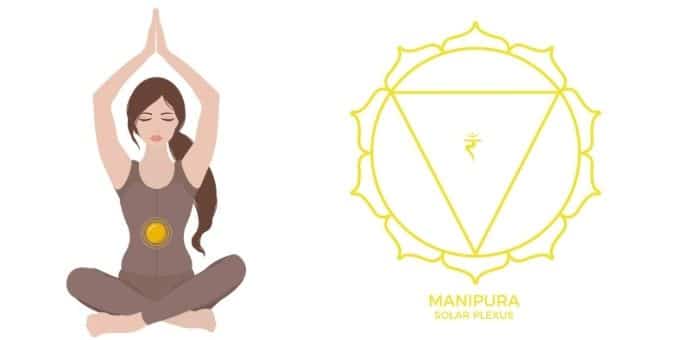 Location: Navel (in the belly button region)
Representative Color: Yellow
Develops from: 15-21 years
Mantra: RAM
Element: Fire
Representative Stone: Amber
Represents: Power, independence, and vitality
What Blocked It: Eating the wrong foods, believing that one is weak, being bullied and/or victimized, lack of self-esteem, abuse, etc.
Ways to Open it: Eating natural yellow foods, Meditating on the Solar Plexus chakra, Chanting "RAM", Practicing bellows breath (Bhastrika Pranayama) or practicing the "breath of fire" (Kapalabhati Pranayama)

The digestive organs are affected by the Manipura chakra. The lack of or excess of inner fire can cause digestive problems. This fire is also called "tapas".
4. Anahata Chakra (Heart Chakra)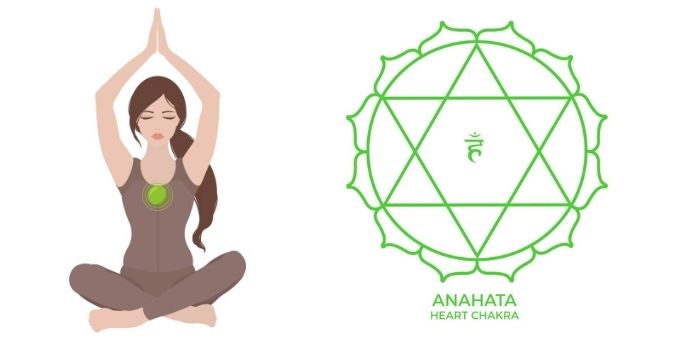 Location: Heart Center (in the heart region)
Representative Color: Green
Develops from: 21-28 years
Mantra: YAM
Element: Air
Representative Stone: Rose Quartz
Represents: Love, compassion, and affection
What Blocked It: Stress, trauma, overthinking, lack of love, etc.
Ways to Open it: Eating natural green foods, Meditating on the heart chakra, Chanting "YAM", Spending time in nature.
The Anahata chakra, which is the chakra of love, can be easily affected by a lack of love. If one opens their heart chakra fully, it is possible to let go of any negative energy and allow for unlimited love. The chakra is all about love. You can clear it by showing undying love to other people as well as yourself.
5. Vishuddha Chakra (Throat Chakra)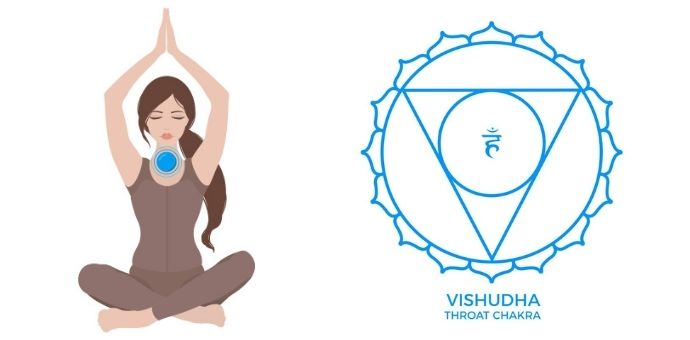 Location: Throat (near the thyroid)
Representative Color: Blue
Develops from: 29-35 years
Mantra: HAM
Element: Ether (Space)
Representative Stone: Aquamarine
Represents: Voice, speaking, and hearing
What Blocked It: Fear of speaking, being told one's voice is not important or not enough.
Ways to Open it: Eating natural blue foods, Meditating on the throat chakra, Doing throat chakra yoga poses, Chanting "HAM", Practicing the lion's breath.

The Vishuddha Chakra can be misused in a negative way. One might talk too loud and not allow others to speak. You must find your voice's balance. When the throat chakra is free from blockage, we can express our opinions clearly and assertively while still giving consideration to others' opinions.
6. Ajna Chakra (Third-Eye Chakra)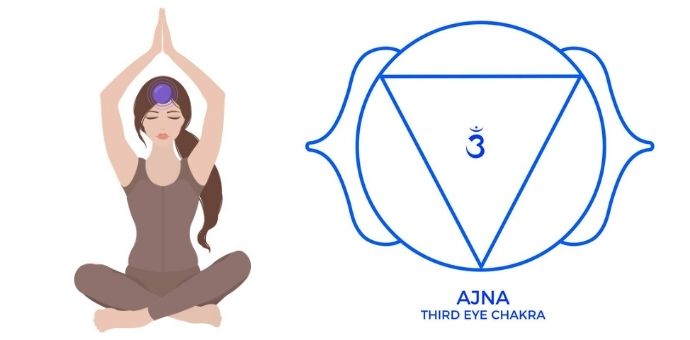 Location: Between the eyes (The region between the two eyebrows, right in front of the pituitary gland)
Representative Color: Indigo
Develops from: 36-42 years
Mantra: OM/KSHAM
Element: Light
Representative Stone: Amethyst
Represents: Seeing, intuition, wisdom, and understanding that there is more than just the visual sight
What Blocked It: Lack of spiritual practice, restrained spiritual upbringing, illusion, etc.
Ways to Open It: Eating natural indigo foods, Wearing the color indigo or placing this color around one's house, Meditating on a flame, Meditating on the third-eye chakra and imagining the eye is opening, Practicing alternate nostril breathing.

The Ajna chakra can be opened to allow one to see beyond the illusion veil. This allows one to communicate more spiritually and is open to the metaphysical realm.
7. Sahasrara Chakra (Crown Chakra)
Location: Crown of the head
Representative Color: White/violet
Develops from: 43-49 years
Mantra: OM
Element: Thought/all other elements
Representative Stone: Clear Quartz
Represents: Mindfulness, spirituality, connection, and balance
What Blocked It: Negative relationships, fear of change, ego, etc.
Ways to Open it: Eating natural white and violet foods, Meditating on the crown chakra, Chanting "OM", and Doing yoga poses for the crown chakra.

The Sahasrara Chakra is found at the highest point of the body and represents our ability to connect with our higher power. The crown chakra can be opened to allow one to fully connect to all of life, oneself, and to one's higher power.
Impact of C
hakras in Human Life
Buddhist/Hindu teachings state that all chakras should contribute to a person's well-being. Our instincts and thoughts would work together. Some chakras may not be open all the time (meaning they function exactly as when you were born), while others are active or close to being closed. Peace with oneself cannot be achieved if the chakras aren't balanced.
Does Chakras Really Work?
The Vedas and Hindu scriptures first mentioned chakras. People have used practices to balance their chakras throughout history and ever since. Your chakras are not like your organs. They aren't visible and fixed things doctors can touch or examine. They are not scientifically proven. Although the existence of energy within you and the chakras has not been scientifically proved, they have been scientifically supported. Quantum physics is widely accepting the fact that "everything" is energy. This concept of energy flowing continuously is what underpins chakra theory as well as chakra-balancing techniques.
Konstantin Korotkov of St. Petersburg Federal University of Informational Technologies developed a scientific device called the GDV. It can measure bio-energy and identify energy centers that are associated with well-being. Numerous studies have shown that meditation, yoga, gratitude, and the use of crystals can help open your chakras for better physical and emotional health. You can improve your health and well-being, regardless of whether you believe in them wholeheartedly or are skeptical.
Are you feeling Stressed?
But instead of thriving, you feel like you're just trying to manage your life and are far from your best. Maybe you feel tired or stressed. Perhaps you have emotional or physical problems. Your chakras may be blocked. Your body may not be receiving the energy it needs, which can cause all kinds of problems. You don't have to worry – there are 9 simple, but powerful, techniques that can open and balance your chakras. This will allow you to regain energy, vitality, peace, clarity, and happiness in your daily life.
9 Best Ways to Open Your Chakras
Your chakras represent the energy centers of your body. If any of your chakras become blocked, it can cause an imbalance in your system and prevent energy from flowing freely. This can lead to health problems, both spiritual and physical. Here are 9 Best Ways to Open Your Chakras below:
1. Meditation
Meditation can be a powerful tool to connect with your spirit and ask for guidance from your higher self. Meditation is a great way to be present and clear any negative or trapped energy. It can also help to release unwanted blockages and invite positive energy. Any form of meditation can be a great way to open your chakras. However, guided meditations are best to activate your chakras.
2. Yoga
Yoga can be a great way to relax and open your body. It also helps to balance your chakras. Different poses offer different benefits. For example, the camel post can balance your throat chakra and your heart. Regular yoga practice can bring harmony to your body, mind, and soul. TaiChi, QiGong, and other beneficial practices can open your chakras and balance your energy.
3. Mantras and Affirmations
Mantras can be a great way to allow yourself to feel unconditional love and compassion. These mantras can be used in meditation, or you can repeat them throughout the day. You can use Sanskrit words, or create your own mantras. Positive affirmations, which are similar to mantras, can boost your positive energy. You should only use affirmations that are most important to you. Your affirmations can be spoken out loud, spoken aloud, or written down. Combining all of these is the most powerful.
4. Creative Visualization
To clear your mind of negative thoughts, creative visualization can be a powerful tool. Relax by sitting down on a cushion, laying on a comfy bed, or even on green grass in nature. Imagine images and colors that symbolize love and happiness. You can make yourself happy. Imagine a heart blessing for each chakra or a flower opening.
5. Breathing Deeply
Deep, conscious breathing can help restore your chakras if done with intention. Every inhale directs energy towards your chakra, and each exhale allows you to feel your chakras. This can help you open your chakras, restore harmony to your body, mind, and soul.
6. Forgiveness
Grudges, anger, and regret can block the flow of energy in your body, especially in your heart chakra. Forgiveness is a virtue. Let go. You can find forgiveness through journaling, rituals, and a good cry. It is also possible to seek professional guidance from a coach or counselor. It is important to remember that closing a chapter opens up a new chapter.
7. Gratitude
You can raise your vibration instantly by practicing gratitude. It also opens your chakras. Practicing gratitude can bring more happiness, joy, health, peace of mind, love, meaningful relationships, and other positive qualities into your life. Visualize all the things that you are grateful for every day that you wake up. You can keep a gratitude journal. Each evening, write down at least three things you are grateful for. Get a buddy to share your daily gratitude. You can take a few minutes each day to be thankful for the little things.
8. Colors
Each chakra releases a different frequency and each one represents a different vibration. Your root chakra is red, while your sacral chakra and solar plexus are orange. Your throat chakra, third eye, and crown chakra represent violet. Wearing appropriate colors, chakra-colored bracelets, or lighting colorful candles (e.g. You can also use green candles to balance your heart chakra, or lay under a Chacrys crystal bed that uses chakra-colored lights.
9. Crystals
Wearing accessories with gemstones and crystals, such as the real black obsidian bracelet, are a natural and easy way to open your chakras and incite the flow of energy within your body. This will help you balance your mind, soul, and body. Amethysts can be used for your crown chakra. You can also use sodalite for the third eye. Rose quartz is good for your heart chakra. Citrine is good for your solar plexus. Hematite is good for your root chakra.
Vogel crystals are the best choice if you're looking for a crystal to benefit all of your chakras, balancing your whole body, mind and soul. Vogel Crystals are natural, pure rock crystals that can regulate and balance your energy flow, helping you recharge and regenerate.
Has Anyone Unlocked All 7 Chakras?
In a perfect world, the life force flows through all chakras in a way that promotes balance between body, mind, and spirit. Unfortunately, not everyone can unblock all seven chakras. Their life force may spin too fast or too slow. In the worst case scenario, their prana might not spin at all. They live a life in constant conflict between their spiritual, physical, and emotional realms.
Wrapping Up
Although the science behind opening your chakras to restore energy balance is not well-supported, it is supported by ancient beliefs.
This type of meditative healing allows you to address deep-seated, unresolved traumas, feelings, or memories you have. This emotional burden can have a negative impact on your body's functioning and may manifest as physical ailments.
Balancing your chakras will help you to relieve this burden and improve your overall well-being.