When it comes to expressing your commitment to someone, there is no argument that a diamond ring is a perfect gift. Nothing enunciates romance like diamond rings. When worn as a symbol of love, something as tiny as a ring can leave a significant impact. Giving jewellery as gifts is a tradition that has been around for centuries. It is a meaningful gesture that can symbolise various things, from an act of kindness to lifelong commitments.
Gifting jewellery to your partner may be the ideal choice, but it can be a little stressful. There is no single right way to choose, but there are many factors you can consider discovering the ideal approach. Because your partner will wear and treasure their diamond ring for the rest of their lives, you must choose it carefully.
To make your task easier, we have curated a list of the best diamond rings for you to choose from. View our collection to find the ideal diamond ring for your partner.
Yellow Gold Diamond Finger Ring with Floral Design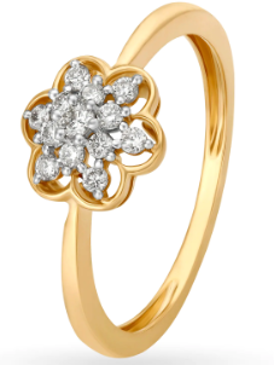 You can achieve a timeless touch with this magnificent finger ring from Mia by Tanishq. This ring is made of glowing yellow gold and adorned with radiant diamonds. Put on this delicate jewellery to serve a Sylvan goddess look.
Yellow Gold Forever and Ever Finger Ring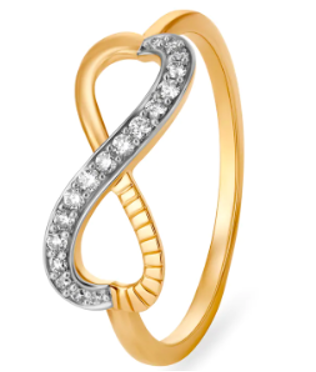 A sophisticated two-toned diamond ring is a unique accessory that complements your looks. The diamond-studded infinity symbol on the yellow gold ring has been expertly crafted. Pair this lovely ring with some diamond stud earrings for that graceful look. They can be the perfect accessory to go with your office outfits.
Gold Heart-Shaped Finger Ring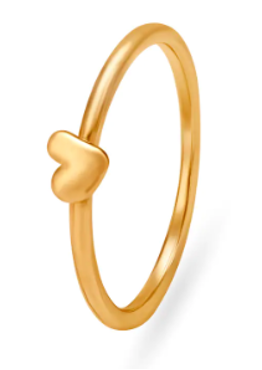 This heart-shaped ring, exquisitely crafted from 14kt gold, will make you feel close to your partner and cherish them. It can also be decorated to show off one's love for oneself. Give it to yourself or your significant other on Valentine's Day to preserve the memories of your romantic relationship. For a simple yet elegant look, pair this ring with your initials on the Alpha ring or our heart-shaped pendant.
14kt Yellow Gold tear-drop diamond Finger Ring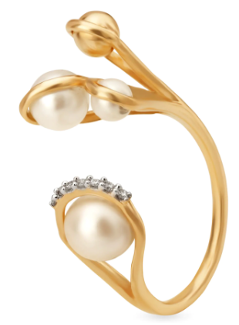 This open-finger ring from Mia by Tanishq uniquely showcases seven diamonds. The open end of the ring forms three hollow teardrop-shaped motifs. Two of these motifs hold pearls, while the other holds a high-polished gold bead. One of the teardrop-shaped motifs holding a pearl has a diamond lining on the front in a pave setting. They are shaped with brilliant round cuts. This ring can be a statement piece that turns heads as you walk by.
14kt Yellow Gold Finger Ring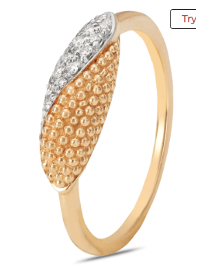 This finger ring has an unusual pattern and is made of solid 14kt yellow gold. The ring features two bands intersecting on top and extending backwards to join each other. The intersecting edges of the bands showcase Rawa-finish gold balls on the front. Put on this gorgeous ring and be ready to dazzle, being the centre of the limelight.
Make your Partner the Happiest They've Ever Been!
Rings are the little bundle of joy that can be worn at all times and lift your looks with just a touch. Regardless of the diamond ring you choose, your partner will value the time, consideration, and effort you put into giving them a celebration to remember and enjoy forever. All of these stunning diamond rings are available at Mia by Tanishq.
We do not need any testimonies, but Mia by Tanishq is a well-known brand for its exquisite collection of jewellery to serve the modern woman. So whether you are seeking rings or any other piece of jewellery, Mia by Tanishq has got you all sorted!