Have you got a PC and love playing PC games? In that case, you ought to know about the service named Discord. It's a communication service made specifically for gamers, and I have been using it personally for quite a long time.
Launched in 2015, the service provides a platform for creating servers to communicate via text, voice and videos, especially for the usage of the gaming community. But according to Discord's report in 2020, 70% of its users use Discord for non-gaming purposes which further increases the scope of this service. Due to its high-end voice quality, many podcast creators and streamers also prefer Discord for their work. With its popularity among the younger generation, the application has around 140 million active users per month which in turn triggered many companies including Microsoft and Amazon to put an eye on buying Discord. Some unofficial sources report that Microsoft even offered $10 billion to acquire Discord.
But there are cases you'd be hearing a few problems relating to Discord.
Even though it is an enormous platform with a wide range of users, Discord often comes up with some issues in its easy work. Discord awaiting endpoint is an error that frequently pops up making its loyal users irritated. Discord awaiting endpoint error occurs when the user is not able to establish a reliable connection. The sender will not be able to send the data to the receiver smoothly. This error usually resolves on its own in many cases but takes a long time to do this. When you are in a hurry to work, or attending an important meeting, this error can cause huge damage to your professional life. So resolving the Discord Awaiting endpoint error is very important for a better experience with this service.
Before going on with the ways to solve it, it is important to notice the causes of this issue. Mainly there are three reasons for the Discord awaiting endpoint error. The first one among these is a poor Internet connection or a problem with the internet connection. Another reason will be having an outage with Discord's server. The outdated app can also cause this Discord awaiting endpoint error.
But there is a way to solve these problems. Even I have encountered one of the most common problems that are the Discord awaiting endpoint problem. So, I will be assessing the most effective options in solving the Discord awaiting endpoint error.
What Exactly Is Discord?
The platform could be among many good options you'd use for receiving comments from the traffic. The Discord platform is specifically helpful for usage with live flows. The platform may be the perfect choice to make use of whenever you're attempting to answer the customers' questions.
What Does Awaiting Endpoint Mean on Discord?
The problem "Awaiting Endpoint," which many users have experienced, may be solved by restarting the program. Awaiting Endpoint error, however, happens if there is a connectivity problem. 
The Discord Awaiting Endpoint Error – What It Really Is?
The Discord awaiting endpoint error is one of the common errors that Discord can encounter now and then. The error gets more to do with the network problems, and you would find that Discord will not join. The error can be caused if the Discord servers face issues connecting with all the gamers and their visitors. The "Discord awaiting endpoint" error occurs when Discord can't establish a proper connection. 
The causes can be several. The Discord servers may well not be working and are down. In addition, it can happen when you cannot connect to a server. The problem is much intermittent and should ideally be solved on its own. However, you're working to eliminate the pain and checking out how exactly to fix the Discord connectivity issue – the following tips here should allow you to resolve the matter.
How Do You Fix an Endpoint Error?
There are always a couple of techniques you may use to correct the awaiting endpoint Discord difficulty. If you aren't on the go, then you will have the ability to come across the problem solved by itself. The ideal choice is to wait for some time to find Discord solving it to get you unique. But If You're looking for a quick answer, the following hints here ought to be useful.
Method 1 – Change Your Server Region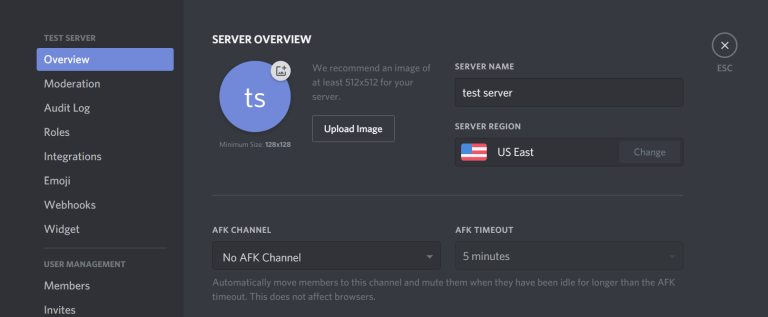 Like we already mentioned, the major reason behind Discord awaiting endpoint error is that the specific host may be down. Therefore, the finest and easier option is to improve the server places. If one of these servers is down, changing the servers may get you back on track.
Here are the steps –
Go to your

Discord

platform.

Next, go to

Settings

.

Now locate and proceed to

Server Settings

and click Overview.

It is possible to change the host location from here.
Assess if the matter has been resolved, and you'll be able to join Discord.
Method 2 – Check your Wi-Fi Settings
A Wi-Fi connectivity issue can also result in a situation where Discord won't connect and throw the Discord awaiting endpoint issue. Reconfiguring your Wi-Fi settings can sometimes fix the problem for you personally.
Assess if your internet connectivity works by seeing any website or service from any of your favorite browsers. When it's not working, that would indicate an issue with your web connectivity or Wi-Fi configuration. Rebooting the modem and router can fix the connectivity issue in lots of cases. If rebooting doesn't help, it can be a fantastic idea to inspect the admin section onto your own network dashboard and change the settings to default.
Method 3 – Reinstall Discord
The above methods did not work, and wondering just how exactly to fix the Discord connectivity malfunction. Well, yet another solution you would like to try would be to assess if the reinstallation of Discord simplifies the difficulties. This can perhaps resolve the issue and help you determine the Discord awaiting endpoint mistake.
Download the latest version of Discord. Uninstall the elderly and existing versions of this platform. Make sure you have uninstalled Discord completely. Using tools such as Revo Uninstaller may be a fantastic option to remove every component of the software.
Once the program is completely uninstalled, you can reinstall Discord. But, first, check if that resolves the issue in your case.
That was. If you face Discord awaiting endpoint error and looking for a fix, this will ideally be useful in solving the matter. Check which of the above techniques helped solve the problem in your case. Do tell us which of those processes resolved the issue for you.
Frequently Asked Questions
Why is my discord stuck on awaiting endpoint?

There may be some issue with the connectivity or else the discord server may be down. This error generally used to occur on older versions. After a few updates, they have fixed this problem.

How do I fix the connection on Discord?

Change the location from settings. This sometimes fixes the problem. Or else reinstall the discord.

How do I find my Discord server settings?

You will find a gear icon on the left bottom side. Click on that. That is your discord settings.