In today's world, every other child is attracted to smartphones. More and more children are getting their own smartphones at a younger age. The reason is the beautiful features and cheap prices offered by most Android mobile devices. Even if your teen is ready to buy an Android device with his/her own money. Parents need to contemplate a number of things before actually letting their kids buy one. Make a list of pros and cons and decide after giving thought to all the factors.
Should You Buy Your Child an Android Device?
There can be no hard and fast rule regarding when you should buy your child an Android device. It depends on your child's level of maturity and responsibility. Your child's safety concern may be the biggest reason you want to allow your child to keep an Android device. Since these devices allow you to track your child's location and whereabouts without any hassle. Using an Android device to stay connected with your child is specifically useful when your child is alone at home or needs to stay in touch with you whenever needed.
While taking the decision, keep the following points in mind:
What does your child want to do with his/her Android device?
Is your child mature enough to understand the potential threats that digital citizenship offers?
What are your child's actual needs for keeping an Android mobile device?
What are the Risks of Giving Your Child an Android Device?
When your child gets a smartphone, he/she certainly gets access to every type of information. The most damaging yet common risks your teenagers get into are written below:
Sexting: Once your child has his/her own phone, you need to stay warned that they don't send sexually suggestive or explicit text messages to their friends.
Cyberbullying: This may be an old problem, but definitely a huge one for teenagers. The more your teen gets involved in social networking sites, the more chances of encountering bullies are there.
Vulgar Content: Finding adult content on the Internet is quite easy for young kids. Pornographic websites are regrettably the most visited sites these days. Using their Android devices, children watch violent and harsh sex acts and try to imitate them in real life.
Tips for Parents
Here are a few tips for parents to follow:
1. Set Ground Rules
Come up with a list of rules regarding your child's screen use and make sure your teenager understands these rules. Communicate with your child about problematic issues such as sexting.
2. Use Parental Monitoring App for Android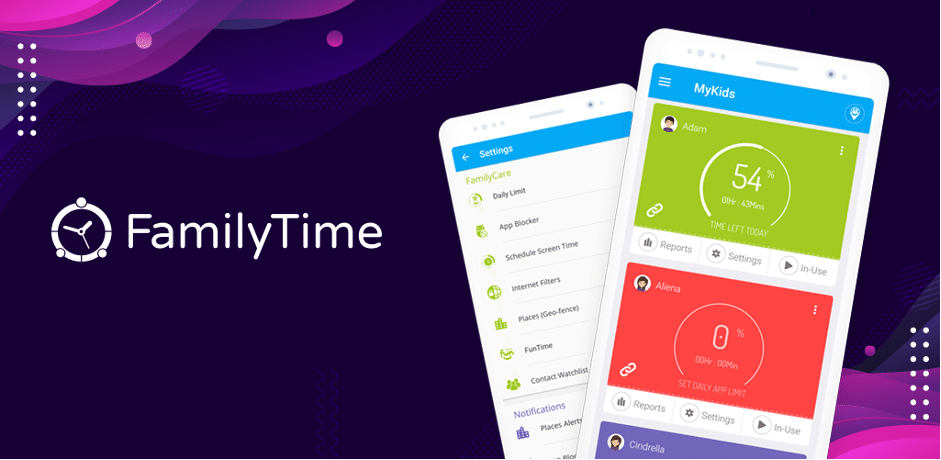 Before you agree on getting them an Android mobile device of their own, make them agree on installing a FamilyTime parental control for parents to set a limit on their child's screen use and also to stay updated about their digital life. One app that you can consider in this regard is FamilyTime which lets parents carry out several monitoring tasks along with taking control. With the app in hand, parents can:
Set a limit on your child's screen time by scheduling an auto-lock on their device.
Mirror contact book of kids to view contacts saved on the child's device exactly the way they appear on their device. With the contacts, you can see all details saved there such as email ID, home address, birthday, etc.
Monitor text messages received or sent through their device to make sure children are not involved in sexting.
Watchlist suspicious contacts to receive instant alerts every time a contact is made by either party.
View the list of the apps installed and the app usage frequency to get to know whether your child is using any questionable apps or not.
Block apps to restrict their access to the apps you find inappropriate.
Limit app usage with the help of the daily app limit feature of the FamilyTime cell phone parental control app for parents
Check web history and see the web pages they visit
Apply internet filters and keep kids safe from unwanted web exposure
Enable a safe search option and limit your kids' web searches as per their age
Keep their connectivity limited with the use of an internet scheduler where you can decide on the hours they can use the internet
Limit their screen time using auto screen lock scheduler
Remotely lock their devices with the help of the instant remote lock feature
And there is a lot more. Do you wish to try all these features and a bundle of others such as Timebank, Fun Time, and more? You can! Get the trial version of the app with premium features from the Google Play Store and iTunes and enjoy it all for 3 days.