If you are a dog person trying to choose the next puppy that you want to get and take home, then you'll probably want to take them all. They are just all so damn cute and adorable and you are probably finding it difficult to decide which breed to get. I might be able to help you there, though. How about you stop deciding based on their looks, because all dogs are beautiful, but taking all of them home is quite impossible?
Instead of deciding based on looks, you should take your time to learn more about those particular breeds that you have in mind. This will most certainly help you narrow down your choices, since you'll get to check the personality of particular canines and decide if they might be right for you. Before you decide what to get for your new pup, from dog collars to pet insurance, you need to know what breed of dog you will be getting. Since you have found your way here, it's safe to say that the Australian Shepherd is high on the list of the canines you want to get, which means that you should now learn about it in order to check if that's a good idea. Click this to get familiar with some reasons why this might be a great idea.
Nobody can argue against the fact that the Australian Shepherd dogs are beautiful and that their thick coat is undeniably capable of making people fall in love with it. Yet, as we have made it clear before, it's not all about appearances, meaning that you will need to get some more facts about this canine before deciding if it is the right one for you. Well, I have some great reasons to share with you – reasons why getting an Australian Shepherd is probably the best idea that you have had in a long time. So, check those out.
1. They Are Intelligent
If there is one thing that you want a larger dog breed to possess, then it's intelligence. Otherwise, you'll just end up with a heavyweight and hard to manage canine that you'll have a hard time raising, taking for walks, and let alone teaching any fun tricks. Fortunately, this is absolutely not something that you will need to worry about when word goes of Australian Shepherds.
To put it simply, these specific canines are extremely intelligent and you will most certainly be able to teach them anything you want. In fact, they are considered one of the smartest breeds and they respond perfectly to training. This, however, doesn't mean that you should just hope that they'll pick up certain tricks and behaviors all on their own. You still need to work with them if you want to teach them something.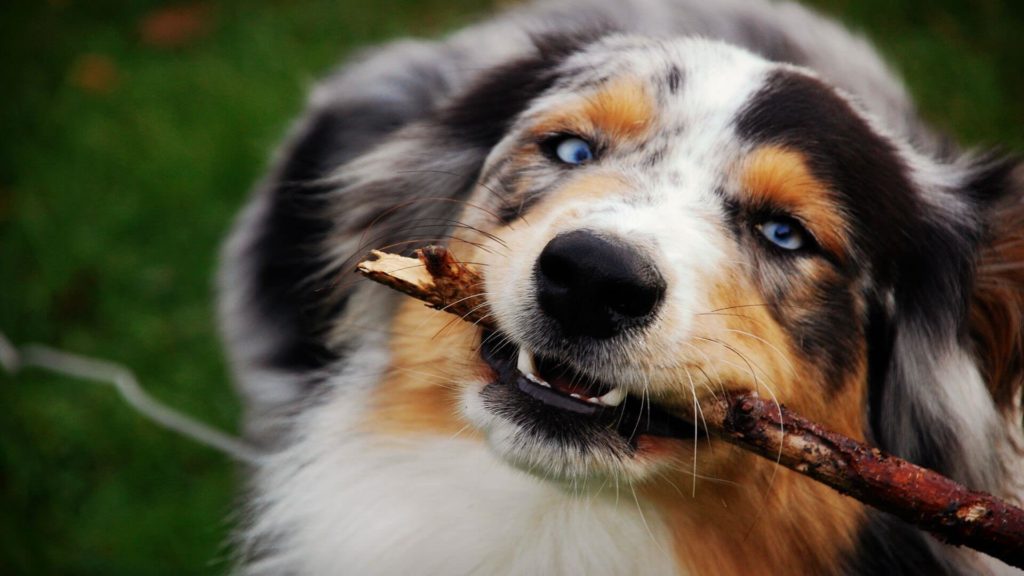 2. They Are Loyal
If you take your time to read up on the Australian shepherd temperament and personality and if you do your reading at several different sources, there is this one thing that will always be mentioned, as it is sort of the core characteristic of these breeds. In few words, they are exceptionally loyal to their owners. These devoted animals will love you so much so that you will find it not only flattering, but also funny.
In case you are wondering how their love can be funny, let me explain. Even though they'll grow up rather quickly, they'll always keep behaving like puppies around you, which means that they'll keep trying to fit in your lap, they'll sit on your foot and lean against you whenever they have the chance. This is their way of telling you that they adore you and that they are loyal to you. Sure, it might be funny, but if you think about it closely, that's one hell of a great trait and this dog deserves all the love in return.
3. They Are Protective
Given that these animals are loyal, we won't be wrong if we conclude that they are also rather protective of their owners. Don't worry, though; this doesn't mean that they will try to attack just about anyone who tries talking to you. They are intelligent, remember? So, they'll behave nicely around most people, but they'll still react aggressively if they assume that you, as the owner, are threatened by someone. This is why Australian Shepherds usually aren't friendly with everyone, even if they've had plenty of socialization previously.
4. They Have Loads Of Energy
If you are looking for a dog that will keep you active every single day, or join you on any of your outdoor activities and adventures, then the Australian Shepherd is the perfect one for you. These canines have an enormous amount of energy, which makes them the perfect pets for those outdoorsy people. In case you are usually not that active, then get ready to make some changes in your lifestyle, because Aussies certainly need to get their exercise and you'll need to be around for that.
5. They Have Funny Personalities & They Are Super Adorable
We cannot fail to mention their funny personalities and their super cute looks here, can we? After all, those will definitely be among the reasons why you should get these dogs. When you see this gentle giant wiggle their whole butt while trying to wiggle their tail, you will immediately realize why people adore their personalities and why they often fall in love with these amazing creatures. Of course, that's only one example, but you can rest assured that Australian Shepherds will keep surprising you with their quirky behaviors every single day.