How do you create a fillable PDF form? It was pretty hectic since you had to download an enabled software to do that back in the day. Once you have completed the file, the next part is sharing, where you have to send an email to all involved.
Nowadays, you only have to load your browser and get an online tool to create a fillable PDF. The results you get via your search are numerous, and that's why you need recommendations.
We did our research and came up with the five best tools to create a fillable PDF form. So, grab that drink and keep reading to see the online tools that enable you to take your PDF requirements online.
Create Fillable PDF Forms with CocoDoc
If you can head online to create a fillable PDF form, why not try out the CocoDoc platform. Being web-based is an advantage here since you can use it on any internet-enabled device. So, all smartphone, tablet, and computer users are welcome.
What's next? The method used to make a fillable PDF with CocoDoc is quick since it involves dragging and dropping the file you want to create. If you have none, there is a PDF creation tool that allows you to start from scratch.
Are you getting the file from the cloud? There are Google Drive and Dropbox options there for you. Once your file is on the platform, the rest is easy since there is a display of all the tools you need.
CocoDoc is rich with features to help in creating a formidable fillable PDF form. There are ways to input the fields that will collect the information and lists that involve multiple choices. There is also a way to delete what you don't need before saving the final copy.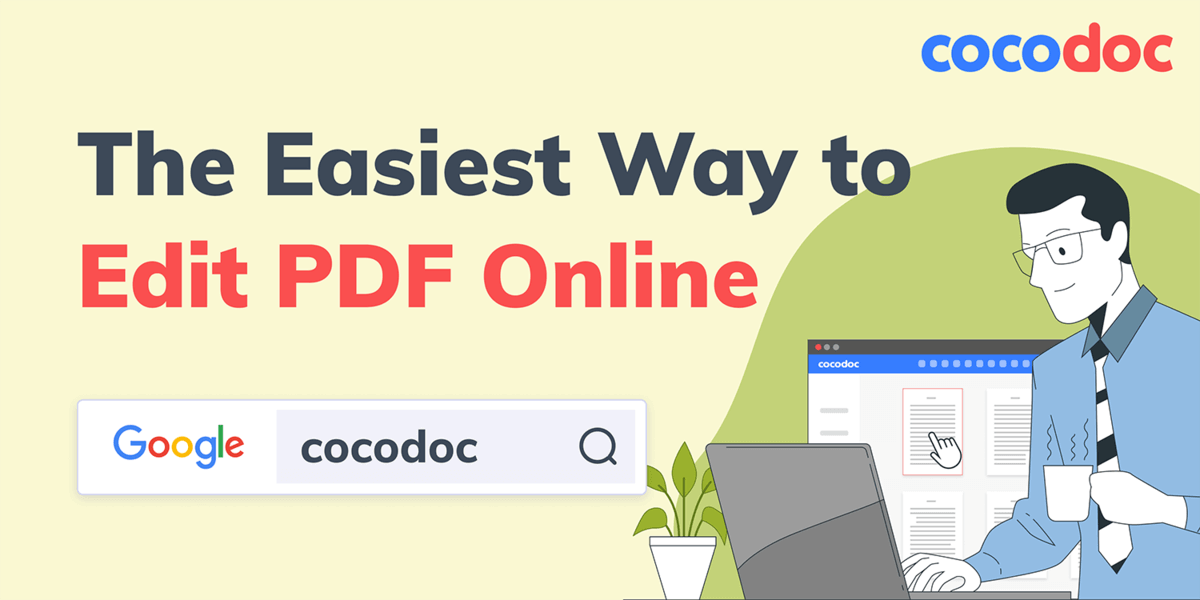 While that's great, how the fillable form gets to other users is even greater. You can share the PDF after creation via email or social media via a sharable link. A link is enough for others to click and attend to the form, and you can send it to multiple clients.
The best part is web integration, which gives you a chance to share the form via your website. All you need is the code to input on your website, and it will provide a link for the visitors to click and get the PDF form.
Do you require signing? CocoDoc is a platform that enables you to embed e-signatures on a PDF. If you don't have a digital signature, it's possible to create one before using it. The signature is stored securely using encryption protocols.
So, the security is tight while on CocoDoc. It also possesses an online cloud, and that's why it's okay to store the PDFs on the platform. If you want to see how it works, there are 14 days to do that based on the trial period.
How to Create a Fillable PDF Form Using CocoDoc
Step 1: Visit the CocoDoc website and click on 'Create Fillable Forms' via 'Tools.' Next, upload the document you want to fill in or create a new one.
Step 2: CocoDoc will display the editing features. Use them to create fields and add text where necessary.
Step 3: Once you are done, you can download, print, or share the file via email or social media. You can also integrate it with your website.
What Makes CocoDoc Stand Out?
The website has major benefits to share with users. Some of them include:
Library Creation
Since it's possible to store your documents online, you can keep as many as you can and view them via the CocoDoc dashboard in your account. As long as you have an internet connection, you can access the PDF files anywhere.
API Integration
CocoDoc allows you to upload PDFs from Google Drive and Dropbox. There is also the web integration specification for those who would like to use the forms on their websites. So, it will work with your favorite apps and the websites you own.
Automated Email Response
Once you are done creating the form? You can use the automated email feature to send the document without too much effort.
HIPAA and GDPR Compliance
The data CocoDoc receives is kept private from prying eyes, and the security is compliant with the current standards. That is why it suits both individuals and businesses.
JotForm
JotForm is another platform that you can utilize to make the best out of fillable PDF forms. Since it's accessible via the internet, again, all you need is your browser here. Creating a custom fillable PDF is possible from scratch or uploading the one you need to use.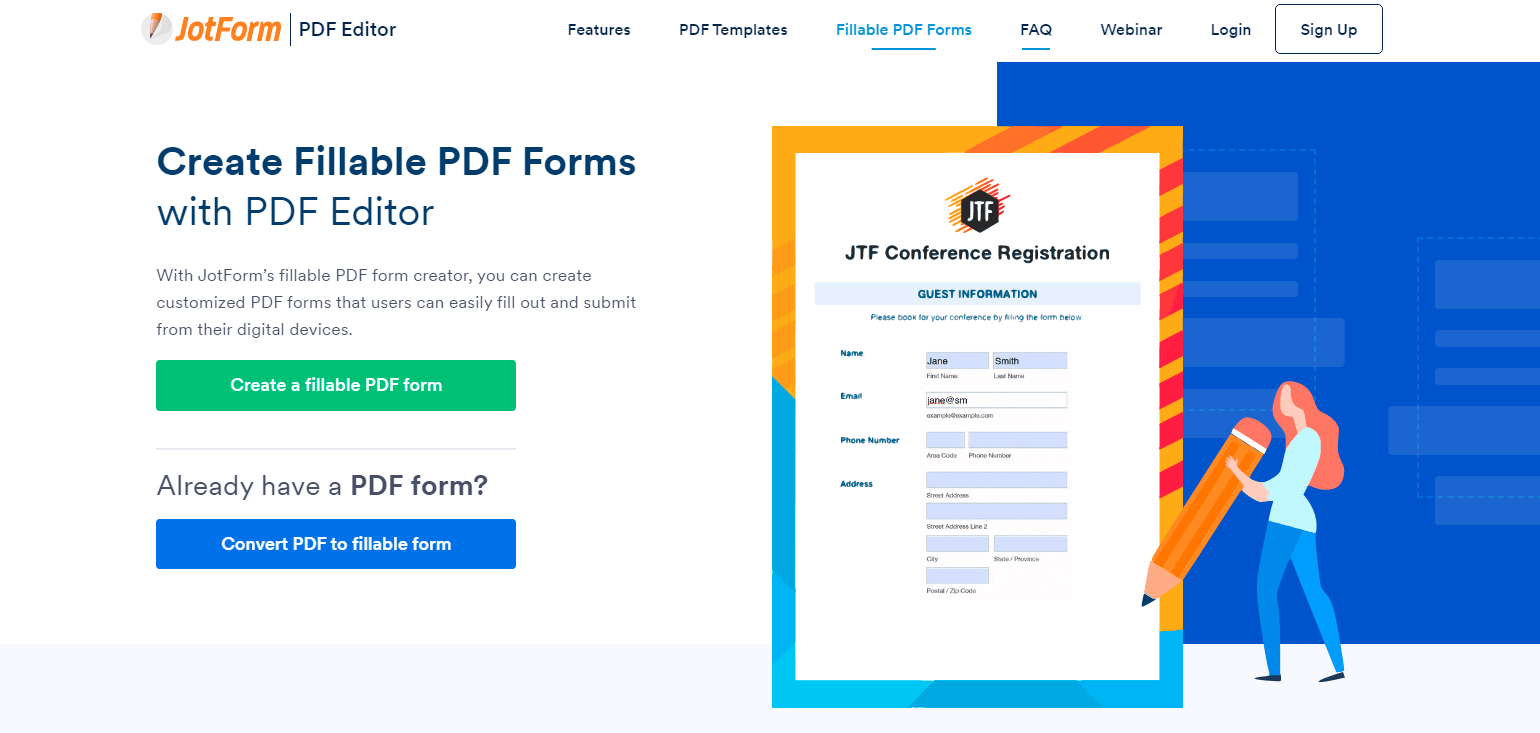 It also has the tools you need to create texts, blank fields, and checkboxes, among other things. You can utilize them whether you are on mobile, tablet, or computer since it works with all browsers.
Other features include emailing the form or embedding it on your website.
DocFly
DocFly is also web-based, and it's also rich with tools you need to create a fillable PDF form. You can make one from scratch after creating an account or upload it from your local storage. It doesn't matter which device you are using.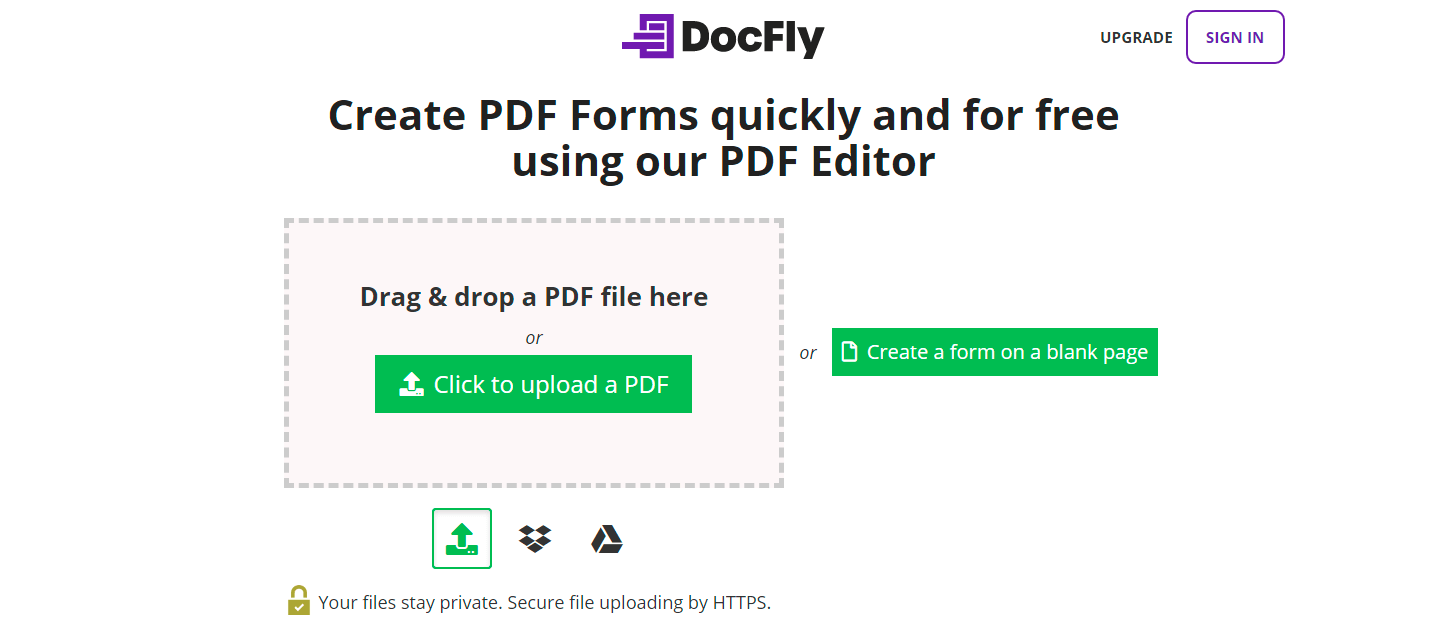 If you can connect to the internet, the rest is seamless. DocFly also has cloud storage where files are safe after uploading via a secure HTTPS protocol. The only problem is that you are limited to creating up to three files in a month for free.
Soda PDF
With Soda PDF, you can do a lot when it comes to PDFs. The features include creating fillable forms from scratch or uploading one. After that, you can use the tools to make the fields, texts, radio buttons, and more.

It's also possible to add signature fields and sign using Soda PDF. It's, therefore, a sophisticated platform with everything you need for the PDF niche. If you would like to use it offline, there is a downloadable desktop version.
PDFescape
Lastly, we have the PDFescape that claims to be the original PDF editor. When it comes to creating forms, that is possible via the 'Create Basic Forms' link, and it has the tools to enable the addition of text boxes and buttons.

There is a free version to use, and you need to signup before commencing. If you would like to work via your desktop, there is a Windows version compatible with Win 7, 8, and 10. While it will help in creating custom fillable PDF forms, it's limited with features.
Conclusion
Using online tools to create fillable PDF forms is the new norm and relatively easy. Downloading software is still another solution, but that is hectic already, not to mention you have to pay hefty fees to acquire the best application.
That is why CocoDoc and the rest of the platforms offer you a way out via the internet. Now, you only need a connection to access via your browser, and the rest is solved in minutes.
Check Also: