Old photo restoration apps are popular owing to their versatility and distinctiveness, as there are very few apps or programs that can genuinely enhance really old photos. With a little more time and effort, you may erase blemishes from old images online and even fully rejuvenate them using desktop software apps. Naturally, a large demand for photo restoration software stems from the fact that it may restore old images back to life, and a large number of individuals seek out old family photos. They can also repair old family portraits and create frames or prints from them. You may use VanceAI Photo Restorer to enhance vintage images and create frames or more from them.
Why should you use an AI Photo Restorer?
It is not easy to improve the quality of antique family photographs or images. In many cases, users may simply attempt to restore outdated pictures using complex software products such as Photoshop. While an application like Photoshop can produce stunning results, it is also very intensive to learn and use. Photoshop is a type of specialized software for improving old family portraits and for basic photo editing. It's just feature-heavy software that can't keep the user's attention. This might be annoying for many users, especially in today's world where everyone needs to delegate responsibilities to get everything done. Not to add that Photoshop becomes impractical when you have a large number of photographs to alter and have no prior expertise with the tool.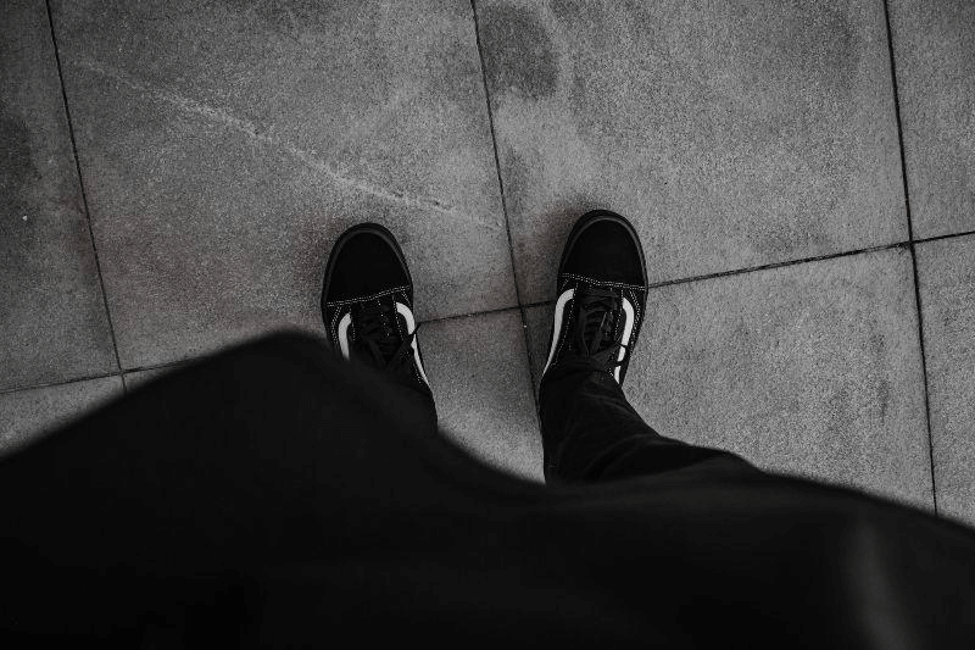 You can shorten the time it takes to acquire results by employing an AI-based internet application. The AI vintage photo restoration process automates the fixing process. Because of AI, photo restoration online is rather simple; users merely upload an image and run the tool. The tool handles the fixing, and users simply wait for the results. Other programs required users to employ the tools for picture correction on their own. Not to mention that the AI systems embedded into applications like VanceAI.com are powerful enough to provide you with excellent results even when you're not doing anything. Hundreds of thousands of images are provided to the AI in order for it to become acquainted with the algorithm and jobs. VanceAI Photo Restorer is an excellent solution if you need good results quickly.
How Does VanceAI Photo Restorer Restore old family portraits?
Follow this simple and quick method to learn how to undertake AI old photo restoration with VanceAI Photo Restorer.
Step 1: Use the URL provided above to immediately access the tool on the website. You will notice an Upload Image option on the page. Click it to open the Workspace, where you can upload photographs for processing.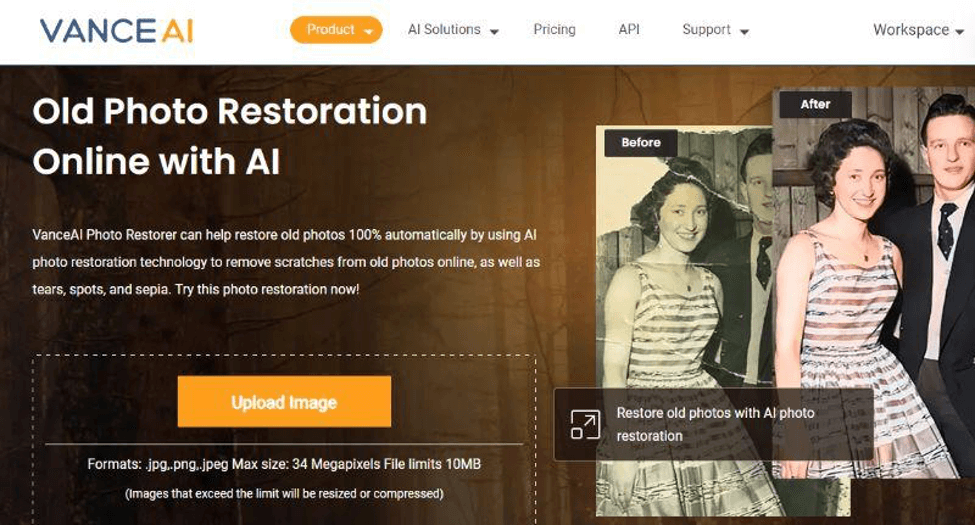 Step 2: Once in VanceAI Restorer Workspace, you may upload pictures and change settings. After you've uploaded an image, it will appear on the left. Then, after a few seconds, click the Start to Process option.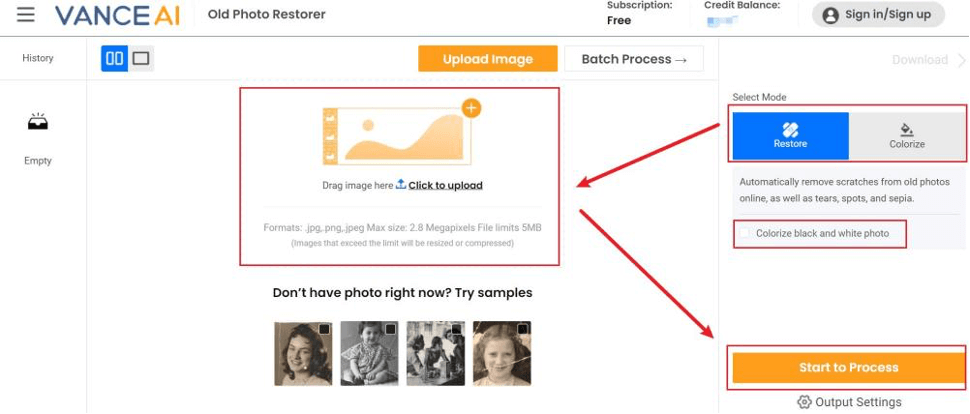 Step 3: After the image has been processed, it will appear on the right side alongside the original image. Save the image to your device by clicking the Download Image option.

Old Photos Restored by VanceAI Photo Restorer
1. Enhanced Old Family Portrait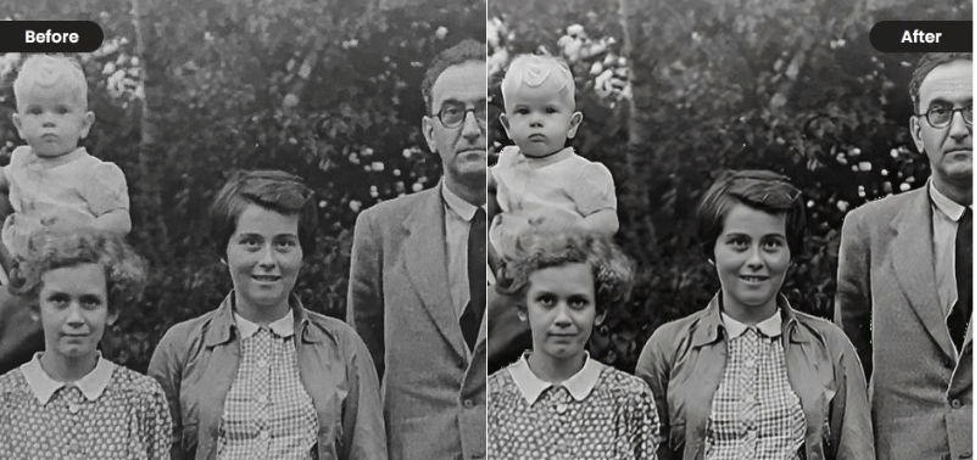 The photo restoration program is quite good at improving the clarity of old family portraits and enhancing their faces. Even if there are no big damage marks in the prior photograph, there is a lot of image noise that degrades the quality. In fact, the picture noise blurs the face of a baby. Furthermore, the photo restorer can repair old family portraits in a matter of seconds.
2. Fixed Porch Family Portrait

Given how badly damaged the original image was, the VanceAI photo restorer produced an excellent outcome. The prior image is heavily influenced not only by color but also by damage lines. After processing, the new image is miles ahead of the prior image in terms of quality and clarity.
3. Improved Family Portrait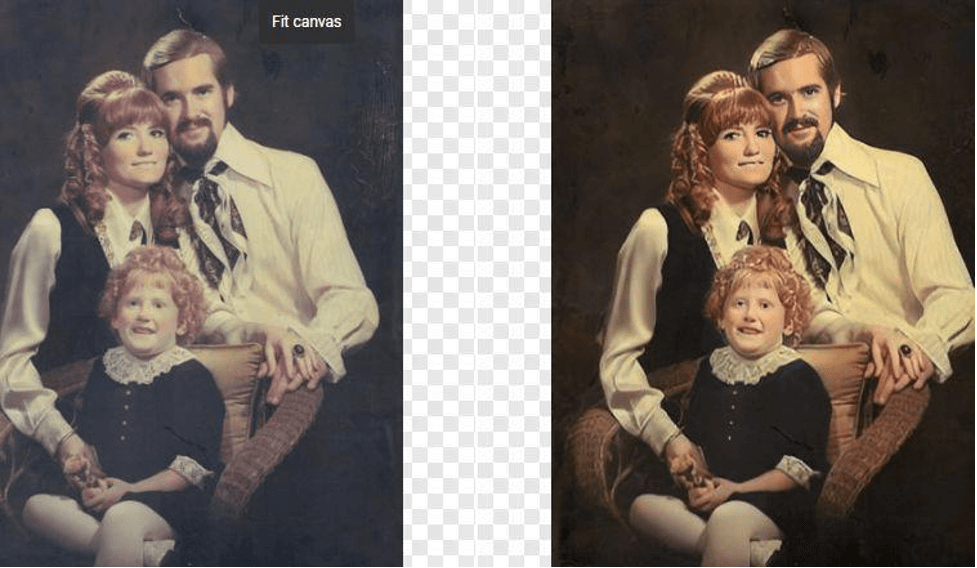 In terms of boosting the various characteristics of an image, VanceAI is also rather good at photo restoration. In this situation, the photo was not severely damaged, but it had incorrect tones. The image seems significantly sharper after being processed using VanceAI Photo Restorer. Not to mention that a new image reveals more details because it isn't diluted by image noise.
Conclusion
You can recover ancient images with astonishing simplicity using VanceAI. The application is really well-designed, and the photo restorer tool is powerful enough to restore antique photos without requiring any human input. Furthermore, using VanceAI is quite simple and inexpensive. You can use VanceAI as an API, which you can request from the website, in addition to the usual online edition.
When you create a VanceAI account, you will receive three free image credits each month as a VanceAI user. If you want to obtain a subscription, the yearly plan starts at $5.94 per month and includes 100 image credits. The monthly plan is $9.90 per month for 100 credits. Both of these subscription categories can be upgraded to provide more credits at a higher cost. Otherwise, you can get 200 image credits for $24.99 or upgrade it.
VanceAI's Additional Options
VanceAI provides a plethora of photo editing possibilities. This online platform continues to expand and bring new features or tools to meet a variety of purposes. VanceAI offers both productivity and creativity-based features, which is unusual for an online-based AI picture editing program. VanceAI Image Enhancer, for example, can boost the quality of your images without requiring them to be upscaled. You may even get creative with your old family portraits by coloring them to make them look more current. You may do this with VanceAI Photo Colorizer, which can color any type of black-and-white photograph.
Free Alternative to VanceAI
You might want to try out some free alternatives before purchasing or subscribing to VanceAI. VanceAI supports a variety of such tools.Photorestoration.ai can be used to improve old family portraits and other images. It is essentially a basic web platform by VanceAI that, like the Photo Restorer, can effortlessly repair old images in a matter of seconds.