If you have questions on whether your printer is functioning properly or not, printing a test page is the first checkup to help you. If you have trouble printing from a specific application, this can be very useful. This will restrict the diagnosis of the issue of having a printer test page.
In situations where you cannot control the printing of the pages from a program, you can still print a test page without any problem. In that way, you might conclude that your application is the problem.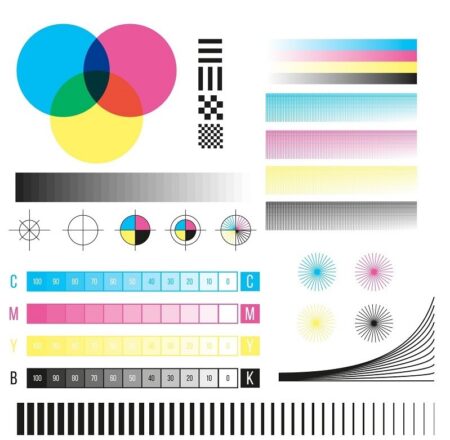 If you have made sure the application is the problem, the troubleshooting options should be checked with the program to ensure that you can solve the printer problems faster.
B/W and Color Print Test Page – Online Printer Test Page
These buttons will print a one-page test page for testing your printer.
Black Test Page Color Test Page
CMYK Print Test Page (Cyan, Magenta, Yellow and black) All in One
This button will print a one-page test page for testing your printer.
How to Take out a Printer Test Page?
The test page choices will vary from one version to another of the operating system. Let's check the test print methods step by step.
Windows 10
Printing a test page is very simple and straightforward. Here are the necessary steps –
On Windows Search and type in Printers and Scanners.
Click on the Icon. Alternatively, you can open Settings and click on the Devices Choose Printers and Scanners option.
Click on your printer and then click on Manage
Now locate the option Print a Test page
It will do the work. Your printer should now print a test page. If your printer supports color printing, you should also be able to print a color test page.
Windows 7
The steps to print the test page in Windows 7 is as follows –
Click on the START button.
Choose Control Panel.
Select the option Devices and Printers.
Choose your printer and right-click on it.
Select Printer Properties.
You should find the option to print test page here.
Your printer will now start to print a test page.
Windows XP
The test page on a Windows XP system will still be somewhat similar to the other two. Follow the following steps to find the right solutions.
Click on the Windows Start.
Choose Control Panel.
Double-click on it.
Right-click on the Printer and choose Properties.
Next, click on Print Test Page.
We have cleared out all the points so that you can use all options to print a test page. If you can print your printing page under these choices, your printer has successfully ruled out any problem with your printing requirements.
Get Featured in READUS247. It's an easy task. Submit your guest post for READUS247 by mailing your ideas to our official mail id. For guidelines, check our write for us page.