Many players of SnowRunner have recently reported issues using Logitech G29 and G923 racing wheels with the game on PC. This widespread technical problem has prevented steering wheel users from enjoying the acclaimed off-road driving simulation.
The Issue and Its Impact
SnowRunner provides an immersive experience of operating powerful trucks and vehicles across extreme wilderness environments. The simulation aims to accurately convey the challenge of traversing mud, snow, and rocky terrain. For players using racing wheel peripherals, the lack of steering wheel support in SnowRunner removes a key aspect of that realism.
Without the precision handling and force feedback enabled by steering wheels, players lose out on the enhanced driving experience offered by these controllers. Instead, they are forced to rely on keyboard or gamepad controls which cannot provide the same connection between driver input and vehicle behavior. This takes away from the authenticity at the heart of SnowRunner's appeal.
For enthusiasts who have invested in dedicated racing wheel setups for driving simulation games, the problem is especially frustrating. The expectation was that SnowRunner would deliver a best-in-class steering wheel experience based on its marketing and focus on simulation mechanics. Not being able to utilize expensive hardware as intended ruins the game for players affected.
Steering Wheel Gameplay in SnowRunner
SnowRunner carries the tradition of Spintires and MudRunner in delivering a dedicated off-road driving experience. The addition of steering wheel support seemed a logical evolution given the focus on vehicle simulation and management of traction, torque, and weight distribution across rugged environments.
During slippery, precarious driving situations, racing wheels with programmable force feedback and rotation angles allow for more nuanced throttle and steering inputs. This helps players maintain control of their vehicle through technical driving challenges. Access to sequential stick shifters and pedals for gas/brake adds further depth for steering wheel users compared to gamepad or keyboard options.
When working as intended, steering wheel integration provides increased realism and immersion which many players expect from SnowRunner. The lack of this support cuts off a key avenue of enjoying the game's emphasis on thoughtful, simulation-based off-road driving.
Players' Complaints and Frustration
Across social media, forums, and reviews, SnowRunner players using Logitech G29 and G923 wheels have widely reported the lack of response or input recognition from their devices. The problem appears to impact players on both PC and console platforms universally.
Despite following recommended troubleshooting steps, users have persistently experienced a complete lack of steering wheel input detected by the game. Understandably, this has generated significant frustration among affected players who paid premium prices for high-end racing wheels but cannot utilize them with SnowRunner as expected.
Many users have expressed disappointment at the lack of urgent response or proposed solutions from SnowRunner's developers regarding the issue. While some have obtained refunds, players who want to enjoy using their supported steering wheels feel left behind due to poor communication and slow progress fixing the bug.
Acknowledgment and Efforts from Developers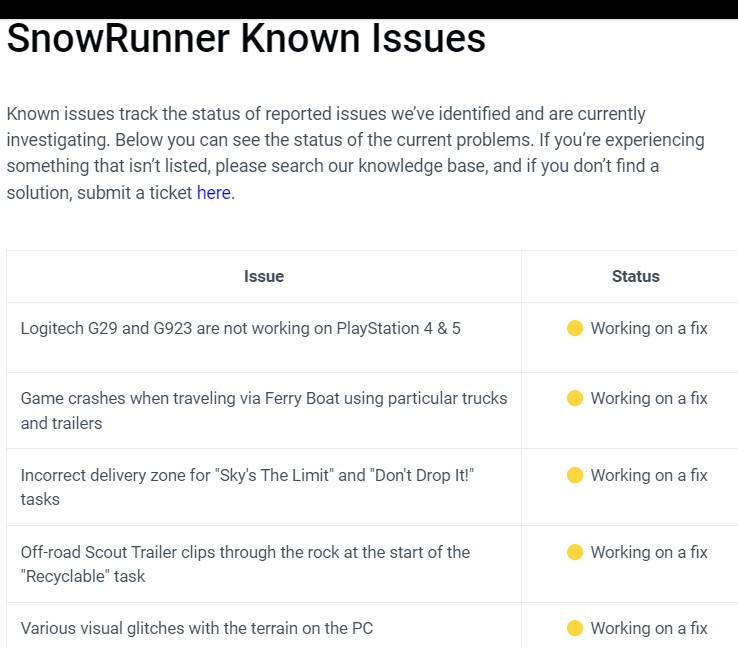 Saber Interactive and Focus Home Interactive, the developers and publishers behind SnowRunner, have acknowledged the Logitech wheel problem across statements on social media and in patch notes. However, players remain unsatisfied with the lack of clarity on a definite resolution.
The developers have suggested workarounds like using Logitech G Hub software or trying wheels on different USB ports, but these have not reliably addressed the issue. Updates mentioning continued efforts to resolve the problem with Logitech have provided little confidence of an imminent fix.
Some clarification on the cause of the issue and more transparency on the timeline for a proper patch would help regain goodwill from disgruntled steering wheel users. Nonetheless, Saber Interactive's most recent update notes vaguely point to ongoing collaboration with Logitech and continued attempts to deliver a permanent solution.
Potential Troubleshooting Steps and Alternatives
Until an official patch is rolled out, affected players have few reliable options to fix the Logitech wheel problem themselves. Possible troubleshooting steps include trying different USB ports, reinstalling drivers and the game, checking controller settings within Steam or Epic Games Launcher, and contacting customer support.
For alternative steering wheel options not impacted by the bug, some users have reportedly had success with wheels from Thrustmaster, Fanatec, and other brands. Using an Xbox controller is another temporary workaround, though without the desired realism. Considering a refund or pause on playing until the issue is definitively resolved may be the best approach for affected users.
The Need for Updates and Communication
SnowRunner developers have made somewhat vague promises of an upcoming fix ever since the steering wheel issues arose at launch. However, continued delays and lack of clarity around solving the problem permanently has damaged trust among players affected.
More substantive updates on progress collaborating with Logitech and concrete ETAs for patches would help rebuild confidence. The lack of reliable steering wheel functionality has already impacted reviews and reception of an otherwise well-executed driving simulation.
Restoring goodwill with steering wheel users will require consistent, transparent communication along with an actual release of the much-anticipated fix. SnowRunner's developers must follow through on their acknowledgment of the problem with actions that solve it for good.
Conclusion
The technical issues with Logitech G29 and G923 racing wheels represent a major shortcoming in SnowRunner's driving experience for dedicated players. It has prevented them from enjoying supported hardware tailored for simulation titles like this.
Addressing the problem in a timely, satisfactory manner through patches and communication should be a high priority for Saber Interactive. The realistic off-road driving that sets SnowRunner apart relies on responsive controls, so steering wheel functionality is essential.
Restoring support through continued cooperation with Logitech offers the best way forward. SnowRunner shows immense potential as a thoughtful off-road simulation, but presently falls short for players without smooth and intuitive steering wheel handling. Definitively fixing this should be a top focus for the game's developers.