No, Facebook does not allow users to check who viewed their profiles. This functionality is not available in any third-party apps, either. If you find an app that claims to be able to do this, please report it to Facebook.
Social media privacy issues have long been a contentious topic. Users want to be able to control who sees their content, and Facebook has mostly provided them with that opportunity through a variety of settings, including the ability to turn off the friends tracking feature, delete images, and ban users on Messenger.
A simple workaround can be used to achieve tasks that lack specialized settings, such as finding out who has blocked you on Facebook. You're not the only one who may be curious about "Who saw my Facebook profile." After all, knowing whether a potential employer is looking at your page or whether your ex is keeping an eye on your social life might be useful. Is it therefore feasible? Find out by reading on.
Can I see who viewed my Facebook profile?
Unfortunately, there is no way to check who has viewed your profile on Facebook. Officially, Facebook does not permit users to track who views their profile, as stated in a response on its Help page.
That does not mean that the website has never permitted it. According to Eric Griffith, an editor at PCMag.com, Facebook apparently temporarily permitted this function in the iOS app for iPhones in 2018, following the Cambridge Analytica incident, which exposed users' personal data as a result of a security breach.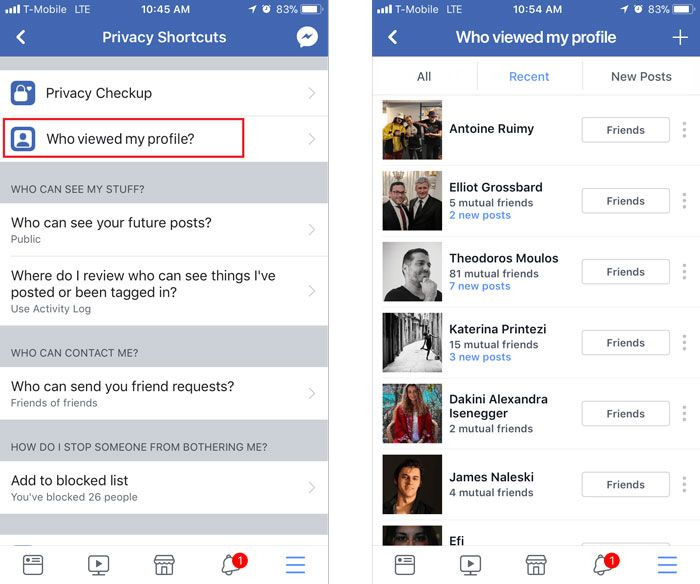 Users could view who visited their page in the past 30 days as well as who saw their most recent postings during the brief time that that functionality was available. That choice is no longer an option.
Some users of LinkedIn, a social media site for professional networking, are able to know who has viewed their profile since they have paid for "premium" subscriptions. According to Griffith, LinkedIn is the only service that carries this out. Despite sporadic reports to the contrary, Facebook has never provided a paid or value-added membership—just one of many Facebook "facts" that are untrue.
Facebook does not allow you to see who has visited your page, but you can see who is following and unfollowing you.
Can I use an app to see who viewed my Facebook profile?
Users can be tempted to use a third-party app or browser extension to check who has viewed their profile on Facebook as this feature is not available on the social media platform itself. Griffith cautions that third-party programs and browser add-ons that purport to show you a list of persons who have viewed your Facebook profile are dangerous.
Facebook doesn't want third-party apps to permit this, and the company even asks users to report any that do, according to Griffith. For your protection, think about what else an app might be scraping about you if it could access that data. They are almost certainly stealing some of your info if they can.
Lifewire's editor-in-chief, Lance Ulanoff, concurs, stating, "They're probably selling the data to a third party." According to Alex Heid, the chief research and development officer of Security Scorecard, this activity is referred to as "data harvesting," because granting access to or permission to examine your data also discloses your friends' data.
Therefore, avoid using apps that claim to be able to track this data and report such services to Facebook. For the same reason, you ought to avoid taking Facebook quizzes.
Can you hack your own data to see who's viewed your Facebook profile?
According to a well-known Internet "hack," by looking at the source code of your page, you may see who viewed your Facebook profile. According to websites that advertise this hack, you can view the profile ID numbers of visitors. There is no way to verify that these figures and accounts genuinely represent people who visited your profile; they could instead be people you already engage with on Facebook or Messenger, Ulanoff cautions.
Additionally, trying this exploit can put your machine in danger. According to Griffith, his "browser is bringing up security alerts" when visiting the websites that advise these hacks. It's advisable to avoid facilitating malicious actors' access to your data on Facebook because the social network is rife with hoaxes.
Why doesn't Facebook let you check who viewed your profile?
The lack of a standardized method to track Facebook profile views is primarily due to privacy concerns. According to Andrew Selepak, PhD, head of the graduate program in social media at the University of Florida, "it would be a PR nightmare for Facebook if there was a method for non-friends to read your page and for users to know about it.
We all search for friends, ex-friends, coworkers, and other people on Facebook, and we don't want other users to know when we do so. If this were feasible, there is a risk fewer users would visit the site, which would harm Facebook's income, he adds.
I hope that this information was helpful to you in finding out who viewed your Facebook profile. Share this article if you found it useful and feel free to leave a comment below if you have any questions or doubts. Be at home! Take Care!