Boiling 6 cups of water typically takes 5 to 10 minutes, depending on factors such as initial water temperature, heat source, and pot composition. For example, a 1500W electric kettle can heat 6 cups (1.4 liters) of room temperature water (20°C or 68°F) to boiling in approximately 5 minutes. In contrast, a gas stove with a medium-high flame might require 7-10 minutes to produce the same outcome. Employing a pot with a larger surface area or constructed from materials with superior heat conductivity can reduce boiling time even more.
How Long Does It Take for Water to Boil?
In a highly efficient 1kWh (kilowatt-hour) water heater, it takes around 90 seconds to boil 1 cup (250ml) of 59°F (15°C) water. This assumes a continuous increase in heat and no heat loss at constant atmospheric pressure (1 Atm).
Boiling water may be done in a variety of ways with a variety of equipment. The amount of time it takes for water to boil is determined by a number of factors:
the pace at which heat is added
the temperature of the water at the start
your heater's effectiveness
the volume of water that must be brought to a boil
the pressure in the atmosphere
contaminants in the water
The type of water heater utilised, as well as the temperature of the beginning water, are important considerations. If you try to boil water that is close to the freezing point, it will take a long time.
How Long Does It Take To Boil 6 Quarts Of Water?
Boiling 6 quarts of water can vary depending on your heat source's power and the initial water temperature. A 15,000 BTU burner typically boils 6 quarts (1.5 gallons) of water starting at 50°F in 12-15 minutes. With an electric stove featuring a 2,000-watt burner, boiling time ranges from 15-18 minutes. Altitude and cookware material may affect boiling time. To speed up the process, cover the pot with a lid to trap heat and consider using hot tap water as a starting point.
How to Calculate How Long to Boil Water
This is a simple calculation.
To elevate a gramme of water by 1°C, it takes 4.2 J (joules).
(Or 8.33 BTU to raise the temperature of one gallon of water by one degree Fahrenheit.)
So, if your water is 15°C (59°F) and you want to boil a litre (6 cups), with a 1kilowatt heater, 4.2 * 1 * (100 – 15) = 357s (or 6 minutes).
Alternatively, 3 minutes in a 2 kWh heater.
On a 1kWh heater, that's 4.2 * 0.25 * 85 = 89.25 (or roughly 1.5 minutes) for 1 cup of water (250ml), or 45s on a 2kWh heater.
However, we do not utilise perfect water heaters in real life, and there is a lot of heat loss and inefficiency when converting electricity to heat, thus it takes longer.
How Long Does It Take to Microwave Water to Boil?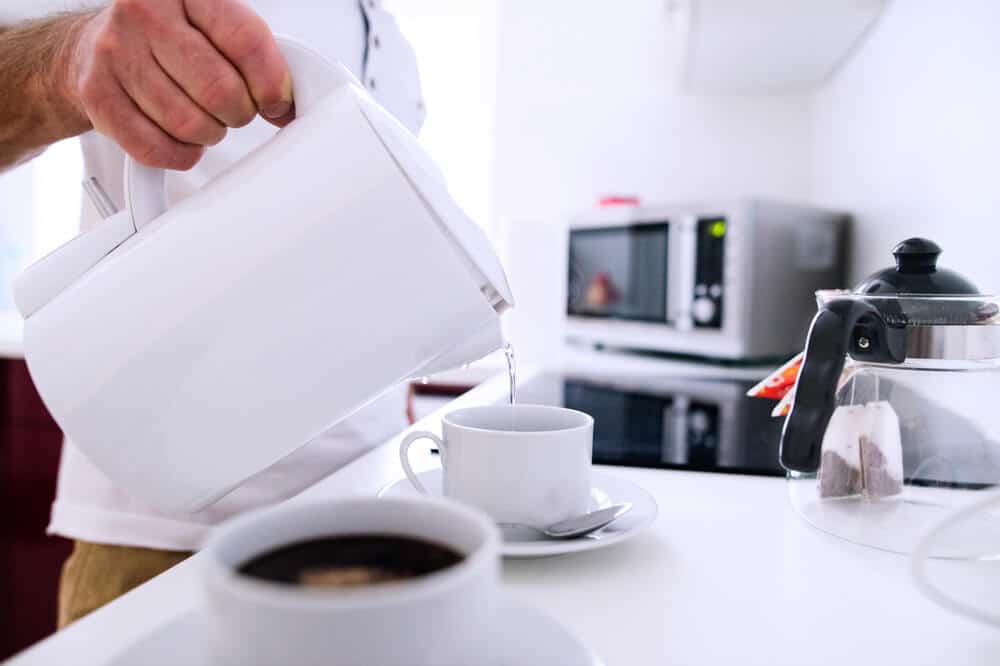 A cup of water will boil for around 1 to 1.5 minutes in a 1.5 kWh microwave. It will take around 2.5 to 3 minutes in a microwave with a power of 700-800 watts. In a normal microwave, boiling 6 cups of water (1 litre) takes 3 to 5 minutes.
It appears to be too long at first appearance, but there are always heat losses from the water and inefficiencies in transferring electricity to heat. The time it takes to boil water is determined on the amount of energy used and the microwave's efficiency.
When boiling in the microwave, a spoon of sugar or salt can be added to aid with the bubbles after the temperature reaches the boiling point.
On a stove, how long does it take to boil water?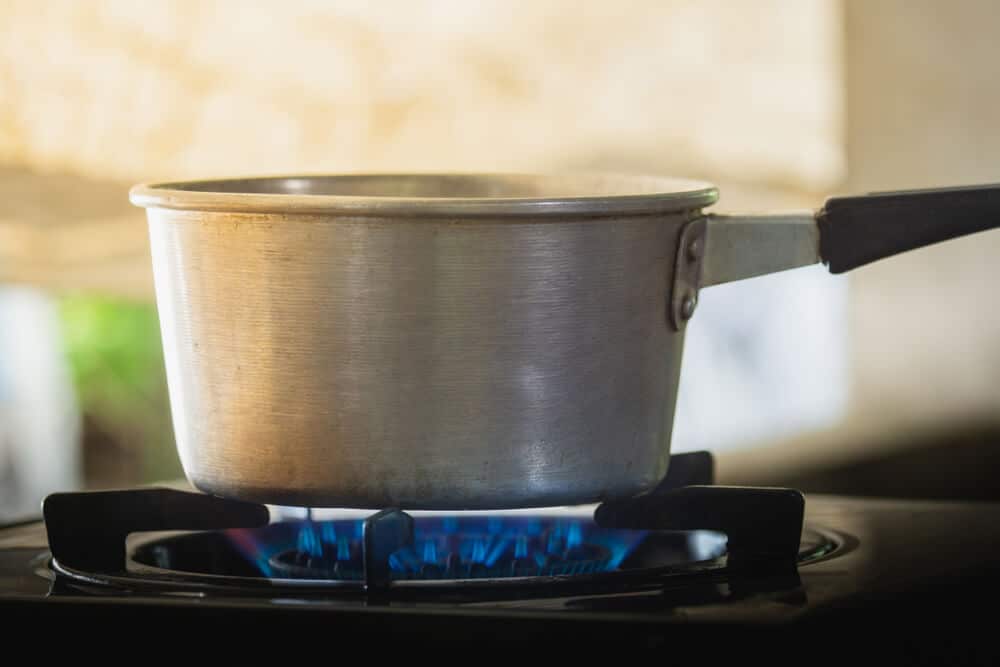 Depending on the stove, it will take 8 to 10 minutes to bring 6 cups (1 litre) of water to a boil. Depending on the stove, it usually takes 2 minutes each cup of water.
Boiling 6 cups (1 litre) of water on a gas stove takes 8 minutes.
Boiling 6 cups (1 litre) of water on natural gas takes 7 minutes.
Boiling 6 cups of water on an induction stovetop takes 5 minutes (1 liter).
Boiling 6 cups (1 litre) of water on an electric cooktop takes 10 minutes.
How Long Does It Take to Boil Water in a Kettle?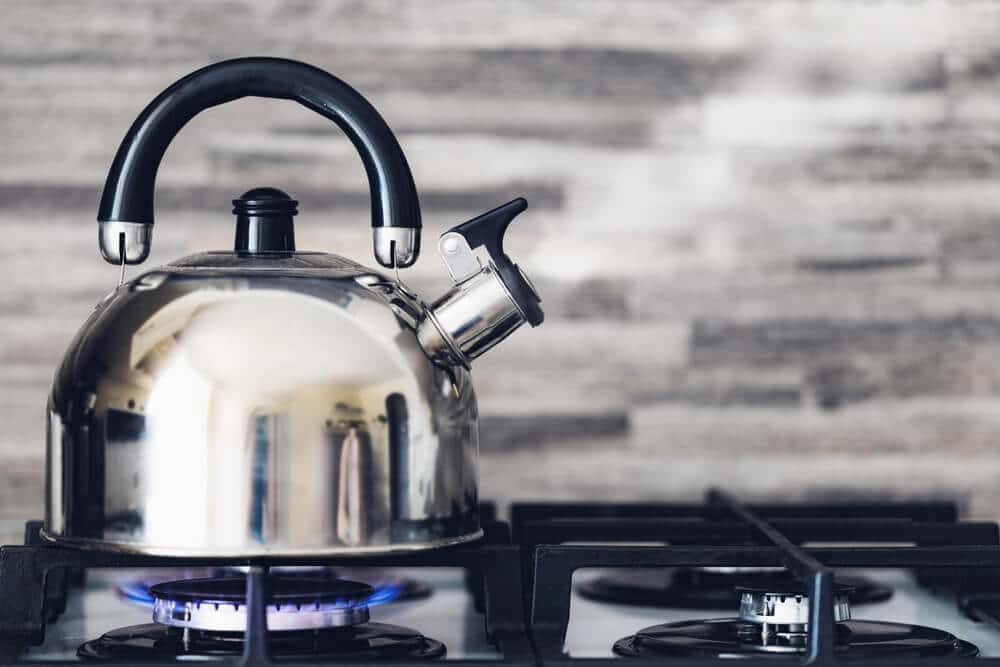 It takes around 5 minutes to boil 6 cups (1 litre) of water in a 1500 watt kettle. Boiling 6 cups (1 litre) of water with a stronger 2400 watt kettle, for example, would take 2-3 minutes.
This is the time if we suppose the water temperature was 59°F (15°C) when we started boiling and the air pressure was 1atm.
How long does it take to boil four quarts of water, six quarts of water, and twelve quarts of water?
There are several ways to boil water, as well as a variety of burners.
On a 15,000 BTU burner, boiling 6 quarts of water from 50°F to 212°F takes 11 minutes.
On a decent Natural Gas burner stove, it takes 5 minutes to bring 6 quarts (1 gallon) of water to a boil, or 9-10 minutes on an 18,000 BTU burner. On a 7,000 BTU stove, it generally takes 15 to 20 minutes.
6 quarts (1.5 gallons) of water would take 12-15 minutes to boil on a 15,000 BTU burner with water beginning at 50°F. Bringing 12 quarts (3 gallons) of water to a boil takes 20-25 minutes.