Spotify a well-known Swedish audio streaming and media services provider was founded in 2006 and is streamed by over 433 million monthly active users with a significant increase of over 60 million every year.
The latter options are also available for further answering your queries.
While running Spotify/ Spotify premium on your device, I'm sure you have noticed a notification saying "no internet connection" on the bottom of your screen although you are connected to the internet and all the other applications are working properly and the most surprising part is that even premium users are facing the same issue. Downloading and streaming music in MP3 format from various other websites is definitely an option but when there is an online streaming platform people would generally be inclined toward it. Downloading songs not only promoted piracy but also users end up downloading malware/ advertised applications unintentionally where the comparatively higher audio bitrate files get bigger and bigger eventually ending up wasting storage space on the respective device. The issue still persists if the technical problems are there and if there are any of the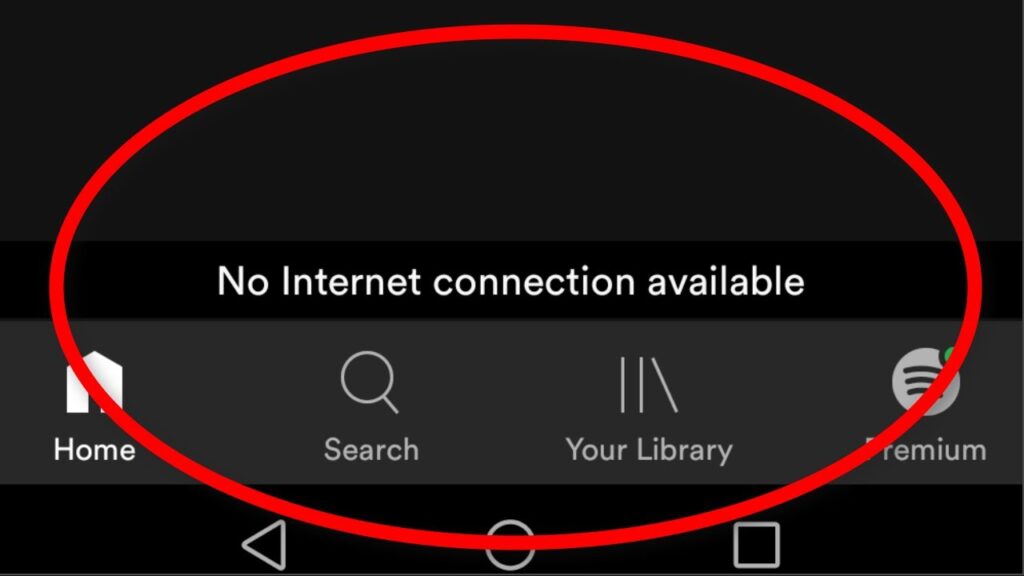 The issue of no internet connection has been a common problem these days and is faced by both Android and iOS devices which becomes another frustrating thing for users to continue listening to their favorite songs online. Today's guide will bring you some of the easiest and best solutions to solve Spotify's no internet connection error. Today's guide will bring you some of the easiest and best solutions to solve Spotify's no internet connection error.
You will see a message like
"Spotify no internet connection detected error code 4 then Spotify will automatically try to reconnect"
Key Takeaways
Even if your device is connected to the internet, Spotify often shows otherwise and this can happen due to several reasons
Updating the app, uninstalling it, and then reinstalling it is one of the most common ways to get over the problem of facing no internet connection on your Spotify
Whitelisting the app on the battery saver, and clearing the cache are also some of the options but sometimes none of these tricks work
How to Fix Spotify No Internet Connection?
Solution 1:
Go to Settings then click on Wireless and Networks
Head on to Mobile Network and select the preferred SIM that you are using for your internet connection.
Move on to Access Point Names where you will see a couple of APNs
If by any chance, the WAP or MMS is chosen, click on the Internet to alter the APN
Once you are done, you can restart your device or click on Airplane mode for a few moments in order to refresh your internet connectivity
Now you can go ahead and launch Spotify and check whether the application is working or not.
Solution 2:
Check your internet connection and retry opening Spotify
Open Spotify, tap on your user name
Once you click on your name, you will notice a small menu
Select the Log out option
Now you will be successfully logged out of your profile
Restart your android/iOS
Reopen Spotify ten Log back in put in the necessary credentials
This will solve the issue and now you can enjoy an error-free Spotify
Solution 3:
Open Spotify app
Tap on your user name and click on the small menu
Tap on Settings
Scroll down to Show Advanced Settings
Find Offline Storage Location
You will find the Path is written
Click Windows+E and the file explorer will open
Now all you have to do is to follow the path when you reach the storage folder, delete all the files in it
Now restart Spotify
Solution 4: From PC
Open Spotify from Browser
Press Windows+S to open the search dialogue
Type Control Panel and choose the appropriate option
Open the Control Panel
Tap on System and Security
Under this category, click on Windows Defender Firewall
Now select the option, Allow an app or feature through Windows Defender Firewall
Now search for Spotify and tick mark on the checkbox
Click OK and now check if Spotify is working
Solution 5: Changing DNS settings
Open Spotify from the browser
Press Windows+S in order to open the search dialogue
Type Control Panel and select the necessary appropriate option
Now open the control panel in your system
Click on Network and Internet
Select Network and Sharing center
Now tap on Adapter Settings
Open your active Network Adapter and then click on Properties
Click Internet Protocol version 4 and then select Properties
Now select Use the following DNS server addresses
Input 8.8.8.8 and 8.8.4.4 in Preferred and Alternate DNS servers respectively
Now click OK and check if the no-internet connection problem is fixed
Final Thought
It can be really frustrating when it shows no internet connection when you are just going to stream online music on Spotify and clearing caches or reinstalling the app has been an outdated solution to fix the problem. Reporting and reviewing Spotify or giving a low star rating does not fix this problem. Hopefully, my guide will help you overcome this problem and if you face any further problems still, do let me know in the comment section and I will definitely get back to you.
FAQs
Why does Spotify say no Internet connection? 

This may be because of several reasons one of which might be because your device has stopped providing internet to the device and to rectify this you might have to restart the device

What is wrong with my Spotify app? 

Spotify might just stop working sometimes and in such a case restarting the app is recommended you should also check for any available updates

What happens if you delete the cache on Spotify?

 Once you delete the cache that would automatically delete all the offline downloaded files but those same songs will be still available for online streaming. 
Check Also: