Upgraded hardware and software are both important for a functional computer. The operating system software plays an important role in the functionality and productivity of any computer. An operating system or OS of any computer is responsible for input, output, memory, processing, and other programming activities.
As a user, you should have a look at the operating system. If you are thinking about purchasing a computer right now, then you have numerous choices according to available OSs. Among them, Chromebook vs laptop pros and cons might confuse you.
Chromebook, MacBook, or Windows laptop: Which one is better for you? This guide will be helpful for you in case you are looking for the answer. Chromebooks might not be the first option for professionals, but they are more affordable.
On the other hand, leading laptop manufacturers such as Dell, Asus, Acer, HP, Lenovo, etc., rely on Windows OS. And, Apple designs premium MacBooks with user-friendly features.
Let's check out how Chromebooks are similar and different from traditional laptops and what pros and cons a user can face using them.
Technical Attributes to Consider while Selecting Chromebook Vs Windows Laptop
Chromebooks run on Chrome OS, an operating system that was first released in 2011 by Google. Whereas the first version of the Windows OS came on the market in 1985 through Microsoft. And, macOS arrived in 1999. Hence, Windows OS and macOS have been in the race for longer compared to Chrome OS.
Professionals and creatives prefer Windows PCs and MacBooks more, indeed. However, we must check the Chromebook vs laptop pros and cons before deciding on the best choice for you. Here, we have mentioned all the factors based on which you should opt for your next computer purchase. Let's get started:
Operating System
As you already know, operating systems are crucial for any computer out there. The prime difference between Chromebook vs laptop pros and cons is that both run on different operating systems.
Chromebooks use the Chrome OS, and this follows the Linux kernel. This operating system is more suitable for running internet-dependent applications.
The Chrome OS is crafted for the minimum necessities. Like Android, all the applications of a Chromebook are made by Google. You can easily set a Chromebook up and use Google apps such as Docs, Sheets, etc., and save all your work in Google Drive.
However, Windows OS and macOS are different from Chrome OS. Local storage and individual applications are available on Windows and Mac laptops. And, it's not necessary to connect to the internet if you use a Windows laptop. If you like traditional Windows and Mac applications, then Chromebook won't be your suit.
Availability of Software
It's obvious that Chromebooks, Windows laptops, and MacBooks will require different application software due to the contrast of their operating systems. Windows laptops and MacBooks can use a wide range of powerful application software that is available in both offline and online modes.
However, Chromebooks are not capable of using popular software that Windows laptops generally use. For example, you can't install AutoCAD, Microsoft Office, or Photoshop on your Chromebook. If you are not bound to software restrictions only, then a Chromebook might be a good deal for you.
Portability
Apart from the operating system and software checks, you must have a look at what Chromebooks and laptops have to offer in the name of hardware. One of the most important hardware features is portability. Chromebooks are designed to handle lightweight and internet-based applications.
That's why they require fewer processing components and other counterparts. This makes Chromebooks ultra-lightweight and highly portable. You can carry your Chromebook wherever you want.
On a contrary note, laptops are destined for better and steadier performance compared to Chromebooks. Hence, Windows and Mac's laptops acquire larger sizes and more weight. So you might find them less portable than Chromebooks.
Performance
This is a significant specification when it comes to Chromebook vs laptop pros and cons. Laptops are built to replace desktop computers such as Windows and macOS computers. That's why they are designed to be resource-intensive devices.
High-end Windows laptops or Mac laptops can handle difficult tasks such as video editing, gaming, and more due to their high-performance processors. Whereas most Chromebooks have limited hardware potential. Only high-end Chromebook models can compete against laptops.
For instance, Asus Chromebook Flip CX5 is one of the best Chromebooks available in the market. It has the 11th Gen Intel Core i7 processor and 16GB of memory or RAM.
Additionally, it comes up with an SSD storage of up to 512GB. So, you can rely on only high-end Chromebooks if you want a similar performance to a laptop.
Security
If you want a more secure computer system, then Chromebook is a better choice compared to Windows laptops. In terms of vulnerability, Chromebook is safer. Google applies numerous security features to make Chrome OS more secure.
Here are a few steps taken by Google to protect Chrome OS from threats and attacks:
Chrome OS gets automatic updates more frequently. Google keeps systems updated to keep code secure from hackers and attackers.
In addition, every application and tab uses its own sandbox. If any threat enters the application or tab, it will be automatically eliminated once you are done with the process of that tab or application.
A Chromebook's hard drive doesn't have enough data or content. So, it's easy to remove drive content or reset your Chromebook's hard drives. You can back up all your valuable data to the cloud to eliminate the chances of data loss.
On the other hand, Chrome OS doesn't allow any infected or corrupted system to start. The operating system examines every file after each boot. If it comes across a defect, then the system immediately takes a backup.
However, Windows laptops are easy targets for hackers. Windows OS is more popular, and it gives more success to hackers in cyber threats and malware attacks. The operating system is comparatively more complex than Chrome OS. That's why it can be vulnerable to attacks such as malware, viruses, and more.
In addition, macOS devices are comparatively safer than Windows PCs. Still, macOS computers are more prone to threats than Chrome OS devices are.
Battery
Chromebooks offer an excellent battery life regardless of different models. On average, a Chromebook is capable of delivering non-stop performance for up to 12 hours. However, we can't guarantee that much battery life for Windows laptops.
Windows laptops offer variable battery life promises according to their manufacturer and price range. For instance, high-end Windows PCs can deliver a battery life of up to 12 hours but not most Windows laptops can behave the same.
Moreover, MacBooks are great in terms of battery life. Apple promises up to 18 hours of battery life with high-end MacBook Pros and MacBook Air models. So, if you are looking for a portable yet battery-efficient machine, then Chromebooks are for you.
Pricing
Another advantage of Chromebooks is their affordability. Average Chromebooks are cheaper options compared to Windows laptops. Thus, they are perfect for those who are looking for budget-friendly devices.
For example, students will find Chromebooks a great addition. However, you need to remember that you will get what you would pay for. It's important to check all the specifications and features of a Chromebook before you make a commitment.
On the other hand, Windows PCs are available in different price ranges according to the performance processor, memory, storage, and additional features. However, macOS computers are in a higher range compared to Chromebooks and even Windows laptops.
Chromebook vs Laptop Pros and Cons: At a Glance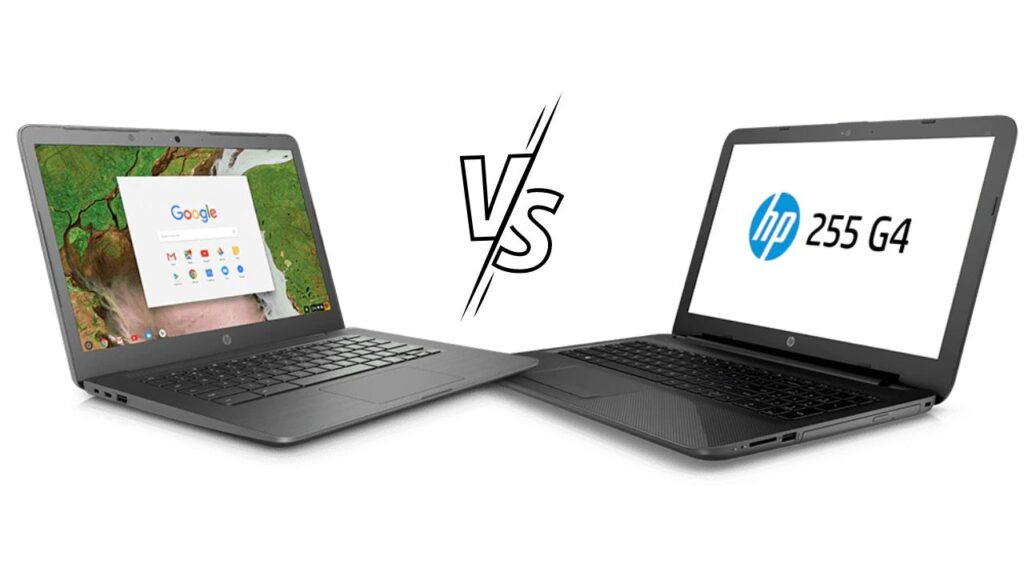 You have already checked out Chromebook vs laptop pros and cons depending on a handful of factors. We have also summarised the list of pros and cons of Chromebooks and laptops, one by one.
Go through them before you make an informed decision:
Pros and Cons of a Chromebook
Chromebooks are full of advantages and disadvantages. Here are some advantages of acquiring a Chromebook:
Easy to set it up
Lightweight and portable enough
Inventory Google apps
Fast and smooth user interface
Most secure options
Available at affordable prices
Low maintenance
Great battery life
And, you can come up with the following disadvantages for a Chromebook, such as:
Restricted use of offline functionality
Printing problems
Minimal storage
Graphic designing, video editing, and intensive gaming are challenges for Chromebooks
Pros and Cons of Standard Laptops
On a contrary note, you should keep the perks and downsides of laptops over a Chromebook. Let's start with the advantages of laptops:
A vast array of application software is available
Windows and Mac's computers are preferred by professionals
They are compact
Average to great battery life
Users can run most software applications during offline mode if they are not completely web-based
In addition to the benefits of laptops, we must note down the associated downsides:
Lower-end laptops might have performance issues
It's difficult to customize laptops, especially MacBooks
They are comparatively more expensive
High-maintenance cost
Less secure than Chromebooks
Final Verdict…
The guide simplifies the debate of Chromebook vs laptop pros and cons. Hence, you can now select the right computer for your personal use. If you prioritize competitive price, secure interface, and minimal setup, then Chromebooks are the best. 
Otherwise, you should opt for Windows PC and MacBooks if you aim for high-end performance, offline apps, and more. Countless models are available in the market regardless of your preference.