Undoubtedly, you have witnessed wireless or Wi-Fi communication fluctuating from time to time. You might have to scooch to the corner where your router sits to ensure that you get the optimum download and upload speed. However, it's difficult to try and test the Wi-Fi signal strength at every nook and corner of your house.
If you are working on your Windows computer and looking for a stable Wi-Fi signal map, then a Wi-Fi analyzer can help you. Give free WiFi analyzer Windows-supported tools a shot to have a look at how wireless communication behaves. You can detect how many wireless signals are available in a certain area.
In addition to this, you can check out the demand for Wi-Fi signals and how they can interfere with other signals. Thus, it can lead to a connection outage and slowdowns. You can escape such critical signal issues and get important data about the Wi-Fi network you're currently connected to.
Such WiFi analyzers offer graphs, heatmaps, charts, etc., for both 2.4GHz and 5GHz channels. Therefore, you can access the Wi-Fi network from the right place without any tantrums.
Let's review some free Wi-Fi analyzer tools for Windows PCs:
Wi-Fi Scanner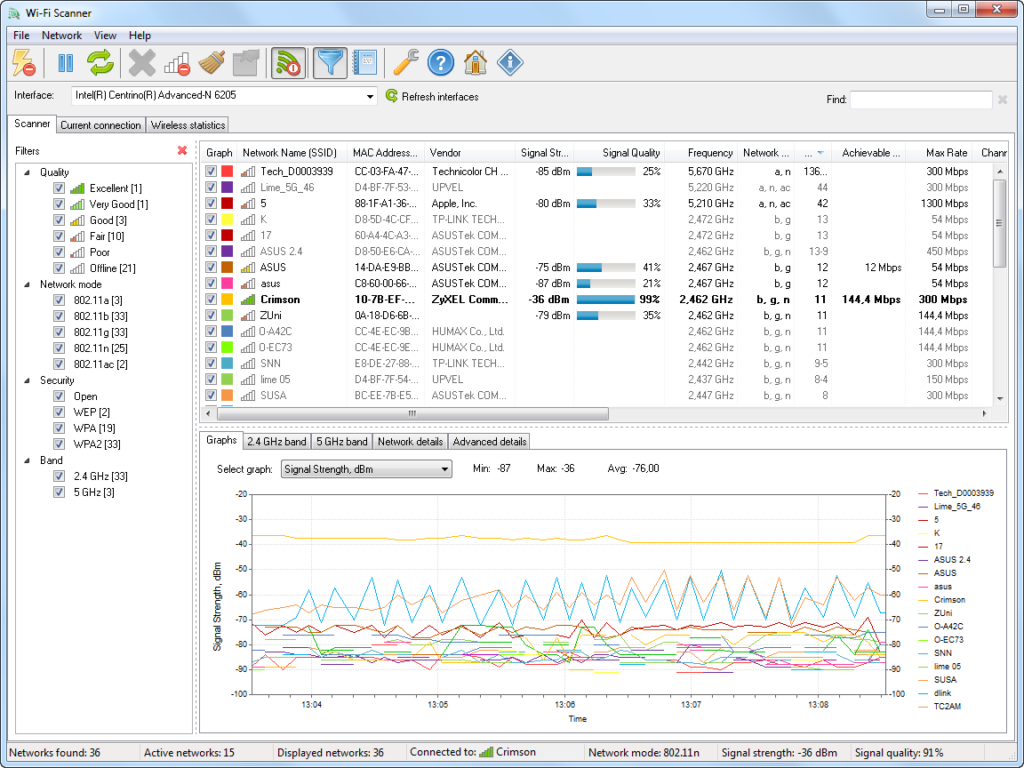 This is one of the best free WiFi analyzer Windows 10 tools for a feature-rich experience. The tool will easily let you know all the available Wi-Fi networks around you. Additionally, the software will display all the detailed information about any network.
What can you learn about a specific Wi-Fi network from Wi-Fi Scanner?
Here it goes:
The network name or SSID
Corresponding signal quality
Signal strength
Maximum rate
Achievable rate
Available channels and their band frequencies
Network mode
Security and encryption protocols
First and last seen
WPS support and more
Besides these, you will also learn about Wi-Fi analytics, such as channel utilisation, signal strength, etc, in graphical forms. Get real-time data under the Scanner and Current Connection tabs.
This free WiFi analyzer Windows software offers the following features as well:
The software allows its users to export Wi-Fi network details in different formats such as HTML, RTF, Text, or CSV files
You can copy a wireless network's properties
Additionally, you can form an HTML report regarding network graphs, tables, and other information
You can even set some preferences for a particular network using this tool
However, this tool is available for free and private use only.
NetSpot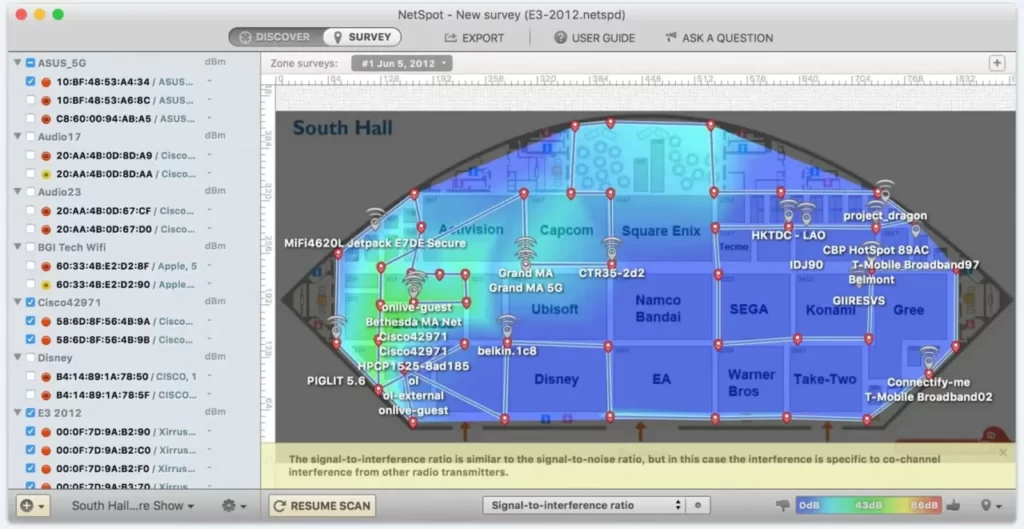 So, what is the best free Wi-Fi analyzer for Windows 10? If you are looking for a professional choice, then you can't underestimate NetSpot and its incredible features. Apart from Windows 10 support, NetSpot is a perfect match for any Windows and macOS version. NetSpot offers regular network troubleshooting, Wi-Fi site surveys, crucial analytics, and more.
What can NetSpot do for your seamless networking experience?
Let's check out:
It scans and analyses your wireless network
The software has a simple yet efficient wizard for users
You can easily track various AP information such as frequency channel, band, security protocol, and so on
The software lets you visualise and analyse the WLAN site
You can scan, analyse, and visualise the coverage of any Wi-Fi network around you
Look out for signal noise and monitor the WiFi strength with NetSpot
You can get this WiFi analyzer for PC free download and run the software whenever required. However, you can upgrade to a paid subscription if you want to discard a few restrictions.
Overall, this particular application offers accurate results for different parameters such as zone variations, multi-level projects, visualisation, and hybrid surveys.
SolarWinds Wi-Fi Analyzer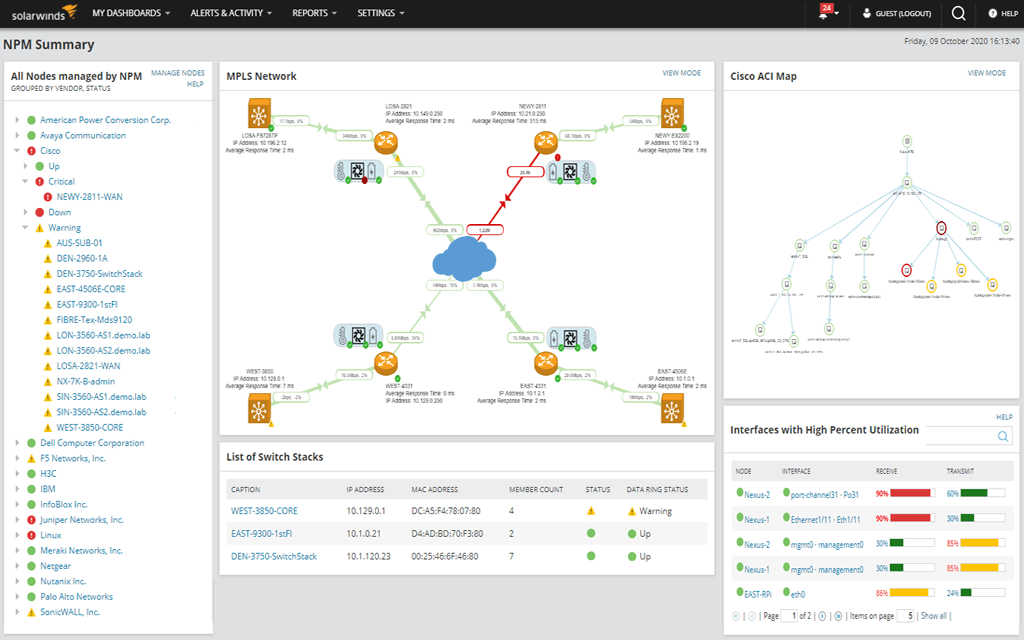 Get the live status of your access point with SolarWinds Wi-Fi analyzer. The best part of this free WiFi analyzer Windows tool is that it features the NPM or Network Performance Monitor. On the other hand, you can obtain exciting features like autodiscovery for wireless APs, Wi-Fi heatmaps, and more.
Monitoring Wi-Fi and LAN services was not this easy before. Upload a floor plan of your home or office, and the software will create a heatmap to understand the network signal strength, signal footprint, gaps, overlaps, and more. Furthermore, the NPM wizard lets you learn about your network, wireless ones, Cloud services, remote sites, and more.
Additionally, the tool provides users with bandwidth and performance issues so that you can take immediate action. And, you can also improve the current network situation. Access PerfStack, the investigation tool inside SolarWinds Wi-Fi Analyzer, for real-time status reports.
This tool is built for personal as well as professional use. Medium and large-size businesses can tackle network turbulence easily for their wired and wireless network with this tool.
Here are the perks of joining this free WiFi analyzer Windows 10 software:
It scans for available networks and offers complete information about them
As a user, you can keep an eye on live status reports on network strength, quality, coverage, and more
The tool can detect the root cause behind any network issue and assist with the right solution
Additionally, you can get onsite surveys for wireless networks
Moreover, the analyzer is perfect for enterprise uses, but you need to be tech-savvy to utilise this software to its highest potential.
Acrylic WiFi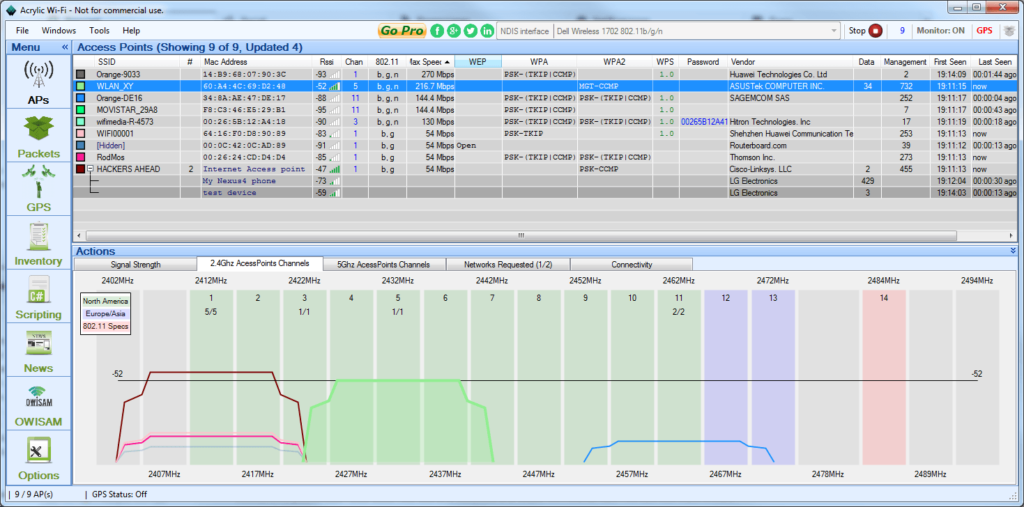 Does Windows 10 have a Wi-Fi analyzer by default? No, it doesn't, but we got another Windows-supported Wi-Fi analyzer. Acrylic Wi-Fi is again a free WiFi analyzer Windows software that shows nearby access points. You can also get important details of the connected devices to any access point.
Moreover, you can obtain security protocols, generic Wi-Fi passwords, and more. The analyzer can collect details from networks compatible with 802.11/a/b/g/n/ac/ax networks.
On top of that, the following details are available using Acrylic WiFi:
The names or SSIDs of access points
Signal strength, quality, and additional features as charts for detected Wi-Fi networks and connected devices
Default WPS keys and passwords for testing purposes
Channel details such as 2.4GHz and 5GHz bands and their coverage area
Network security and authentication protocols such as WEP, WPA, WPA2, and so on
On a contrary note, the interface might seem a bit cluttered while scanning complicated networks. Otherwise, the tool is good for personal and enterprise uses.
Vistumbler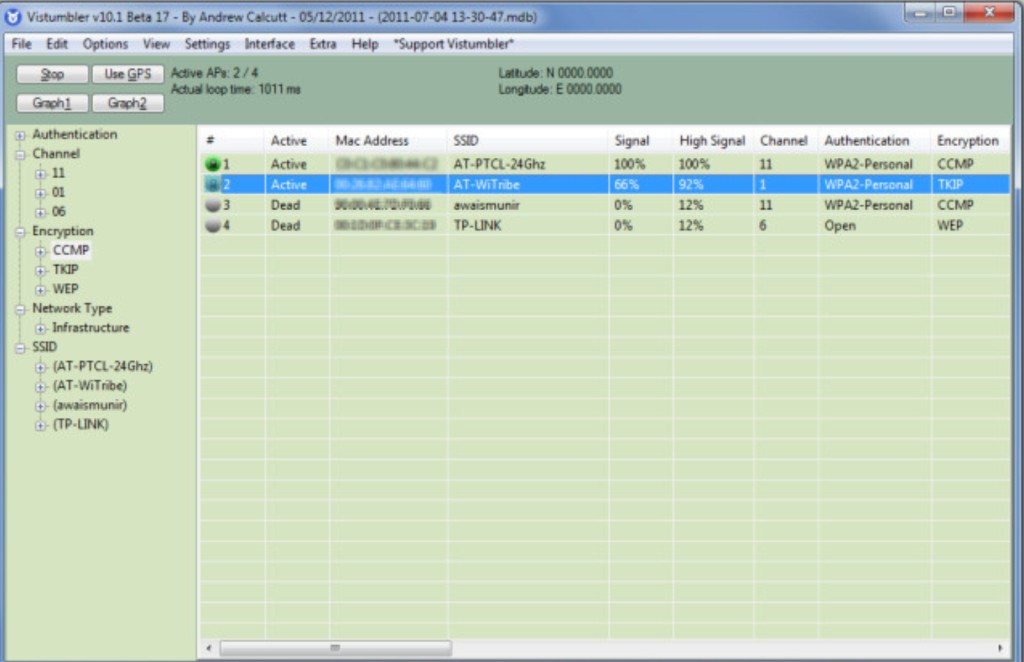 If you are looking for privileged features, then a free WiFi analyzer Windows tool might not be enough for you. But, Vistumbler is a great Wi-Fi analytics tool to keep track of nearby access points. Additionally, it lets you monitor signal strength from the graph network in your vicinity.
Vistumbler features GPS facilities, tracking moving signals, and plotting on Google Maps. This entirely free tool utilises its wireless transceiver to detect all the access points around it. Then, it starts analysing them for an improved Wi-Fi experience.
Here's what you need to know about Vistumbler's properties:
It offers integrated graphing tools for signal strength, coverage, and quality
You can generate an infrastructure wireless network map using the Google Earth images
Get location-based analytics just by turning on your PC's GPS functionality
However, the interface might seem confusing, and users have reported a steeper learning curve than other free WiFi analyzer Windows tools.
How to Pick up the Right WiFi Analyzer for Windows PCs?
You should keep a few points in mind while selecting the best free WiFi analyzer Windows software. Ensure you get accurate and high-quality results even if you have to pay for them. Check user reviews to avoid issues. Don't opt for those tools which are no longer available for deployment.