Google Earth is a three-dimensional planetary browser that displays satellite pictures and aerial photos of our whole world (except for a few top-secret military locations). It should not be mistaken with Google Maps, as the two programs are completely different.
Google Earth lets you explore the world at your leisure, directly at your fingertips. It's like taking a virtual tour of the locations you want to go to; whether you're nostalgic about visiting your birthplace or simply want to figure out where you want to go next, Google Earth can put the entire planet in your hands.
Are the images in Google Earth Real-time?
If you believe you can zoom in to your current location and see yourself standing on the street, you should think twice. As previously said, all of the photographs are acquired from various satellites. Can you, however, obtain real-time photos of the areas you visit? No, that is not the case. Satellites acquire photographs as they orbit the planet throughout time, and each satellite has its own cycle for managing and updating the images.
How Does Google Earth Collect Images?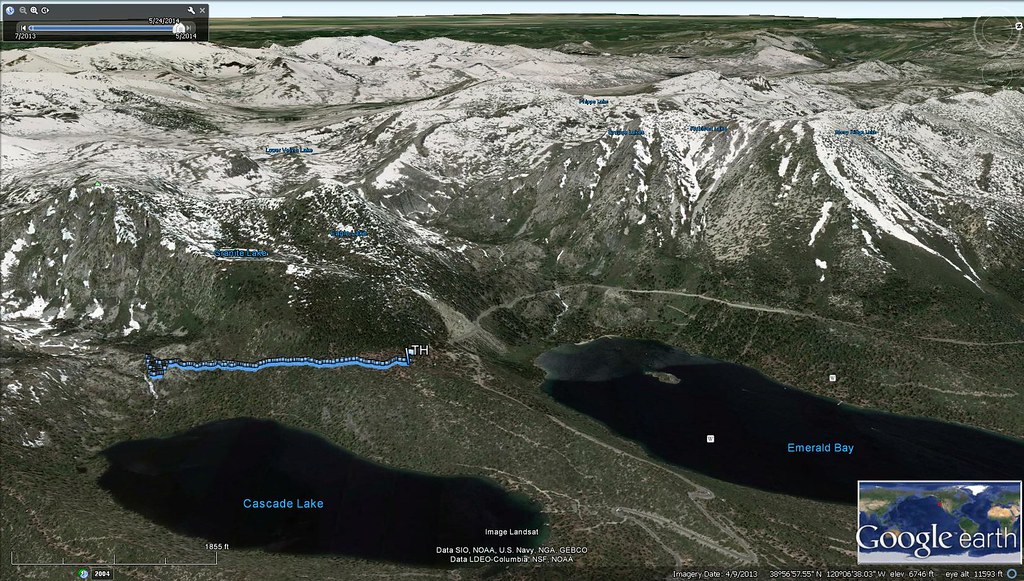 Images on Google Earth are gathered throughout time from various sources and platforms. Images are available in street view, aerial view, and 3D. However, because these photographs are not in real-time, no live changes can be observed.
Some photos show a single date of acquisition, while others show a series of dates spread out across days or months. If you want to learn more about when the image was taken, you should contact the original image source, as Google cannot provide any additional information about the photographs beyond what it currently displays.
How Often Does Google Earth Update?
Google Earth is updated once a month, according to the Google Earth blog. This does not, however, imply that every image is changed once a month. Actually, the average map data is one to three years old. This is acceptable given the large number of photos required to produce Google Earth. Google can only employ so many satellites to take images in space, among other areas, for this project. Google does not update the entire map in each go. The Google map is updated constantly, every second of every day!
Why aren't the updates continuous?
This question is also answered by the criteria described before. Google does not collect all of the photographs from its own sources; it relies on a number of third-party providers, who must, of course, be paid. Considering all of the issues, updating on a regular basis will cost a lot of money and time. Even if Google were to do so, it would be impossible.
As a result, Google compromises. It schedules updates based on the aforementioned variables. It does, however, have a regulation that no map region should be older than three years. Within three years, each photograph must be changed.
What Happens When Google Earth Is Updated?
That's the problem. If you're hoping for an upgrade to your hometown, don't hold your breath for it in Google's next batch of updates. Google does not refresh the entire map at once. Instead, they make minor changes to the map. We mean little pieces when we say pieces. A single Google Earth update could include a few towns or states. When Google releases an update, they also release a KLM file that highlights the revised regions in red, letting everyone know what's new and what needs to be updated.
Is it possible to ask Google for an update?
Is it possible to ask Google to update a specific region now that we've looked into many considerations and variables that Google must follow in updates? If Google starts updating based on requests, it will disrupt the entire update schedule and require a significant increase in resources, which will be impossible to do.
But don't despair; the "historical imagery" section may contain an updated photograph of the region you're looking for. Google occasionally preserves the older image in the main profiling area while posting the new images in the historical imagery part. Google does not always consider fresh photographs to be accurate, therefore if an older image is found to be more correct, it will be included in the main app while the remainder is placed in the historical imagery area.
Conclusion
We've discussed a lot about Google Earth so far, and you should be familiar with the concepts underpinning its developments. If we generalize everything, we can conclude that Google Earth updates bits and pieces rather than updating the entire map on a set basis. And, in response to the question of "How often," we may say that Google Earth updates every month to three years.
Frequently Asked Questions
Why isn't Google Earth updated on a regular basis?

Google Earth, as previously said, employs a combination of satellite pictures and aerial photographs. Both take time and aerial images, in particular, are costly to obtain. To keep up with future developments, Google would have to hire pilots who would travel the globe all the time.

Instead, Google chooses a middle ground. They want to keep each part of the world under three years old. They are more likely to target high-density populated areas, though. So, if your town got a makeover last year and you're still waiting to see the new stadium that was erected in the last six months, you might be in for a long wait.

Will Google Earth provide requested imagery updates?

Unless you're a government agency with your own collection of aerial photographs to share with Google, they're unlikely to respond to a request for an update. Google has put in place a method to maintain the photographs as current as feasible. Their schedule would fall apart if they granted every request. That said, if you're unhappy with your Google Earth view and want more current data, it's likely that more current data is available and you're just not looking at it.

Check "historical" pictures for some more current photos, which may sound weird. Google doesn't always display the most recent imagery in the app's main section. They occasionally use slightly older photographs in the main section and more recent images in historical imagery. As in the case of post-Katrina New Orleans, somewhat earlier photographs are sometimes deemed more accurate.

Following the incident, Google updated the city. Images of the city from before the calamity were eventually restored. These photographs were deemed more "realistic" because the city had already begun to rebuild, and the devastation depicted shortly after the floods was actually less valuable than previous images. After considerable protest, Google replaced the visuals, but the premise remains the same. Always look for more recent photographs in historical images.