Playing competitive games at a high refresh rate will improve your gaming experience. High refresh rates, such as 144 Hz, help you to get more pictures per second and enhance the video quality. Gamers should change their monitor's refresh rate from 60 Hz to 120 Hz to get better graphics.
Do you know what the gaming monitor's refresh rate refers to? It is the maximum number of times per second the image refreshes on the screen. For instance, a 144 Hz gaming monitor will update the screen 60 times per second. Overall, the device's refresh rate determines how smoothly you can play the game without FPS drops.
Nowadays, advanced gaming monitors offer at least a 120 Hz refresh rate. However, if you wish to play the clicker games on the device, 75 Hz will be ideal.
Not all online or offline games require the same refresh rate. So, the refresh rate will vary depending on the type of game you want to play on the monitor.
Now, let's see what the best refresh rate for gaming is and its benefits.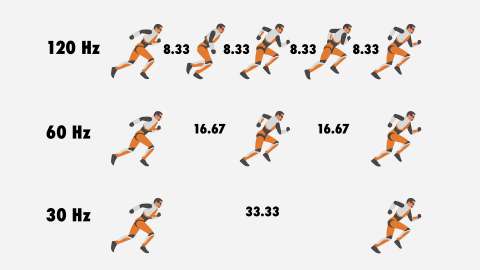 Why Should You Play the Games at a High Refresh Rate?
Smooth frame rates allow you to play your favourite games without any unwanted crashing or freezing issues. With a high-end gaming computer, you can play games at a higher frame rate. It will make your games look more fluid and will also offer a lower response time.
Moreover, a high refresh rate monitor will be a valuable addition to your gaming setup. The higher the refresh rate, the better the picture quality will be. Because a 120Hz monitor removes the blurriness and improves the game graphics quality. For performance improvement, you must use a monitor with a higher refresh rate.
Which is the Best Refresh Rate for High-Tier Competitive Gaming?
If you play competitive games like League of Legends, then you must know the best refresh rate for gaming. Well, let us make it clear that these types of high-tier games require the lowest response time. Thus, you should choose the 240Hz refresh rate when playing these games.
There are many high-end gaming monitors available that offer a 240 Hz refresh rate. Choose the one that suits your gaming requirement. Besides, a 240 Hz monitor allows games to spot enemies easily. You can also set the target and react more quickly with such a high refresh rate.
Here are the other benefits of playing competitive games at a 240 Hz refresh rate:
Gamers can reduce the blur of moving images on the monitor with this refresh rate.
It will help you to eliminate screen tearing issues when playing high-tier games.
A 240Hz monitor will help you to reduce the input lags during long gameplay sessions.
Best 240Hz Gaming Monitor that is Worth Buying in 2023
Do you play Counter-Strike: Global Offensive? It is essential to buy a gaming monitor with a 240Hz refresh rate. If you need an affordable 240Hz gaming monitor, go with Alienware's 2521HFL.
Dell's S25222HG is another best-budget gaming 240 Hz monitor. Its display has AMD FreeSync and Nvidia G-Sync compatibility. Moreover, Acer Predator XB323U will be the best option for playing competitive games.
Here are the best-selling 240Hz monitors that are designed for gaming:
Samsung Odyssey G7
Acer XB253Q
Asus ROG Swift PG259QN
Alienware AW2721D
Which Refresh Rate is Best for Playing Multiplayer Games?
165 Hz is the best fresh rate for playing multiplayer games. It is the middle ground between the 144 Hz and 240 Hz refresh rates. Do you stream popular online games like Fallout 4? Then, consider buying a gaming monitor with a 165 Hz refresh rate.
You will get improved panels and better HDR quality in 165 Hz monitors. Moreover, these monitors offer better colour accuracy and faster response than 144Hz. Gamers can increase the frame rate by 13% by switching from 144Hz to 165Hz. You will also get AMD FreeSync compatibility for smooth gameplay in most of the 165hz monitors.
Here are the advantages of using a 165 Hz monitor for multiplayer gaming:
This high refresh rate monitor improves the screen resolution and gaming experience.
Hardcore gamers can increase the screen's responsiveness when playing multiplayer games.
You will get crystal clear game details when using the 165Hz monitor.
Best 165Hz Gaming Monitors that are Worth Buying in 2023
There are many advanced and budget-friendly 165 Hz gaming monitors available in the market. However, you must check whether the monitor can run your favourite game. Otherwise, you might experience compatibility issues when playing action RPG multiplayer games like Dark Souls.
You can consider buying AOC's 24-inch C24G1A for super-smooth motion. It also has a wide viewing angle and adjustable stands. Sceptre's 25-inch monitor is perfect for playing high-definition games. This 165 Hz monitor also has an exceptional colour reproduction capability.
Here is the best budget 165 Hz monitor that is designed for multiplayer gaming:
Acer KG25IQ Gaming Monitor
BenQ Mobiuz Gaming Monitor
Asus TUF Gaming Monitor
Pixio PX248 Prime S Monitor
What is the Best Refresh Rate for Playing Online Adventure and Shooter Games?
144 Hz is the best refresh rate for playing online adventure games. Do you want to play on-demand games like Alto's Adventure or Shadowgun: Legends? Consider using a monitor that has a 144 Hz refresh rate to get the ultimate gaming experience.
Moreover, you can't play free-to-play games like Final Fantasy XV on a 60 Hz refresh rate. The PC screen might flicker and display random error messages. Thus, if you wish to play this role-playing game without glitches, get a 144Hz monitor.
Moreover, you can handle any high frame rate with a 144Hz gaming monitor. Professional gamers can reduce the motion blur problems when playing shooter games. These monitors are also equipped with G-Sync and FreeSync technology to offer optimal gaming performance.
Best 144Hz Gaming monitor that is Worth Buying in 2023
144Hz monitors are ideal for gamers who lack a high-end graphics card to reach a high frame rate. There are many 144Hz monitors to choose from to play adventure and shooter games. You can consider buying LG 32GQ950-B for an excellent 4K gaming experience.
If you're not running on a tight budget, opt to buy Gigabyte's M32U model. It features a 32-inch display and allows you to play games at 4K resolution. You can also reduce screen tearing issues when playing games on this high-end monitor.
Here are the latest 144Hz monitors that are perfect for playing adventure and shooter games:
ASUS ROG Strix XG27AQ
LG 27GN650-B
HP X24ih
Acer Nitro XF243Y PBMIIPRX
Is 60Hz Refresh Rate Good for Playing FPS Games?
60Hz might not be best for playing FPS games, but it is ideal for casual gaming. Moreover, if you tend to play third-person shooter games using a controller, 60Hz will be more than enough.
Besides, there is no need to switch from a 144Hz to 60 Hz monitor if you don't play games often on the PC. If you play clicker or car racing games, 60Hz is the best fresh rate for you.
However, this refresh rate is not ideal for competitive games with AAA titles. So, ensure to check the game's refresh rate before you play it on the device to avoid unwanted glitches.
FAQs-
What is the ideal refresh rate for a gaming monitor?

The ideal refresh rate for a gaming monitor is 144Hz or higher, as it provides a smoother and more responsive gaming experience. However, the actual ideal refresh rate may vary depending on personal preferences, the game being played, and the hardware used.

How does refresh rate impact gaming performance?

Refresh rate can impact gaming performance by affecting the smoothness and responsiveness of gameplay. A higher refresh rate can lead to smoother visuals, reduced motion blur, and a more responsive feel. However, it also requires more powerful hardware to maintain high frame rates, and may not make a noticeable difference for all games or players.

What is the difference between 60Hz, 144Hz, and 240Hz monitors for gaming?

The difference between 60Hz, 144Hz, and 240Hz monitors for gaming is the refresh rate. A higher refresh rate provides smoother and more responsive gameplay, with less motion blur and input lag. However, the benefits of a higher refresh rate may be limited by the performance of the graphics card and the game being played.

Are high refresh rate monitors worth the investment for casual gamers?

High refresh rate monitors can enhance gaming experiences, but for casual gamers, the investment may not be necessary. Prioritize factors like budget, hardware compatibility, and personal preferences to determine if it's worth it for you.

Can the human eye perceive the difference between various refresh rates while gaming?

Yes, the human eye can perceive differences in refresh rates while gaming. Higher refresh rates generally result in smoother visuals, reduced motion blur, and an overall enhanced gaming experience.