As the world pivots towards sustainable transportation, the spotlight intensifies on the top EV charging companies and manufacturers globally and within China. However, navigating the vast electric vehicle charging options can be overwhelming. With numerous players in the field, it's challenging to identify the most efficient and reliable solutions.
A comprehensive overview of leading companies and manufacturers becomes essential in this context. Consumers and businesses can make informed decisions by delving into their offerings, coverage, and technological advancements, ensuring seamless and accessible EV charging infrastructure for a cleaner future.
EV Charging Companies – Overview
EV charging companies specialize in providing infrastructure, technology, and services related to charging electric vehicles (EVs). These companies design, manufacture, install, and maintain charging stations for EVs, catering to individual EV owners, businesses, public spaces, and municipalities.
They play a crucial role in expanding the adoption of electric vehicles by creating a network of charging stations that enable EV owners to conveniently recharge their vehicles, thereby addressing range anxiety and promoting sustainable transportation. EV charging companies often offer various charging solutions, including fast charging, level 2 charging, and in some cases, innovative wireless charging technologies.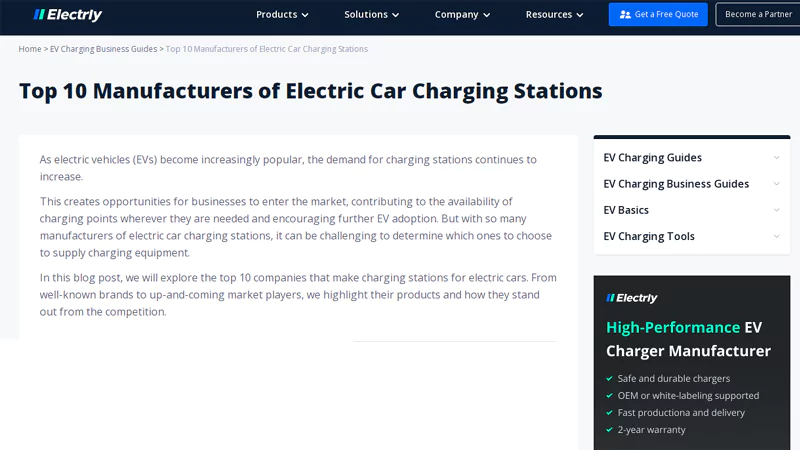 Top Electric Car Charging Stations Manufacturers
Leading the way in the electric vehicle (EV) charging industry is a group of innovative companies dedicated to providing smart hardware, software solutions, and charging infrastructure for homes, businesses, and public spaces. These manufacturers are shaping the future of sustainable transportation with their extensive product ranges and commitment to advanced technology. Here are some of the best electric car charging stations manufacturers:
Electrly
As a trailblazer in China's EV charging sector, Electrly offers various charging solutions for residential and commercial purposes. With a sharp focus on EV charging station manufacturing, development, and design, Electrly produces over 30 products across nine series, catering to various international EV charging standards and power requirements.
Electrly's product lineup encompasses portable and wall-mounted chargers for homes, wall box and pedestal chargers for workplaces and hospitality settings, and direct current (DC) fast chargers for public charging stations. The company also supplies charging accessories like plugs, cables, station brackets, poles, and connectors, ensuring a comprehensive EV charging ecosystem. Try to find these remarkable manufacturers for an outstanding charging experience in Electrly.
TGOOD
Combining German and Chinese engineering expertise, TGOOD stands out as a pioneer in smart power equipment manufacturing and automotive charging. Since its market entry 2014, TGOOD has grown into one of China's largest EV charging station providers. It excels in producing substations and electrical components, offering fast assembly, construction, installation, and commissioning services.
TGOOD's subsidiary, TGOOD New Energy (TELD), specializes in intelligent alternating current (AC) charging single-pile products for electric vehicles. These compact and portable charging models support AC charging across various locations. Furthermore, TELD has built an expansive network of DC fast EV charging stations across China, fostering convenient and accessible charging infrastructure.
StarCharge
With a global reach encompassing more than 40 partners, StarCharge is a prominent name in manufacturing smart hardware and software solutions for EV charging at homes and businesses. StarCharge's product portfolio features three AC charging station models, three DC fast charging series, and an ultra-fast model. Their upcoming ultra-fast charger promises further innovation.
The chargers boast energy-efficient and ergonomic designs, ensuring safety and protection even in challenging environments. StarCharge's single-phase Inverter product offers a holistic solution integrating clean energy generation, storage, charging, and consumption management. Leveraging big data, cloud technology, and edge computing, households can effectively manage their energy usage.
Sinexcel
Sinexcel has positioned itself as a key player in China's EV charging landscape, specializing in installing charging stations in diverse settings such as garages, carports, and driveways. Notably, Sinexcel's charging stations seamlessly integrate with solar photovoltaic (PV) systems and energy storage solutions, enabling eco-friendly vehicle charging. Boasting a robust presence in over 50 countries, the company has sold several EV charger modules and fast chargers.
Sinexcel's SEC line of DC fast EV chargers stands out for their constant power output and wide voltage range, catering to the latest EV models. These chargers are durable and reliable, designed with a sturdy enclosure and waterproofing. The series' modularity and scalability, coupled with intelligent power switching, enable simultaneous charging of two vehicles.
EAST
EAST is a versatile supplier across three strategic business sectors: 5G smart power supply, data centers, and smart energy solutions. EAST offers an impressive range in its energy business, including solar PV inverters, power generation systems, battery storage solutions, charging piles, micropower grids, and smart distribution networks.
As a DC fast charger manufacturer, EAST provides a variety of EV charging piles, ranging from AC wall boxes to DC pedestal models. These chargers prioritize ease of installation and maintenance, supporting quick setup and network connectivity for remote software updates and monitoring. EAST's AC/DC model, with its multiple outlets and simultaneous DC and AC charging capability, underscores the brand's commitment to innovation.