Press releases are essential to improve your awareness of the Brand and to help to build your public relations (PR). But you won't get any further if nobody sees your release. We share your release over our social networks and Google News Channel to increase awareness.
A press release (written or recorded) is an official statement that is submitted by organizations to news media. It can be called a "press release," a "press statement," a "news release," or a "media release," etc.
How to Write a Press Release?
Writing a press release to break major corporate news may help companies grow faster, but it is equally vital to do so. Check out How to Write a Press Release:
Write a short, catchy headline.
Get to the Point –summarize your subject in the first paragraph.
Body – explain why this matter to your audience.
Give Contact Information of the company.
Why Should Your Business Send Press Releases?
To get media coverage.
To build your brand's reputation.
To manage a crisis.
To build backlinks from trusted media sites.
Types of Press Release
Breaking news announcements
Product launches
Events
Partnerships
Sharing research
Awards
Hiring new executives
Crisis management
What Information Should a Release Include?
Headline
Press Contact
City, State, Location
Body
Boiler Plate
Perfect Press Release Example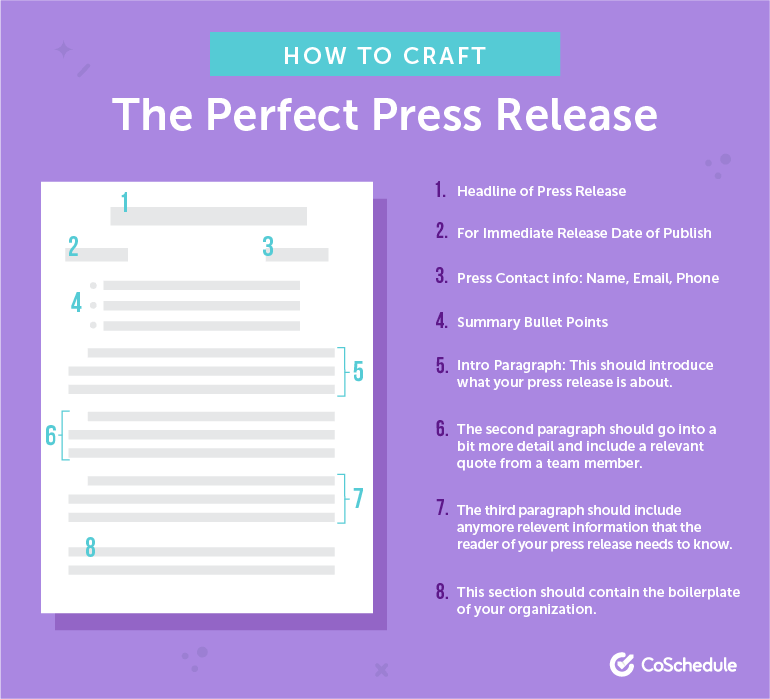 How to Submit a Press Release on our website?
If you understand the time needed to create and maintain an accurate communication database it makes sense to distribute a press release electronically using these services. This is particularly true for smaller companies that do not have the capital to carry out this time-consuming mission. The prices of internet delivery can vary based on the providers concerned, but it can be a deal if you take into account the time taken to do the same for yourself. Send us your press release at [email protected]
Free Press Release Submission Sites
Online PR News
PR.com
PRfree
Press Release Point
Newswire Today
PRLog
PR Fire
PR Sync
How to submit a Press Release to Google News?
Google News is a central distribution point with a vast reach. Google has streamlined the procedure of sending a press release. We have our Google News channel. If you want your news to come on Google News then send us your Press Release at [email protected]