Whether you want to create a fillable PDF file for work, school, college, university, or just for yourself, you need the right solution for this non-trivial purpose. The most popular software that allows you to read, create and edit PDF files and fillable forms is, of course, Adobe Acrobat DC, which you can download from the official website. Making fillable forms is easy with this excellent and user-friendly tool but you have to buy a paid subscription, which can be a formidable obstacle for many of us.
If you can't afford to use Adobe Acrobat DC, it might be a good idea to switch attention to a free alternative tool. In this article, you will find the top 5 programs that will do the job just as well.
1. ONLYOFFICE Docs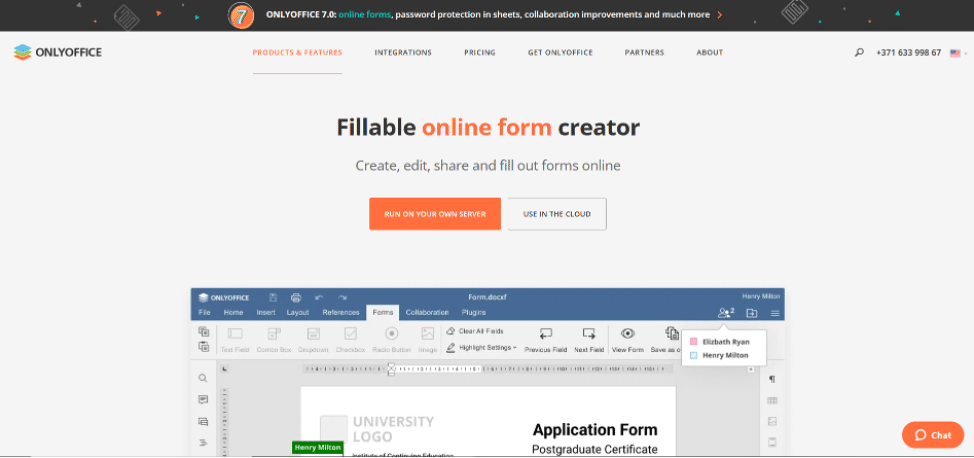 ONLYOFFICE Docs is an open-source online office suite that is designed for text documents, presentations, spreadsheets and fillable forms. It's totally compatible with Word, Excel and PowerPoint files and even supports ODF formats. That's why ONLYOFFICE Docs is a good alternative solution to other well-known office packages, such as Microsoft Office and Google Docs.
Using ONLYOFFICE Docs, you work with documents via your web browser. ONLYOFFICE Docs is deployed on a server, and you can easily integrate it with plenty of file-sharing platforms and document management solutions, including Nextcloud, Redmine, Nuxeo, ownCloud, SharePoint, Alfresco, Moodle, Confluence, Plone, Chamilo, etc. Alternatively, you can create your personal office in the cloud, which if free for teams with up to 5 users, if you don't want to install the self-hosted version.
The good news for average users is that ONLYOFFICE comes with free desktop and mobile apps for Windows, Linux, macOS, iOS and Android.
As for form filling, ONLYOFFICE Docs allows you to create blank templates from scratch or use already existing DOCX files and turn them into fillable PDFs. You can insert text fields, images, radio buttons, drop-down lists, combo boxes and checkboxes and adjust their properties. The ready-to-use templates with interactive fields can be saved in PDF format.
Alternatively, you can save your form in ONLYOFFICE Docs as an OFORM file. This is a special format for fillable forms that can be filled out online.
2. ApowerPDF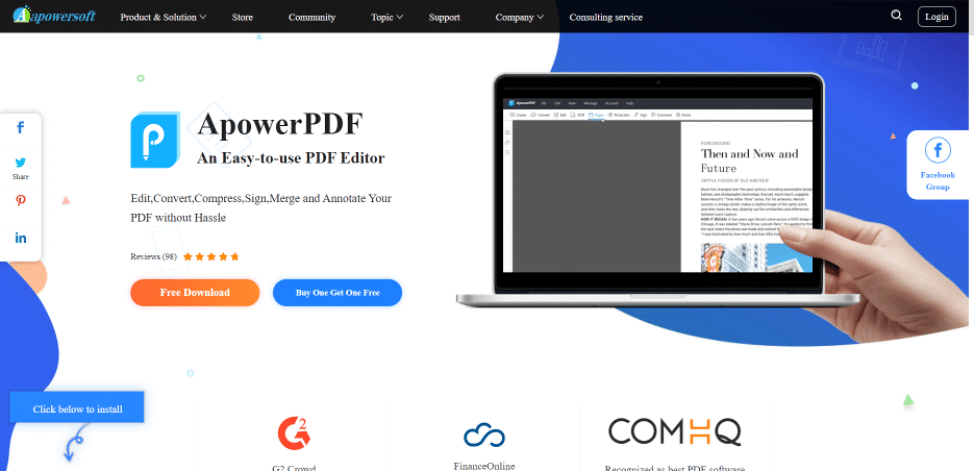 There is no doubt that ApowerPDF is one of the easiest PDF editing tools to use because it has a very user-friendly and intuitive interface with a beautiful design.
The solution comes with a variety of PDF editing options to choose from. You can use ApowerPDF to add images and text with ease, modify your graphics, add watermarks to PDF files for better protection, etc. The software is not only great for individuals but can also be very useful for businesses.
ApowerPDF allows you to create your own PDF files from scratch or convert different types of compatible files into PDF. This tool also has a decent amount of page viewing modes that can be used for different purposes. You can read your PDF files with a two-page view, a single page view or you can even use the scrolling page view according to your needs.
When it comes to fillable forms, ApowerPDF comes with different interactive form controls, such as push buttons, checkboxes, radio buttons, combo boxes, list boxes and text fields. Each form control has editable properties so you can design your document the way you like. Additionally, you can import and export data to fill out PDF forms with a simple click. All these features are available on the Forms tab.
ApowerPDF is absolutely free but you can always upgrade to a paid version iа you need more editing functionality.
3. Jotform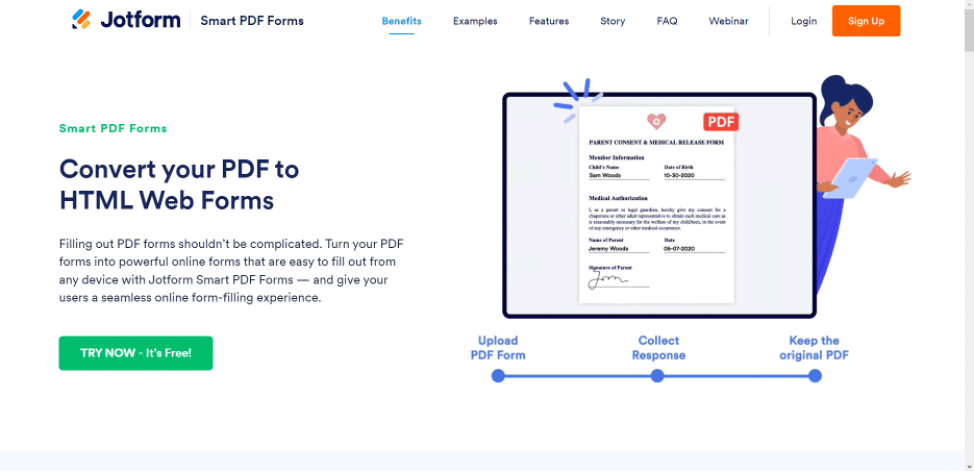 JotForm is an online form creator and PDF converter for those who do not want to install any software. The tool allows you to create custom PDF forms that users can easily fill out and submit from their digital devices, whether it be a laptop, tablet or mobile phone. Thus, you can create digital forms and collect all the data online and download it later if necessary.
This tool allows you to add fillable form fields of various types. You just need to drag and drop to add the PDF you want to edit easily and add forms to the PDF file. With Jotform, you can insert text fields, checkboxes and questions with multiple choice. Another useful feature is a signature field where other users can enter their names.
When your form is ready, you can send it by email or embed it on your website or blog so other users can fill them out digitally. Alternatively, you have an opportunity to send the form link directly to the people you work with.
Using Jotform, you can select templates from the official library. There you can find forms for any purpose. However, the free tariff plan allows you to make use of a limited number of templates. If you need more templates, you will have to upgrade to a paid version.
4. DocHub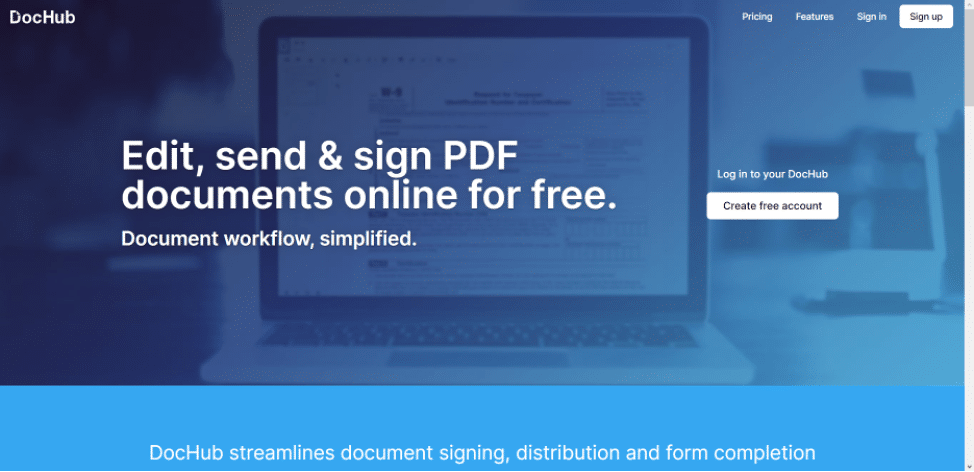 Another online service, DocHub is a web-based PDF editor that is quite similar to Jotform. It offers a vast set of PDF editing and publishing features and allows you to collect responses from other users online. It comes with a free version with some limitations and a professional version with full functionality.
Since DocHub is a totally web-based tool, so you only work with PDF files and interactive forms in a web browser, but there is also a separate app for smartphones. It allows you to annotate documents, add fields, merge files, add pages and blank text.
The editing layout is simple with all tools displayed in the toolbar. It supports drag and drop functionality to add almost any element to the document.
Google Drive and Dropbox integration allows documents to be accessed from anywhere and from any device. Documents are automatically saved and can be shared with a URL. It is a multilingual service with SSL encryption protection. In addition to PDF, formats such as DOC, PPT, XLS, TXT, DOCX and PPTX are also supported.
DocHub is compatible with all native PDF fields. The built-in Field Manager puts allows you to modify fields, create new ones for checkboxes, signatures, initials and more. You can assign roles to templates, allowing multiple parties to fill contracts. Each recipient can fill out their own files to send them back to you, and all the copies you receive can be conveniently organized under your master template.
5. PDFEescape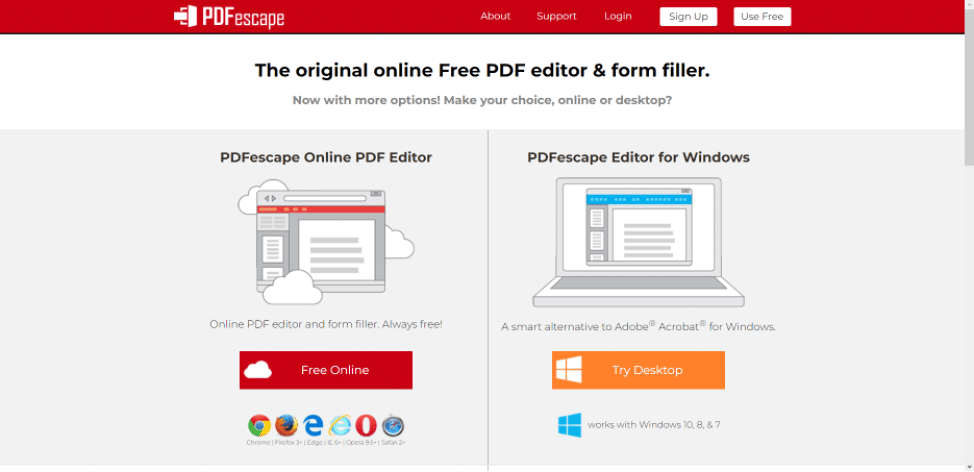 PDFescape is an online form creator that allows users to create PDF forms for free and even without registration. It also comes with a PDF editor, which makes it possible to edit and view the created PDF files. PDFescape also allows you to print or download the created forms for offline use. What's more, there is an online sharing option that you can use to share your document with other users in real time.
A big advantage of PDFescape is that it has a very intuitive interface that makes it easy to create files and add fields. It allows you to insert text and images as well as form fields of various types, such as text paragraphs, checkboxes, radio buttons, list boxes, drop-down lists, reset and submit buttons.
All basic functionality of PDFescape is available for free and without registration. However, it might be a good idea to create an account if you want to use this solution regularly.
The free version of PDFescape has some limitations. For example, the maximum size of PDF files that you can upload is 10 MB. There also must be no more than 100 pages maximum per file and you can keep 10 files only.
Conclusion
These are our top 5 software tools to create fillable PDF forms, both online and offline. All the solutions on the list are good enough when it comes to form filling. However, they all have some advantages and disadvantages. The best advice that we can give you is to try each solution yourself and choose the one that suits you best.