Without the right tools, creating an invoice can take a lot of your time. Luckily, there are many apps for Android that allow you to create and send invoices easily and quickly, so you get paid in less time. Bianca J Ward, an essay writer, emphasizes that since they are mobile apps, you can use them to make your invoices wherever and whenever you want, without having a computer nearby.
Unfortunately, many of these invoicing apps require a one-time payment to use them or, even worse, a monthly or yearly subscription fee. If you're just starting with your business or simply can't afford the cost of a paid app, don't worry. Here we show you five apps to make invoices free. Some of them have paid features, but you can try them all without spending a single dollar, so don't miss them.
Bookipi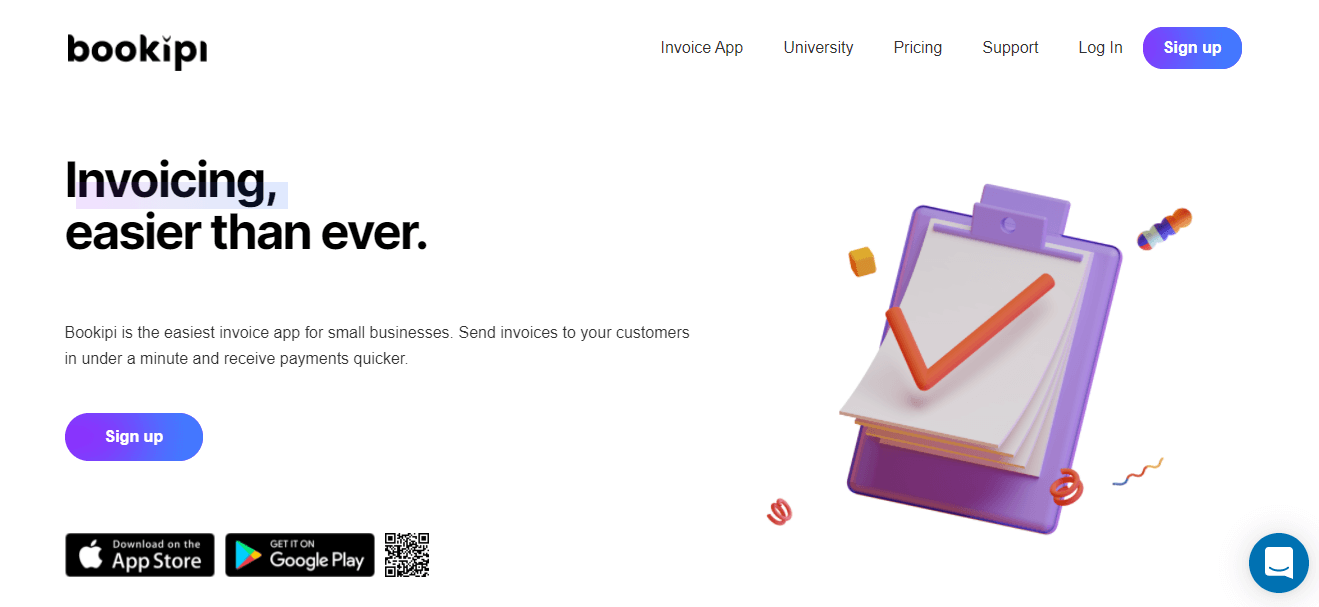 We start with Bookipi which is one of the highest-rated invoicing apps in the Google Play Store. This is probably because it offers a wide variety of options to make invoices that other apps do not have. With Bookipi you can create the invoices you want, without limits of customers or items, and free. In addition, it allows your customers to sign on the device screen or by email and pay you directly through the app (with credit cards or PayPal). In case you have a problem, Bookipi offers technical support that will respond within 12 hours from the time you made the query.
All documents generated with Bookipi are stored in the cloud of your account, so you will not lose them. But best of all, Bookipi has an app for PC (Windows and Mac) that automatically synchronizes with the mobile, allowing you to work on multiple platforms smoothly and without problems. To top it off, in its simple and organized interface you can see the payment summary per month, per customer, or item, as well as all invoices.

Invoice Home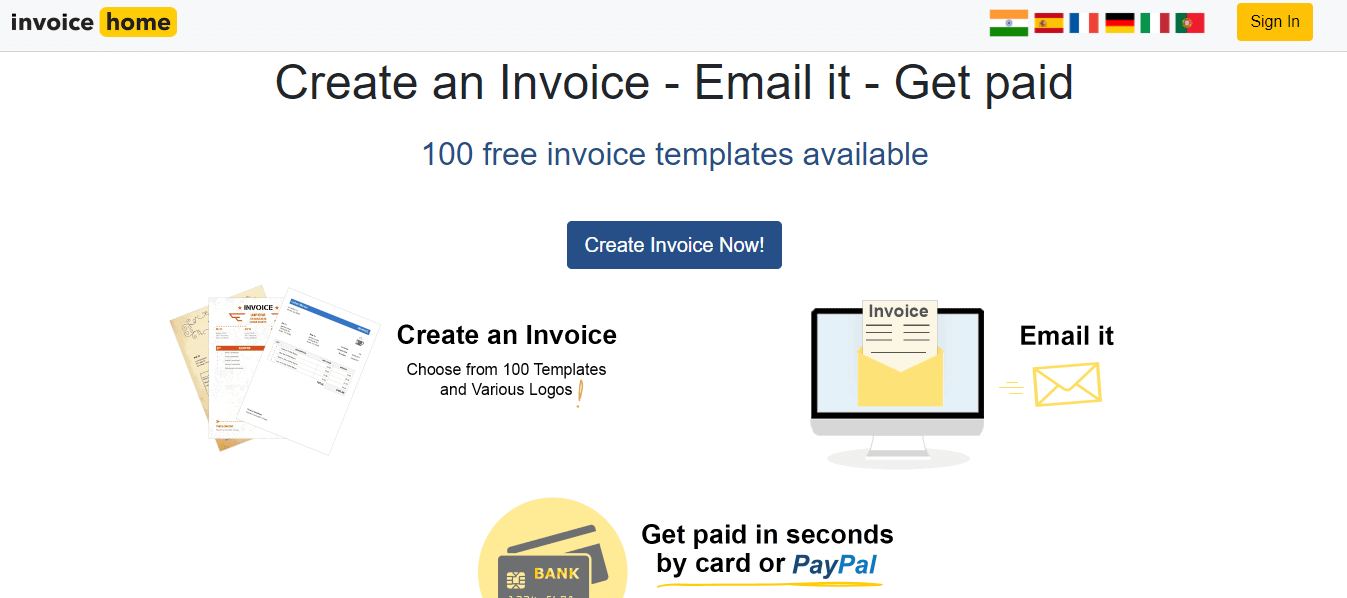 It is another excellent option for making invoices and then sending them by email. This app provides you with more than 100 free templates on which you can create your invoice, thanks to the wide variety of customization options it offers. In addition, it gives you different generic logos to give a professional touch to the invoice, receipt, order, or budget you want to do, but you can also use your logo if you have one. All invoices created with this app can be saved in PDF, in case you want to print them.
Also, with Invoice Home you can save all your invoices in the cloud at no cost. You can even receive payments through PayPal and Stripe. However, with this app, you can only invoice a limited sum of money per month for free. If you want to bill more, you will have to pay per month to get the Invoice Home unlimited plan that allows you to bill as much as you want. Therefore, we recommend this app to freelancers starting out or to those small businesses whose estimated monthly invoicing does not exceed the app's limit.

Invoice Simple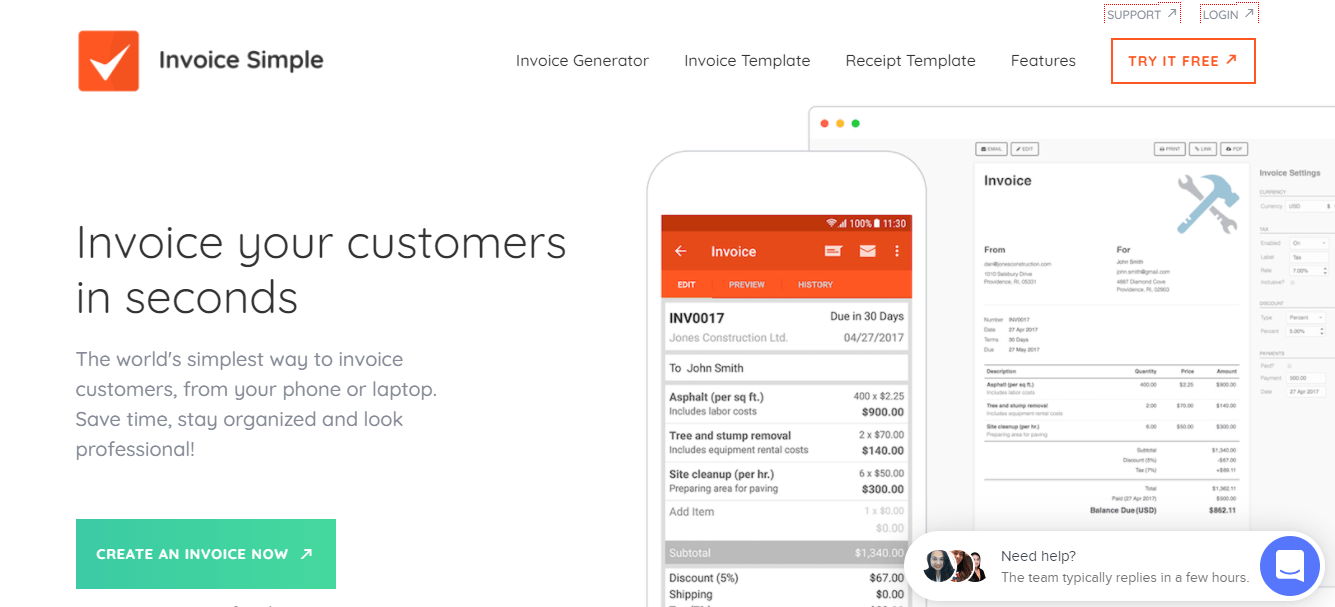 If you are looking for a simpler app, where you only have to enter the invoice data, then you should try Invoice Simple. As the name suggests, this app offers a fairly simple way to create invoices from a template that you can then customize as you wish. Of course, it has everything you could ask for from an app of this type: the possibility of signing invoices, making estimates and converting them to invoices, sending them by mail, receiving payments by PayPal or credit and debit cards, and so on.
In addition, it supports currencies of all countries, can convert invoices to PDF, and allows you to back up your invoices to Google Drive, Dropbox, or locally on your microSD card. Unfortunately, the free version of Invoice Simple only allows you to make three invoices, but you can create as many invoices as you want (without limits) if you pay its monthly or annual subscription.

Simple Invoice Manager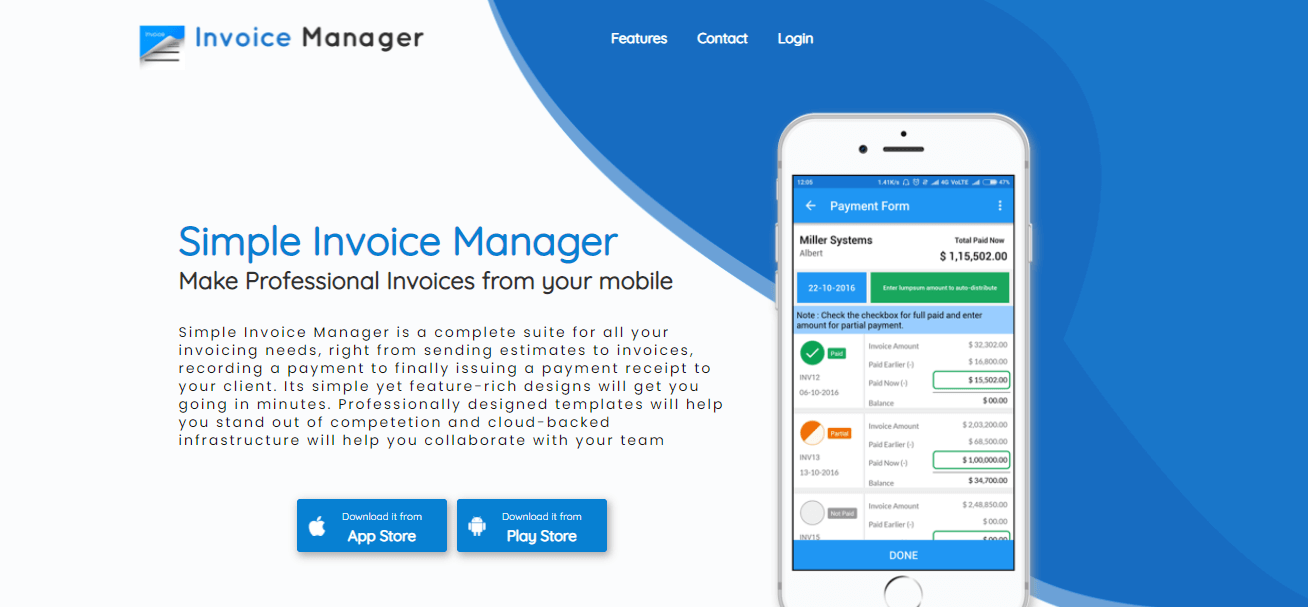 Despite its simple interface, Simple Invoice Manager offers you all the tools you need to create your invoices. It not only lets you add your logo and signature to the invoices but also chooses one of the 5 templates it offers in more than 20 different colors. In addition, this application lets you add different fields to your invoices, as well as delete those you don't need to create the perfect invoice template for your business.
A great feature of Simple Invoice Manager that not many apps of this type have is the visualization of your sales and purchases in graphs or report tables. Also, it allows you to export your invoices to formats such as PDF or CSV to open in Excel. Simple Invoice Manager can also backup your Dropbox account, so you never lose your invoices and receipts.

Invoice2go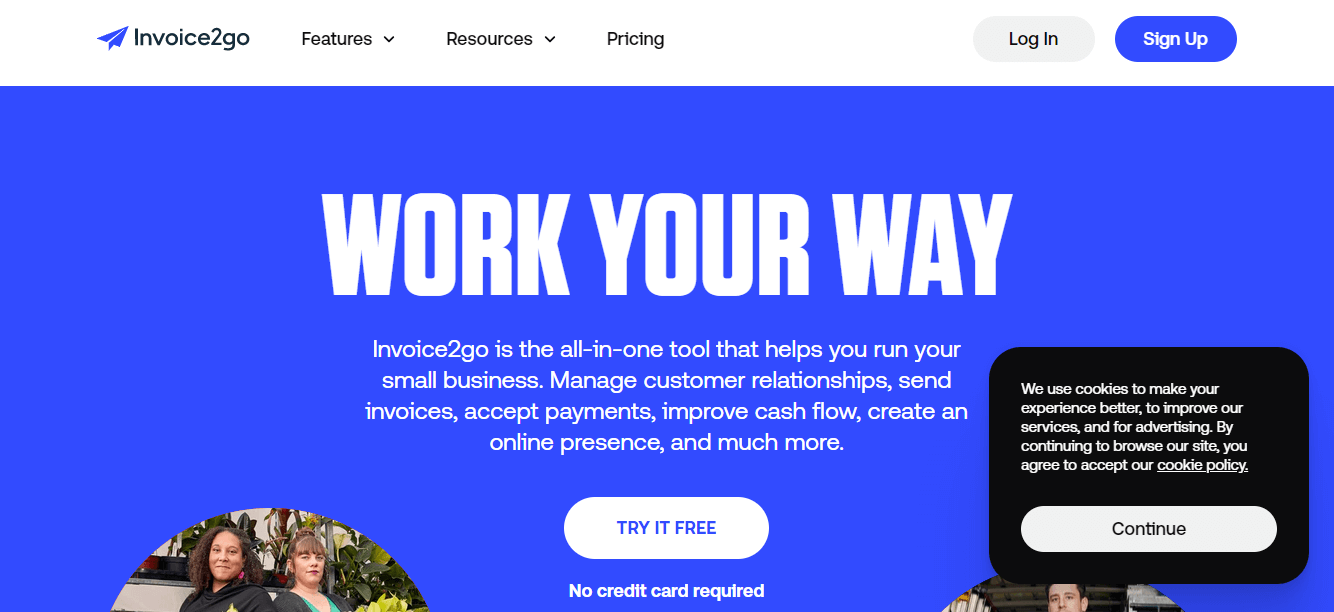 It is an invoicing application designed for companies or small businesses. It offers eight customizable templates, so you don't have to start from scratch to make your invoices, with different colors and the possibility of adding your logo. It also saves prices, customer information, and other data to automatically fill in the required fields when creating new invoices, so it is easy to use and speeds up the work.
This app allows you to see when a customer opens an invoice, set up automatic payment reminders, and create financial reports for any unpaid invoices. You can use the app for free for the first three months, but you must sign up for one of three payment plans, depending on the number of users in your account, how many customers you have, and how many invoices you send per month. All three plans allow you to accept payments with credit cards, debit cards, or PayPal.