Suddenlink was a leading American-based Internet Service Provider, and at present, it's known as Optimum. The ISP might offer you a modem while considering it as your communication partner, but you might want to have your own modem.
What modems can I use with Suddenlink?
If you are thinking the same, then we have mentioned some Suddenlink approved modems for 2023. Additionally, you will find the technical requirements specified by Suddenlink to match their service and performance.
Let's check them out, shall we?
What Equipment do I Need for Suddenlink Internet?
Suddenlink majorly offers 3 different internet packages for uninterrupted connection. You can limit your data usage up to 100 Mbps, 100-500 Mbps, or more than 500 Mbps with Suddenlink internet packages.
To purchase a Suddenlink approved modem, you have to take the following requirements into account, respectively:
8X4 DOCSIS 3.0 Cable Modem for a speed of up to 100 Mbps
16X4 DOCSIS 3.0 Cable Modem for a speed range of 100-500 Mbps
32X8 DOCSIS 3.0 Cable Modem for a data transfer rate of more than 500 Mbps
You can also opt for 24X8 channel modems for a speed range of 100-500 Mbps. Let's move on to some recommended modems that are compatible with Suddenlink or Optimum services.
Best Suddenlink Approved Modems
Whether you are a lightweight internet user or a gamer, there must be some networking preferences of your own. It's better to construct your home network with durable, future-proofing. Be it a 50 Mbps plan or a 1Gb one, we have presented a few Suddenlink compatible modems for the best results.
As a gamer, Work-from-home employee, day trader, or any general user, the following matches will be convenient for you:
Arris Surfboard SB8200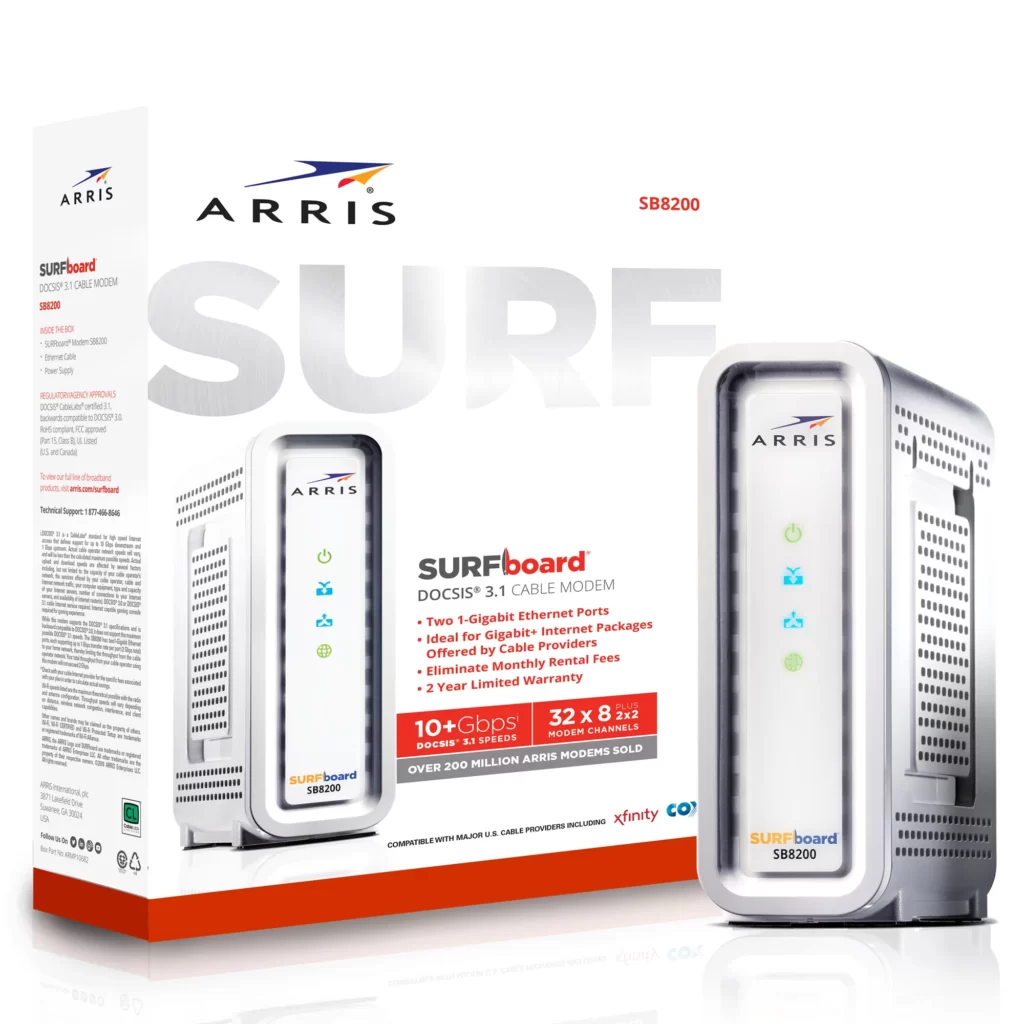 Have you subscribed to Suddenlink's 1Gbps service package? Then, you will require a strong modem to make your home or workspace compatible with the service you get from Suddenlink. Under the given circumstances, we found Arris SB8200 to be a recommendable competitor.
This DOCSIS 3.1 modem is approved by Suddenlink for outstanding upload and download speeds. Check the technical specifications of this particular Arris modem:
Downstream/Upstream: 32X8
Number of Ports: 2 Gig Ethernet
Technology Implemented: DOCSIS 3.1
Suitable for: Internet 1 Gig plan from Suddenlink and other ISPs
It's not a modem-router combo
This modem allows users to utilise thicker channels for faster and more reliable data transfer speeds. Additionally, you can notice a considerable change in the lags and latency. This Arris modem is compatible with older DOCSIS versions too.
You can get a download speed of up to 850 Mbps, and an upload speed of up to 33 Mbps with a 1000 Mbps plan from Suddenlink. The throughput speed might vary as per your location and connected devices. Additionally, the modem has QoS support and a bandwidth tuner for the finest-grade networking experience.
Motorola MB8611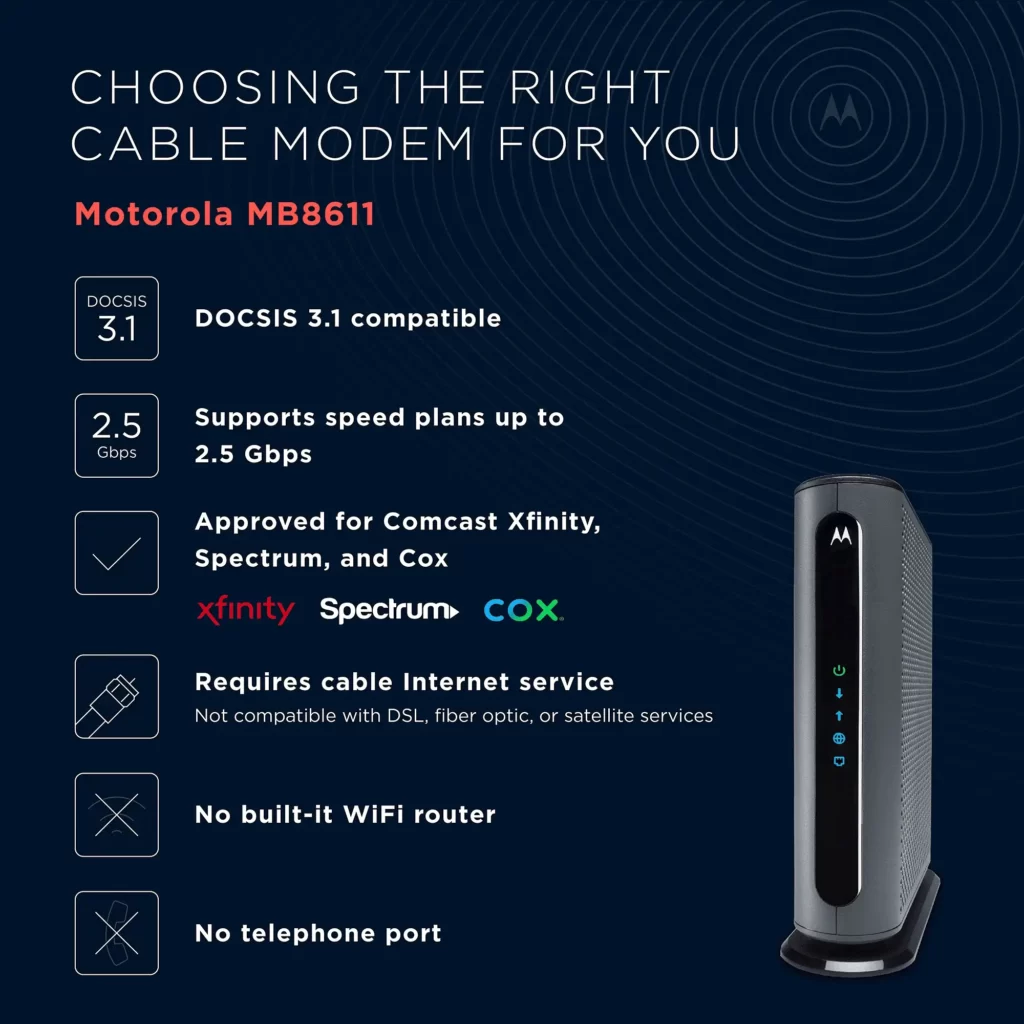 The next Suddenlink approved modem is from Motorola, which features DOCSIS 3.1 technology. Future-proof your home networking space with this modem that offers support for up to 2500 Mbps. If you are searching for a Suddenlink modem upgrade with raw performance, then this is the best you can get.
We think that its 2.5 Gig Ethernet port offers more than Suddenlink or any relevant ISP company can offer. It is so fast that 15 users can watch 8K movies simultaneously on different devices. On the other hand, we find Motorola MB8611, a refurbished version of Arris SB8200.
Let's take a look at the technical specifications of Motorola MB8611:
Downstream/Upstream: 32X8
Number of Ports: 2.5 Gig Ethernet
Technology Implemented: DOCSIS 3.1
Suitable for: Internet 1 Gig plan from Suddenlink and other ISPs
It's not a modem-router combo
So you can grab this Motorola modem if you require excessive throughput speed with a stable performance. Additionally, you will get a 2-year warranty on this masterpiece. However, the price might be a bit on the expensive side.
Motorola MG7700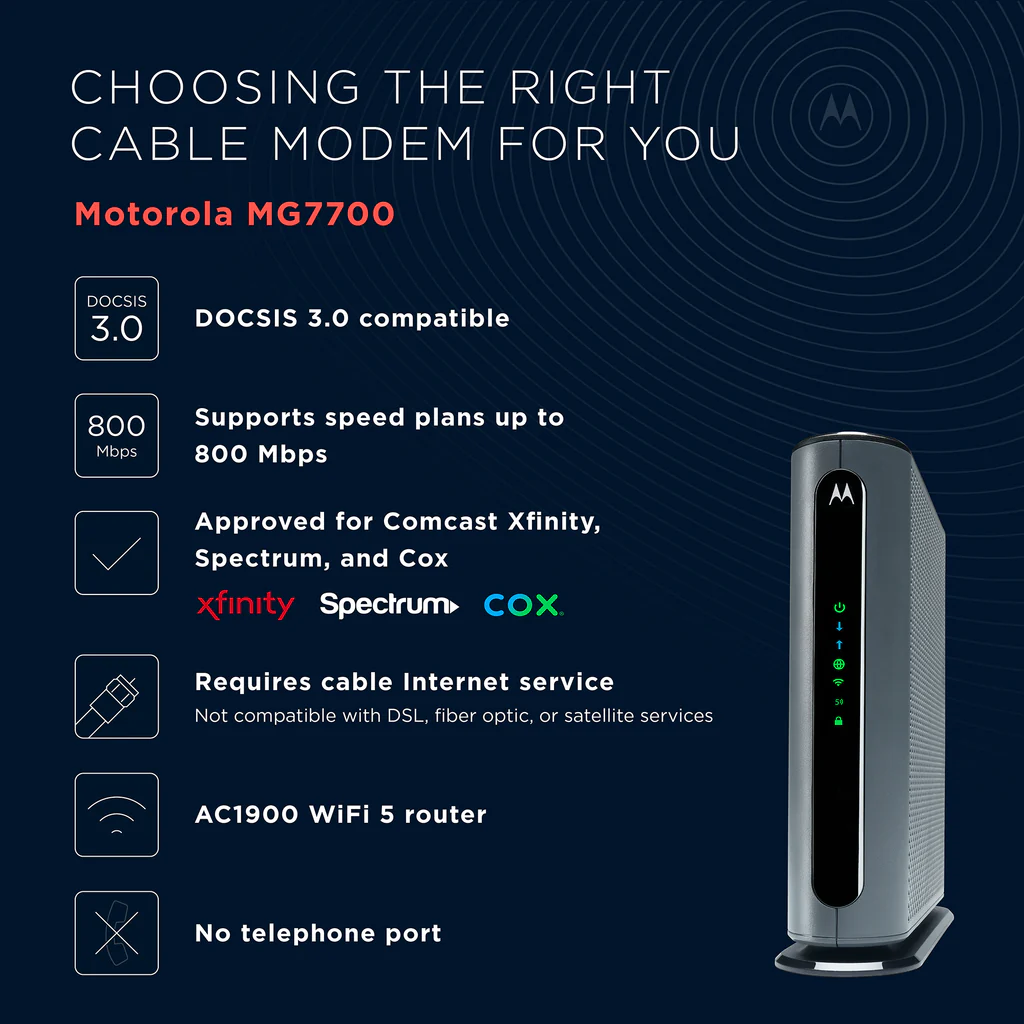 You might be those users who don't want to invest in 2 separate network devices such as modems and routers. Instead, you can get a modem-router duo infused into a single device. Then, you must consider the Motorola MG7700 as one of the best Suddenlink approved modem-router combos.
This is what you should learn about the prominent features of Motorola MG7700:
Technology Infused: DOCSIS 3.0
Ports Supported: 4 Gig Internet
Downstream/Upstream: 24X8
Suitable for: Internet 500 service plan from Suddenlink or other leading service providers
It's a modem-router combo
Get more consistent connections with this modem-router device, and the credit goes to its 8 additional downstream channels. Tackle a data speed of up to 800 Mbps with the help of the modem's 24X8 channel bonding support. Due to Motorola MG7700's backward compatibility, you can power up internet connections to older devices.
This is the best purchase for Work-from-home employees and students. Practically, you can get a download speed of up to 480 Mbps. Hence, we recommend this modem-router combo for a service plan of up to 500 Mbps. Empowered by a multi-core chipset and 256MB RAM, this modem is a big yes for protection against attack, parental control, VPN pass-through support, and more.
Netgear CM1000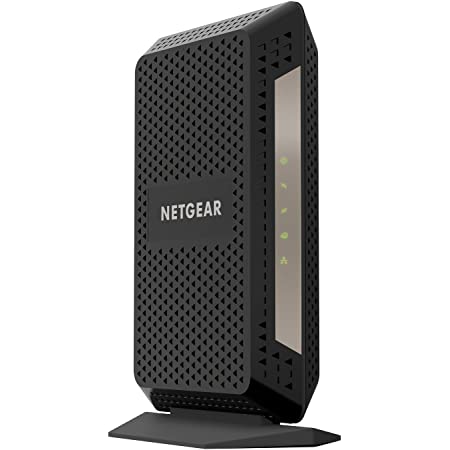 Are you searching for an upgrade to better peak throughputs? If yes, then you should try out Netgear CM1000. It has been engineered with the DOCSIS 3.1 technology, and hence, you can get additional upstream and downstream channels.
It offers 32X8 channels for quicker transmission. Get peak-hour transmissions with the built-in 2X2 OFDM/OFDMA support. You can easily pair up your 1 Gig internet plan with Netgear CM1000. On the other hand, you can directly connect this modem to your gaming console.
Let's check out the specifications related to Netgear CM1000:
Technology supported: DOCSIS 3.1
Ports: 1 Gig Ethernet
Downstream/Upstream: 32X8
Suitable for: 1 Gig Internet service plan
It's a modem only
Get up to 900 Mbps download speed with Netgear CM1000. If you are a gaming enthusiast, then this router is more than enough. It has a multi-core chipset along with a RAM of 256 MB. In addition, the modem has a flash memory of 128 MB. Moreover, you can use the integrated QoS facility for stable traffic optimisation.
Avail multi-ISP compatibility and more with this Netgear modem. This is a sure shot Suddenlink compatible modem for daily and heavy internet uses. However, there's a small hiccup with this specific Netgear modem. And, that is a single Ethernet port on this modem.
Conclusion
Besides the above-mentioned choices as Suddenlink compatible modems, you can review Motorola MB7621, Arris Surfboard SB6190, Netgear CM500, and more. To get a Suddenlink approved modem, your purchase should have a DOCSIS 3.0 standard, at least.
Additionally, the modem should have at least a 24X8 channel bonding support for 400 Mbps or a slower internet connection. It's better for your modem to have heat vents for optimum heat dissipation and temperature control.