If you sign up for Xfinity internet service, you must know about the router-modem combo that supports it. Many people opt for renting a modem or router to access Wi-Fi.
However, it's important to note that the rental will cost you more in the long run. Thus, consider buying compatible networking equipment to use the Xfinity internet service.
There are several Xfinity modems and routers to choose from. However, you must check the maximum speed they provide before making the ultimate decision. Ensure the router-modem combo uses DOCSIS technology. It will help you to get uninterrupted internet services with low latency and high security.
You might have checked the Xfinity router-modem combo price, but that's not enough. Users should also consider the networking equipment's bandwidth frequency. Check the number of Ethernet ports the router or modem has. Otherwise, connecting mobile devices to the router/modem might be challenging.
Now, let's check out the best Xfinity router-modem combo of 2023:
Netgear Nighthawk CAX30S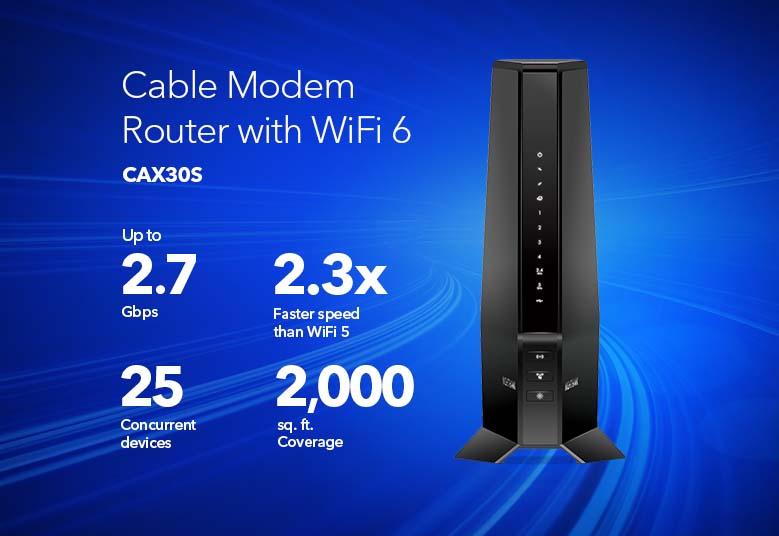 If you need a router modem/router combo for the fastest Xfinity internet plan, consider Nighthawk CAX30S. The modem supports download speeds up to 2,700 Mbps which is ideal for multitasking. Additionally, you can stream movies or online games easily using this Netgear product.
This combination of modem/router capabilities makes it a popular choice among hardcore gamers and remote workers. Besides, Netgear Nighthawk CAX30S will be the best addition to your smart home setup. It covers up to 2,500 square feet and has four Ethernet ports. Netgear Nighthawk CAX30S also received positive feedback from thousands of consumers.
Here are the exclusive features of Netgear Nighthawk CAX30S:
It automatically assigns the fastest Wi-Fi band to the connected mobile devices.
The OFDMA technology allows users to opt for multiple data transmissions simultaneously.
Nighthawk CAX30S can be connected to wired network devices like PCs, consoles and Smart TVs.
This router-modem combo features a 1.5 GHz dual-core processor to ensure lag-free video streaming.
Get protection against viruses and malware with Netgear Armor security.
Connect an external storage medium to the USB 3.1 port to share data across your home network.
Set up and manage the guest network with the Nighthawk app.
What are the Drawbacks of Netgear Nighthawk CAX30S?
Don't buy this dual-band router and DOCSIS 3.1 modem combo if you are running on a tight budget. Netgear Nighthawk CAX30S is pretty expensive and doesn't provide phone line connections. It also lacks advanced security features like QoS.
Motorola MG7700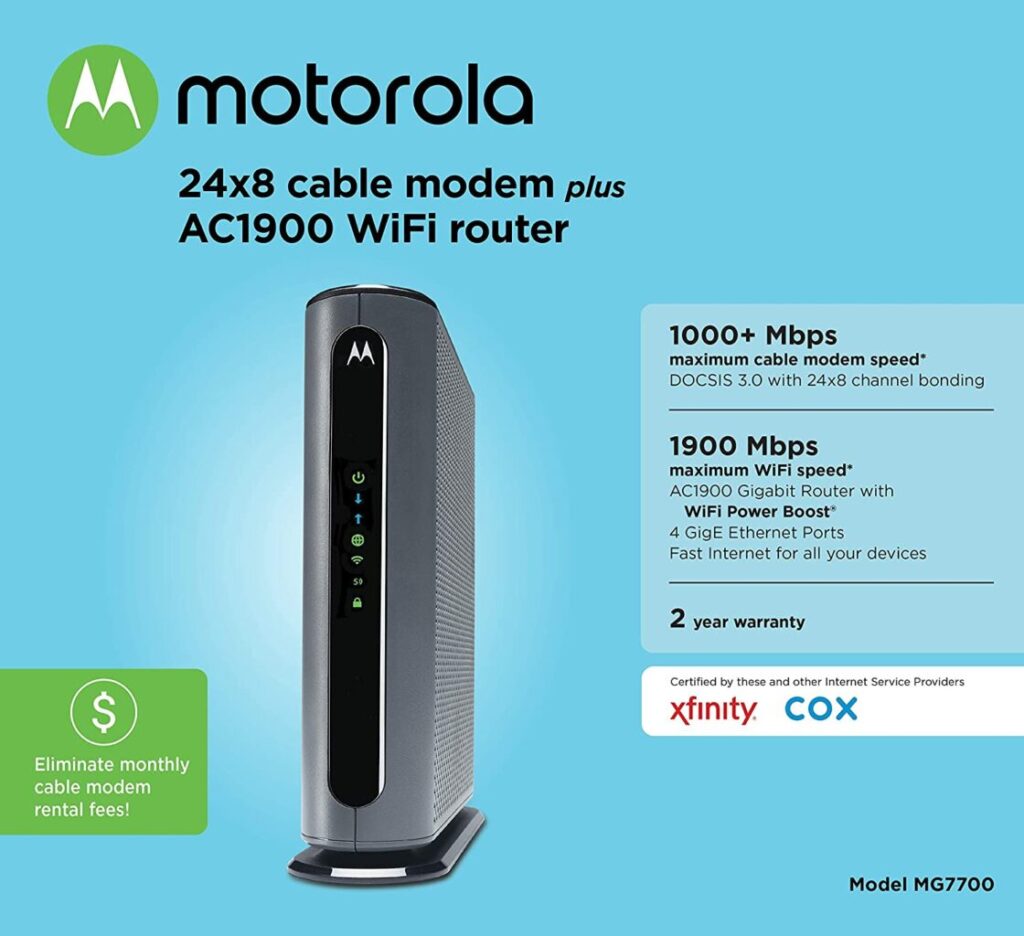 Are you looking for a budget-friendly router-modem combo to access the best Xfinity internet plan? Go with Motorola MG7770. You will get a 24×8 cable modem with a dual-band Wi-Fi router in this combination. The manufacturer included the Power Boost technology in this router-modem combo to extend the wireless signal.
Moreover, Motorola MG7770 offers 1000 Mbps internet speed. It provides networking support for multimedia and delivers robust performance with "AnyBeam". This router and modem combo is ideal for large homes and offices.
Besides, Motorola MG7770 saves space and eliminates complex wire installation. It is pretty easy to set up and configure this Motorola router-modem combo.
Here are the features that made Motorola MG7770 the best Xfinity router/modem:
It allows you to access 24 downstream channels for a nominal speed over 900 speed.
Users can open 8 upstream channels simultaneously at 246 Mbps speed.
Download the large game files 24 times faster than DOCSIS 2.0.
Its Broadcom modem chipset provides security from unwanted DDoS attacks.
The cable modem works with DOCSIS 3.0, 2.0 and 1.1 services.
Motorola MG7770's modem has a direct connection to a built-in Wi-Fi router.
The router supports IPv4 and IPv6 connections and comes with an advanced firewall.
Users can connect up to 253 wireless devices to the Gigabit router.
What are the Downsides of the Motorola MG7770 Router-Modem Combo?
Motorola MG7770 only covers 1,900 square feet of a house or office. Thus, if you don't install this equipment in the right place, it will generate connectivity issues. The router and modem combo doesn't support Wi-Fi DFS.
Motorola MT7711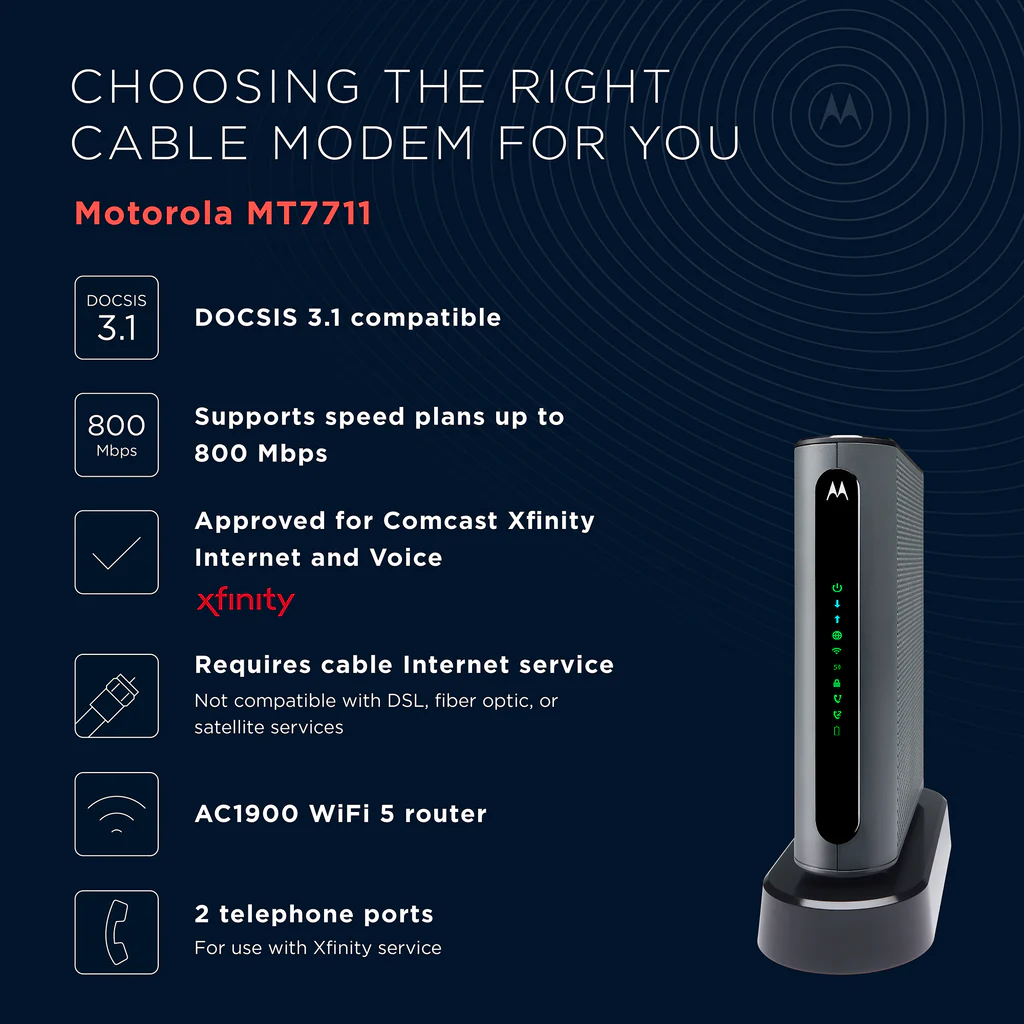 Motorola MT7771 is the best router-modem combo with the highest market value. This equipment is specifically designed for internet service providers like Comcast Xfinity. This three-in-one cable modem includes a built-in wireless gigabit router.
Additionally, you get two Comcast Xfinity Voice-compatible phone ports in this combination. This Motorola modem-router combo also has Power Boost technology which amplifies the wireless signal. Its AnyBeam feature lets you flexibly switch from 2.4 GHz and 5 GHz bands.
Besides, users will get up to 650 Mbps by installing Motorola MT7711. You can place this router-modem combo anywhere in the desk space. It removes the hassle of wiring and power adapter installation. Moreover, the built-in Gigabit router has 3 internal antennas and 4 Ethernet ports.
Here are the exclusive features of Motorola MT7711:
The modem comes with a Broadcom chipset to prevent cyber-attacks.
Its Wi-Fi works with IEEE 802.11n, ac, g and b devices, including tablets and notebooks.
The cable modem works with DOCSIS 3.0,2.0, and 1.1 internet services.
The router-modem combo features 10/100/1000 Ethernet LAN ports to offer wired connections to PCs.
There is a built-in parental control feature in the router.
Add an extra layer of security to the router by enabling the Firewall option.
Protect your local network's confidential information with its advanced security features.
Connect up to 253 Wi-Fi-enabled devices to this router-modem combo.
What are the Drawbacks of Motorola MT7711?
You will get no phone line connection with this Motorola MT771 cable modem. Besides, this router-modem combo offers limited ISP compatibility to the users. Motorola MT7711 also lacks mobile app compatibility. Thus, managing the home or office's wireless networks might be challenging when using this device.
Other Best Xfinity Router Modem Combo that is Worth Buying:
You can go for Netgear's C6250 AC1000. It has a cable modem and built-in Wi-Fi router, which is compatible with internet providers like Xfinity and Spectrum. Users can stream high-quality videos at 150Mbps speed.
There is also a USB port in the router which allows you to back up the files. Netgear C620 is ideal for those who have modest bandwidth requirements.
Additionally, you can consider buying Arris SBG10 for your home or office. It comes with a DOCSIS 3.0 gigabit cable modem and a Wi-Fi router. This router-modem combo supports all the Xfinity internet plans available for users.
It offers up to 250 Mbps speed for online gaming and media streaming. So, save the costly rental fees by getting a next-generation router-modem combo.