The realities of the business dictate their own rules and now it is almost impossible to build a strong brand without efficient work with social media resources. Social networks can give you the key to success if you know how to correctly identify and work with your target audience. Therefore, it should come as no surprise that there are dozens of different strategies for building social marketing, which mostly focus on creating engaging content, building a marketing calendar, and so on. However, the importance of funneling marketing steps (from the first mention of the brand to the moment when viewers become clients) is often overlooked. And exactly this is the main point of this article: instead of basic questions like "What are conversion rates?", "How do I find bulk emails?", and so on, you will learn about the main 5 components of digital marketing funnels and how to operate with them in order to boost your brand.
What is the Sales
Funnel
in Digital Marketing?
First of all, it should be said that the main steps of the funnel strategy are universal and do not depend on the products or services you are going to sell.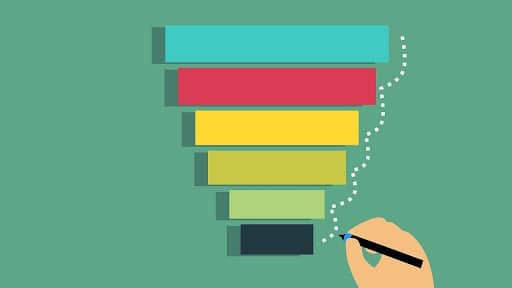 But in the case of using social media platforms for promotion, these steps need to be adapted. 
Steps of the social media funnels:
awareness – this is the step when you need to attract the attention of individuals who do not know about your brand;
discussion – here you need to fix the audience's attention and make sure that your brand is remembered;
action – at this stage, it is necessary to force potential customers to make a purchase;
engagement – at this step, you need to use all possible channels to keep your audience engaged after the purchase and provide them with information about your brand updates, news, and so on;
advocacy – is the final stage, when you work on developing trust in your audience and making them want to recommend your brand.
Awareness
Awareness is the starting point of the social media funnel when you need to demonstrate the value of your offer to potential customers and the ability to support them. Aggressive marketing is not recommended at this stage as it can scare off the audience. At this point, you can use various types of content like blogs, videos, tutorials, and webinars. The main idea of awareness is to answer the key questions of your audience and raise interest to search for more information about your company. If your company has a sufficient budget, you may use highly targeted paid advertising. Keep in mind that the content you create must be literate in terms of search engine optimization.
Consideration
After your target audience has received answers to questions and got interested in your brand, they move further down the marketing conversion funnel. Now they start looking for more specific information when deciding whether to buy your product or service. At this stage, they actively compare your products or services with similar offers from competitors. At this stage, you can utilize case studies or webinars to provide more specific information that can help raise loyalty to your company. For example, in the case of B2C, this stage involves the use of review sites, text and video instructions, manuals, etc. It was also investigated that the audience is more likely to react if the above-mentioned content is published by a member of the company or a social media influencer.
Action
This is the most important among all marketing funnel stages. Now, it is necessary to check and analyze the statistics data, namely, which part of your audience interacts with the previous stages. For your convenience, you can use one of various social media management platforms, which can help find answers to a lot of questions.
Now you need to gently nudge customers to make a purchase. This can be done through bonuses like a discount on the first purchase, free shipping, etc.
Engagement
Despite the fact that the most important stage is passed and the purchase has been made, do not forget about your audience. Given the level of competition, there is a high probability that your target audience will disperse without proper relationship building after the purchase. It is important to check the activity of your customers, the relevance of their contact information (for example, using bulk email finders), and so on. Also, make customers feel that they are part of the brand community. A great example of this is the use of hashtags with your brand name that can be utilized when posting a photo on social media. This will also serve as additional advertising and build trust in your brand. You can also create a Facebook group where users can communicate and share their experiences.
Propaganda
It is a crucial step when you can turn your clients into promoters and that is often overlooked even by the top of funnel marketing strategies. It will not take you much time or effort, but can significantly increase the loyalty towards current customers as well as prospects. In order to do it, you should firstly thank your customers for their attention to your brand and for their purchases. Then, you can offer them to make posts about your brand on their private pages or in a special blog section on your official web resource so potential customers can find and examine them. Such a promotion is organic and that is why it is the most effective.