Receiving many calls with no caller ID can be inconvenient, especially if you are in the middle of anything important, such as business meetings or client contacts.
Alternatively, you could be relaxing in bed when your phone rings, causing you to jump up and down, only to discover that there is no one on the other end of the line.
In my case, I was expecting an interview call when I received a call from an unknown person on my cellphone. I hastened to respond, mistaking it for a call from the company where I had applied for the job.
When I picked up the phone, I noticed telemarketers were attempting to persuade me to purchase a new insurance plan.
I ultimately screened all the unknown calls I received on my cellphone, irritated by this incident.
However, there was one issue: sometimes I got calls with "No Caller ID," and other times I got calls with "Unknown Caller" on my phone.
Curious, I called my mobile operator's customer service to learn more about the differences between the two types of calls, and here's what they had to say.
"If you get a call with No Caller ID, it suggests the caller is trying to keep his number hidden from you, whereas Unknown Caller means your mobile operator hasn't decoded the number."
They also proposed strategies for dealing with anonymous callers, such as refusing calls, using third-party apps, and so on.
This article will explain the differences between No Caller ID and Unknown ID, as well as several tried and true methods for dealing with such annoyances.
What Does a Phone Number Without a Caller ID Mean?
If you receive phone calls with "No Caller ID," it signifies the person who is phoning you has chosen to conceal his phone number.
Is that something you can do? Yes, the caller can hide his number while making a phone call using the "No Caller ID" feature available on some phones.
When you enable this option, the network's privacy flag is set to true, and the caller voluntarily hides his phone number from you.
What Does the Phrase "Unknown Caller" Mean?
If you're getting calls from numbers that say "Unknown Caller" on your phone screen, it's likely that your telecom provider hasn't been able to decipher the number.
Another popular method for concealing your phone number is to dial *67 before the number you want to call.
Unknown Caller vs. No Caller ID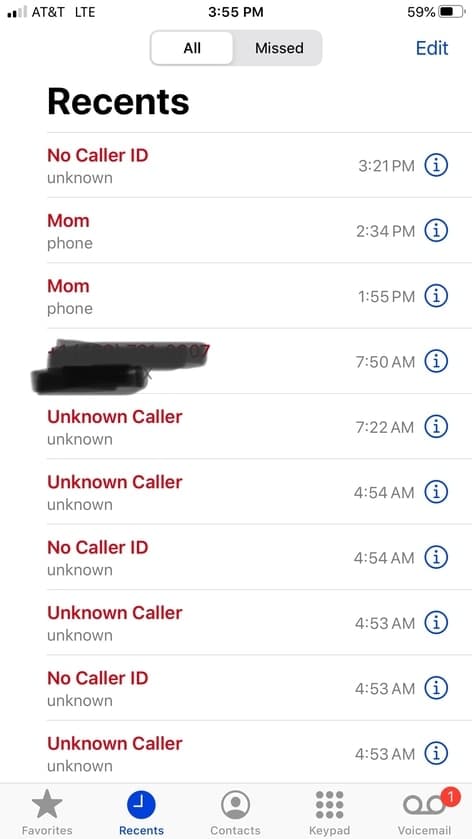 "No Caller ID" means just that – the caller intentionally blocked their ID from being displayed.
"Unknown Caller" means a caller ID was provided but not recognized.
So, what's the difference between the two? You could be wondering if "Unknown Caller" and "No Caller ID" are the same thing.
The truth is that, while they both achieve the same goal, there is one significant difference between them.
As previously stated, "No Caller ID" refers to a caller's decision to disguise his phone number by activating a particular function on his phone.
"Unknown Caller," on the other hand, refers to the inability of telecom firms to understand the phone number due to certain limitations.
How to Unmask Calls with No Caller ID
If you're getting a lot of calls from masked numbers, don't worry; third-party apps can help you figure out who's calling.
"Trap Call" is an app that I have tried and tested and has proven to be successful against unknown calls.
Trap calls can help you decipher the "Unknown Caller" ID by giving information about the caller such as his phone number, name, and even address.
Another advantage of using Trap Call is that you may blacklist the number and prevent it from calling you again.
Get in touch with your phone company
You might also try contacting your phone carrier, which normally keeps track of all incoming and outgoing calls on your device.
The majority of phone companies offer an Anonymous Caller ID Service, which ensures that a caller with an unknown ID would expose his phone number to the phone company in order to make a call.
But first, you must enable this service by entering your name and address, as well as the date and time of the anonymous call with "Unknown Caller" or "No Caller ID."
On an iPhone, how do you decline a call with no caller ID?
If you have an iPhone, you can reject calls from unknown numbers or those with no caller ID by swiping down on the red refuse button on the screen.
You can deny calls if your iPhone is locked by tapping the lock button twice.
Unwanted Calls Are Blocked
Alternatively, you can prevent nuisance calls by changing your phone's settings. Here are some tips for preventing anonymous phone calls on your phone.
For iPhone users:
1. On your iPhone, go to "Settings" and select "Phone."
2. Toggle "Silence Unknown Callers" to ON under the "Phone" option.
For Android users:
1. On your Android phone, open the "Dialer" app.
2. On the right-hand side of the app, tap the "Vertical Ellipsis" (three vertical dots)menu.
3. Select "Settings" from the drop-down menu.
4. Select "Block Numbers" from the drop-down menu.
5. Select "Block Unknown Callers" and turn it on.
You can prevent anonymous callers from phoning you and bothering you repeatedly by making the modifications listed above on your mobile device.
Final Thoughts
Surprisingly, not all unknown callers are bothersome; making phone calls over VoIP might sometimes result in the caller's phone number being unavailable.
VoIP, unlike traditional landlines and wireless networks, makes phone calls through the internet, making it untraceable by traditional telephony networks.
The majority of businesses and organizations use VoIP to reduce their telephone costs. It's possible that the next time you get a call from an "Unknown Caller," it'll be from your workplace.
Trap Call is an excellent program for blocking and blacklisting anonymous callers, however, it has certain limitations and is only available in the United States. If you travel frequently, keep this in mind.
Similar third-party apps like Truecaller, on the other hand, have been shown to be effective in blocking calls and identifying spam numbers.
Telemarketers are also notorious for hiding their phone numbers in order to make cold calls more effectively and increase conversion rates.
However, if you are concerned about receiving frequent anonymous calls, I strongly advise you to contact your phone company or higher authorities to address the problem.
Frequently Asked Questions
Does no caller ID mean you have them in your contacts?

Even if the caller is in your contacts, no Caller ID indicates that the individual phoning you has purposefully concealed his phone number.

Should I respond to the call from a no caller ID?

You can opt to answer a "No caller ID" call, but I strongly advise against it because the odds of being scammed are pretty high.

What happens if I answer an unknown number?

There's a probability that the "Unknown number" is from another country. If you answer such calls, your carrier may slap you with heavy fees.

How do you call back a no caller ID?

You can utilize third-party apps to find the phone number and then call back, but you won't be able to call back if the call was made using VoIP.