As Per Government's Advice Reliance Jio, Airtel, and Vodafone started playing a recorded Caller Tune Message with a cough and coronavirus disclaimer from the beginning of the pandemic.
I have come out with a great working method that works for all SIMs.
According to telecommunication companies, the coughing sound has now gone, but many users still experience it but very rarely.
Coronavirus has spread worldwide and has surpassed 164 Million Cases Globally with a death toll of 3.41 million. 
The Health Ministry of India demanded that all major telecom companies should add a 30-second COVID-19 prevention caller to their networks. BSNL, MTNL Reliance Jio, Airtel, and Vodafone-Idea have all added a caller tune to the consolidated network of 117.2 crore subscribers, according to the Ministry of Health.
How to Stop or Remove Corona Caller Tune
Certainly, the Caller tune for Coronavirus brought about a great sense of consciousness. Nevertheless, the sound of the tunes with a COUGH tone was an irritation for many subscribers. People in an emergency have to wait 30 sec for the caller tune to get over then the call used to get connected. So several users request to remove it.
New Updated Trick 2021
Wait for the alert to begin then press any number. It will skip the tune and go back to the original caller tune.
Another trick is that when you listen to this message, immediately disconnect the call and after that call again. I bet you will not listen to any caller tune at that moment. You might hear after a few more calls just repeat this process.
Method 1 (Not Working for all Users)
For Airtel Users, Dial *646*224# and press 1 to Deactivate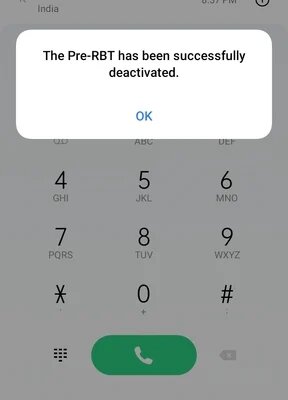 For Jio Users, Send "STOP" to 155223 to remove Corona caller tune
For BSNL Users, Send "UNSUB" to 56700 or 56799 (SMS)
For Idea Users, Send "STOP" to 155223 (SMS or CALL)
For Vodafone Users, Send "CANCT" to 144 (SMS)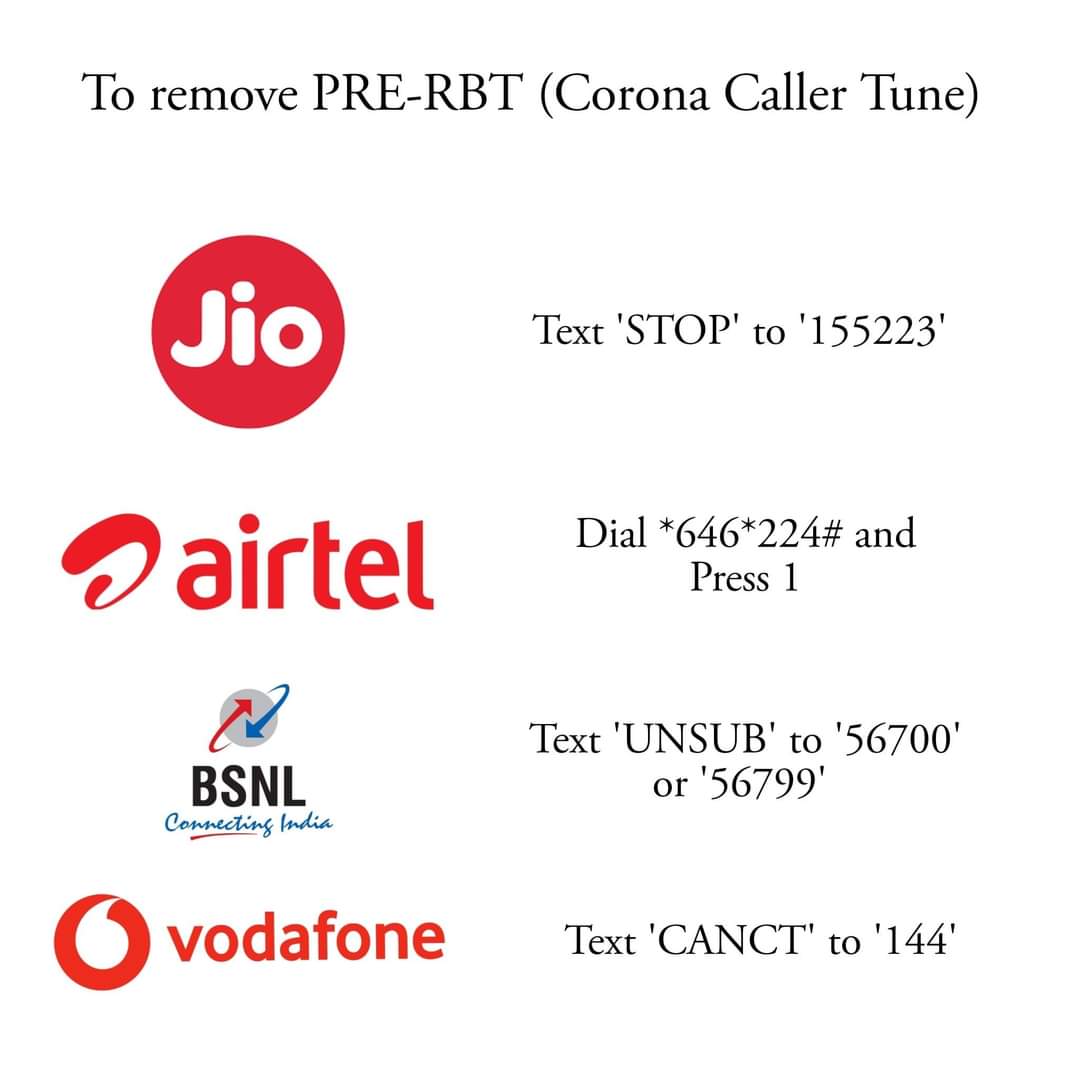 Method 2
On Android, you can just press any number after the call has been placed, by shifting the dialer to prevent the caller tune playback. After a number is pressed, the message ends and the call rings as usual. You might have to press multiple times sometimes.
Note: Working with Airtel & Vodafone Idea networks. For Reliance Jio & BSNL You have to wait till it ends.
On iOS, the dialer must be opened and the hash (#) button pressed to stop it. The message won't quit pressing numbers like smartphones on Ios.
If the alert does not stop keep pressing the (#) button on iOS, or a number with Android a few times, because your telecom service provider may not have seen it first.
You can avoid playing the message by using this trick. However, the next time you make a call it will again start playing and you have to run the trick again.
Method 3 (100% Working)
This is the final and working trick that I am going to reveal for all SIM cards and it's really working like charm.
# Method
During any call when you hear the Coronavirus caller tune just press # (Hash) on your keyword it will just skip the coronavirus caller tune.
Disconnection Method
When you hear any kind of unwanted coronavirus caller tune just disconnect/ end up the call and immediately call again. You will not hear the caller tune again. For some network service providers, you may have to disconnect the call 3 times a day and you will not hear it again the whole day.