There is an ongoing debate on whether the MP4 video file format outclasses its predecessor, MOV. Although both formats are frequently used for videos, some choose to convert to MP4 format due to better support and ease of use.
Unfortunately, not all tools allow you to keep quality while converting so it's important that before choosing a program or app be sure they have good reviews supporting their product as being reliable.
When you are working in the Windows environment, MOV files can be challenging. But they aren't impossible to work with.
You just need a little know-how, and these tips will help you overcome any obstacles that come your way when using this file type on your Mac or PC.
The MOV was designed to support the QuickTime movie player. The video format is largely compatible with Apple devices such as iPad and iPhone but working on a Windows environment comes with certain complexities.
The MOV format is one of the most popular video formats used today. Though it's easily accessible with Apple products, Windows users face difficulty opening and playing them.
There are also limitations to this file type that we should be aware of before downloading any files in this format.
As MOV videos are not compatible with various devices, you may face problems while playing them on different media players.
For instance, 4K videos in HVEC Codec are unable to play on QuickTime Player and Windows Media Player which leads them to shift toward MP4 Converters.
You can fix this issue by converting your video into MP4 format that is more readily supported in all kinds of platforms and operating systems.
With the WinX Video Converter, converting from MOV to MP4 is easier than ever. This high-performance GPU accelerated video converter helps you convert videos between more formats and fast.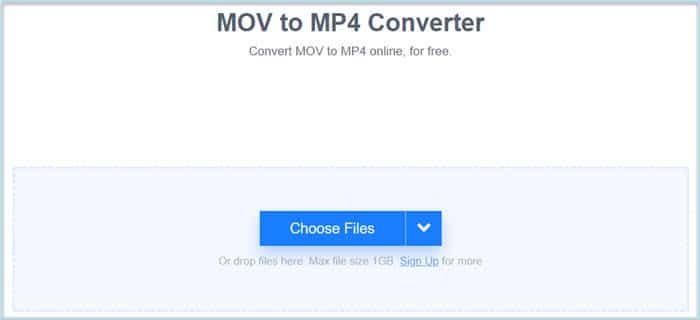 It's supported in Windows 10 and below for a smooth experience. No third-party plugins are needed to convert video into 200+ formats with WinX Video Converter.
This MOV to MP4 converter can be used for any device that supports videos, including 4K/HD HEVC recording from GoPro/DJI cameras or DVD rips. The software is available in English and Chinese languages, so it's accessible worldwide.
Check out this easy-to-use 4K video compressor to save space without losing quality. If you have a large collection of UHD videos, it can be difficult to store them on your computer.
This MOV to MP4 tool compresses the size so that they take up less room and are still able to play smoothly in high resolutions with no lag or loss in picture quality.
With WinX Video Converter, you can now make your videos with previously shot footage. Trim down big video clips into several small sections and merge multiple segments to create one story.
You can also crop out any unnecessary details or the black edges of a clip as well as rotate upside-down images/videos if need be.
Finally, personalize each project so that they're unique by using special editing tools such as adding effects for more glamour and adjusting volume levels accordingly.
Using this HD converter, you can add subtitles to your videos to make them more clearly understood. You can permanently burn the subtitle onto the video or simply add soft subtitles as desired.
WinX Video Converter is a powerful program that can convert your videos to any format. It has fast processing speed and lossless output quality, making it one of the best video converters around.
It excels in converting 4K, HD videos into any format without missing a beat. It is quite impressive and gives you the best viewing experience on your devices.
Furthermore, it is easy to use with its user-friendly interface that anyone can catch up with within minutes.
However, if you're looking for advanced features such as burning files onto DVD or adding text narration then this might not be the right software for you, but these might be added later through updates by developers if needed.
This MOV to MP4 video converter is the best in downloading and converting YouTube videos. It can convert 4K/HD to MP4, HEVC, H.264, MKV, MOV AVI WMV MPEG, etc.
Compress large videos with high quality reserved while maintaining their original size or even smaller than its previous size without compromising on any of the features that made this film what it was originally like.
Create split clips from one long movie into multiple chapters for ease of watching by adding subtitles onto your files so you know when certain parts are happening within a clip easily – create new playlists instead.
If you're looking at creating movies out of photos taken, then this software will let get through editing them quickly too.
How to Convert MOV to MP4 With Winx Video Converter?
When an individual is looking to convert a video file, there are various options on the market. Their features vary and so does their performance as some software works faster than others with better quality output or additional settings for customization purposes if needed.
For this article, we will choose WinX HD Video Converter because it converts quickly without losing any of the original data and has many useful setting adjustments that can be made before converting your files.
WinX HD Video Converter is the best video converter thanks to its unique Level-3 hardware acceleration, High-Quality Engine, and support for numerous file types.
It converts MOV files into MP4s very smoothly with 47 times faster speed than other converters. In addition, it can also reduce large 4K movie size by up to 90% without compromising quality.
This video transcoder is perfect for over 4 steps. You can just add your videos to the program and select a profile, then this brilliant software will convert them – more smoothly than ever before. Check out these easy steps below:
Step 1: Free Download and Install this WinX MOV to the MP4 converter.
The new edition of WinX Video Converter has been released and it is available for everyone. Download and install it from the link given below and launch this on your computer/laptop.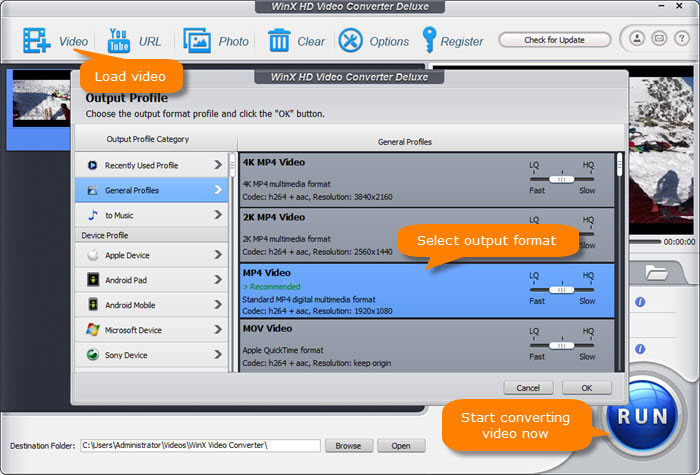 Step 2: Upload your video files of any format.
After successfully installing the application, open it up and click "+ Video" to import your video file.
Step 3: Select an output format (MP4 preferred).
Select an output format from the automatically popped-up screen: MOV, MP4, AVI, MP3, iPhone/iPad (iOS), Android (default), Xbox One, or PS4.
Choose the desired format for your video, then click "Next" to proceed.
Step 4: Begin File Conversion.
Click "Browse" to specify the output folder destination. Tap "RUN" if you want video conversion immediately activated.
Conclusion
There are several great alternatives when it comes to MOV to MP4 converter, but if I had to recommend one, my top choice would be WinsX Video Converter.
This MOV to MP4 converter is an amazing software that can convert your videos at a 47x faster rate, supports 370 video formats and 420+ outputs.
It has six different interface languages for ease of use as well and is compatible across various devices like cellphones, laptops, and PCs.
Why not give this WinX Video Converter a try? Anyone that's reading this article should try WinX Video Converter at least once.