I have been using Facebook for the last 12 years and being an expert in it I can confidently say it has its pros and cons and maintaining one's privacy becomes one of the crucial necessities while being on such a platform. The ultimate purpose of using a high-functioning social media platform like Facebook is that it enables people to build a community by bringing them closer even when they are present at different corners of the world and this is made possible when we share/post pictures, videos, articles and opinions and therefore get connected to those who share a similar interest with us and allows the formation of a positive relationship with peers.
First of all, let's see what exactly is the purpose of this share button. So, the share button allows your peers to share your posts on their timelines. While the majority enjoy sharing with friends and family with a simple click of a button, sometimes this might be the case that one would prefer not to share their posts with others due to privacy reasons.
Is it possible to delete the share button from your Facebook? UNFORTUNATELY no! It is like asking, is it possible to run a mobile phone when it doesn't have a battery? But there is some good news for those who are concerned with their privacy and today's blog post will discuss how to adjust their privacy settings and allow them to disable the share button from their respective posts. Me being an experienced user of Facebook, I can guarantee by following a few simple steps you can keep your content personal.
How to disable the share button on Facebook?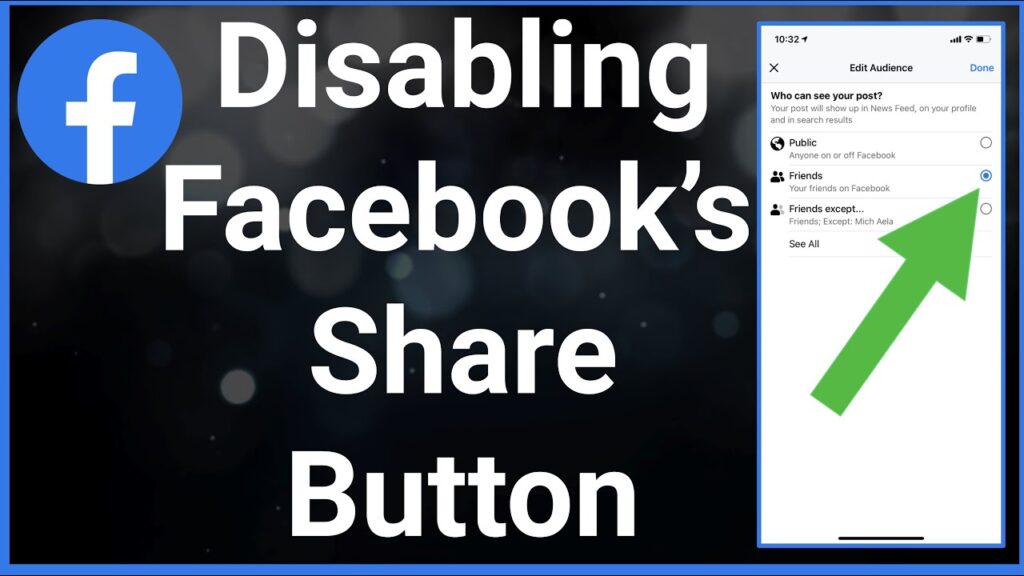 Android:
Log in to your account, go to the respective post you'd prefer not to share
Locate the desired post and tap on (…) located at the top right corner
Choose the Edit privacy option and select the preferred option, Friends except. Friends…Some particular friends or Just me.
Desktop/PC:
From facebook.com in your web browser, sign in to your account
Click on your profile picture icon and select Settings and Privacy
Click on Settings followed by Privacy
Select stories
By clicking on the toggle, disable the option, and Allow others to share your public stories with their own story.
Alternative method 1
Go to settings and privacy
Click on settings followed by privacy settings
Under the category of Your Activity, there is an option for Who can see your future posts
Click on Try it now which will direct you to a new post and you can follow the above set of steps
Alternative method 2
Open your FB account
Click on the top right corner
Select "Settings and Privacy" and then tap on Settings
In Privacy selection, click on Profile and tagging
Tap on Allow others to share your posts to their story
Select the option "No" which will allow people to be not able to share it on their timeline
Go ahead and choose the particular post you would like to keep private
Tap on (…) in the top right corner and select Edit Post Privacy
Select front the preferred option, Friends except. Friends…Some particular friends or Just me
Final thoughts
These simple steps should help you disable the share button on your Facebook post. Being a generation of tech-savvy experts it shouldn't be difficult at all! Go ahead and try these solutions and if you face any problems feel free to ask in the comment section. 
FAQs-
How do I make my posts not shareable?

For this, go to the browser, search for Facebook and tap on the top right corner followed by settings then story settings. You'll get an option "Share your public stories to your own story" then click on "Only Me" this method should work on both android and ios. 

How do I turn on the share button on Facebook? 

After creating a post, click on the edit audience button, and you get to select who can interact with your new post and make it public.

Why is there no share button on some FB posts?

According to the new update in the privacy settings on Facebook, on some posts the privacy setting is set to friends, then others will be automatically restricted from sharing your posts.