Managing personal finances, credit scores, and accounts gets easier with the advent of sites like Credit Karma. This application helps users track their credit scores. Basically, a good credit score is important to earn the trust of creditors or lenders. Thus, you can access better loan offers with a good credit score as it portrays you as a creditable borrower before lenders.
However, Credit Karma and its features might not be equally effective for everyone. Or, you might be looking for a more accurate and secure option. Recently, there have been some issues with Credit Karma, and a lawsuit claiming $3 million was filed against the company.
A privacy flaw was also found with Credit Karma policies. That's why customers are looking for the best alternatives to Credit Karma.
Check Also: 5 Things to Consider to Improve Your Personal Credit Score
Here, we have listed all the leading competitors to Credit Karma that might suit your financial needs and monitoring. Check out all the secure and feasible apps that offer outstanding credit scores, accounts, and other finance tracking: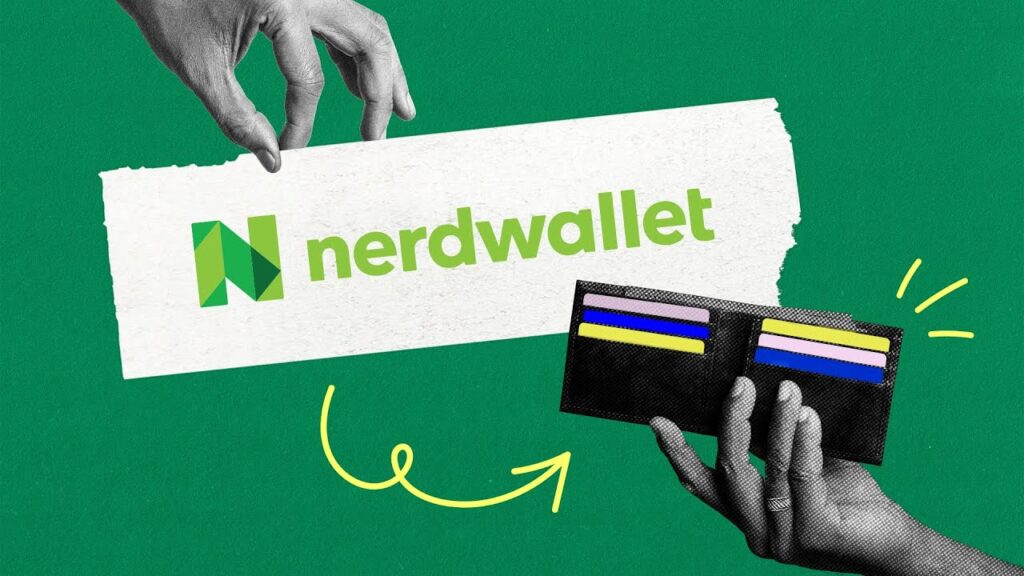 NerdWallet offers its users various financial services and aids for feasible management. Whether you are worried about cash flow or credit score building, NerdWallet is a wonderful choice.
You can discover lots of financial tools to run personal finances. On the other hand, you can tackle your business's finances with this.
Here's why NerdWallet is one of the top alternatives to Credit Karma:
It's a free app to check your credit scores and more.
The app offers two-factor authentication for safer financial aspects.
NerdWallet gives you a Nerd Wallet for overall money management.
It lets you understand and explore your net worth.
You can check out all your account transactions.
NerdWallet allows you to keep an eye on your credit score with intuitive tools.
However, NerdWallet is a bit different from Credit Karma, but it has been very useful for comprehensive financial analysis and management.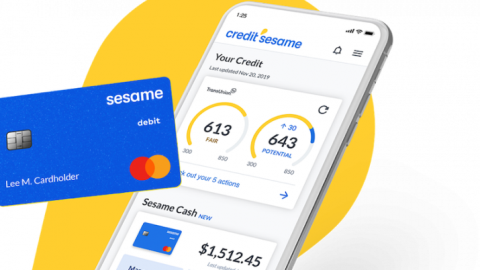 Are you looking for some cashback offers while managing your financial chores? You can try out Credit Sesame. Moreover, you can get some exciting rewards when you are focused on building a good credit score.
Credit Sesame offers the following features with its free service:
Credit score monitoring
Chances to improve credit score with Sesame Cash
Interactive cashback offers
Protection against identity theft
Simple user interface for efficient finance management
You can go for Credit Sesame's premium package, and it will cost $15.95 every month. This is great for handling your entire business's finance management along with the following advantages:
Get full credit reports from sources such as Equifax, TransUnion, etc.
Access expert assistance and guidance all around the clock.
Superior wallet protection.
Credit score improvement.
Premium monitoring for identity theft.
No doubt, Credit Sesame is more serious about users' personal and financial details. That's why it's one of the best alternatives to Credit Karma.
An easy budgeting app is a boon for beginners who would like to keep their credit cards, bank accounts, investments, and more under one roof. We found the Mint app quite helpful in this scenario.
You can get free-of-cost service for all these management on Mint. However, you have to pay an additional fee if you want to get bill negotiation services from BillShark.
BillShark will cost you 40% of the savings they made you during a negotiation. For example, you need to pay $40 to BillShark if they save you $100.
Apart from this, you will get the following features on Mint:
Credit monitoring
Salary estimator
Alerts on due bill dates
Tracking investment
Loan and credit card matching services
Subscription management
Educational calculators
TransUnion credit score
Mint is a safer option compared to Credit Karma as it uses Intuit's technology. Therefore, Mint won't be affected by the Plaid lawsuit. Yet, Mint is a great tool to monitor credit scores but not improve them.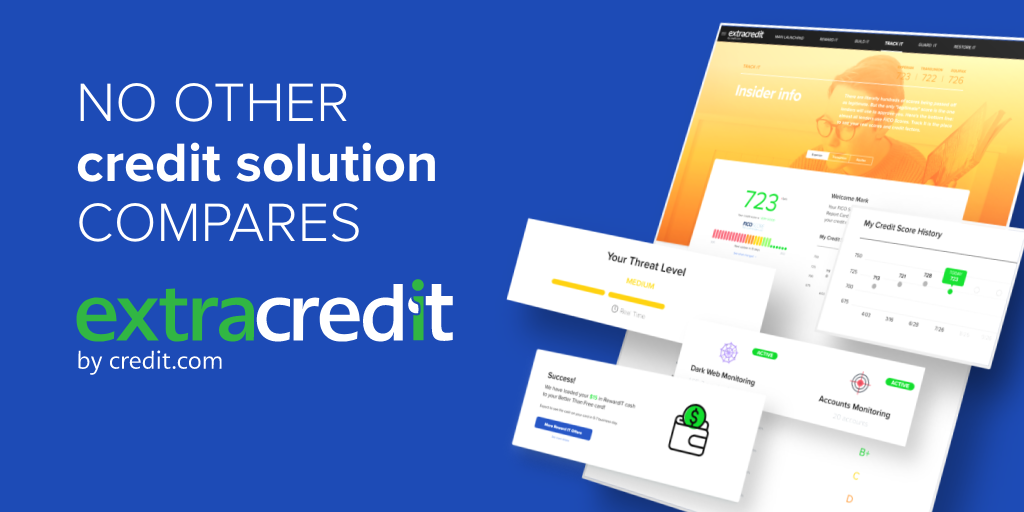 This is an app as well as a browser-based site that acts as a tool for credit score monitoring and more. Credit.com reports your Experian credit score without any type of charge.
Here are a few notable features of Credit.com:
You don't require a credit card to open an account on Credit.com.
It lets you track your credit score.
You can boost your credit score with credit repair.
It offers interactive tools for credit calculation and how they work.
Cash rewards
Protection against identity theft
Rent and utility reporting
Get free credit scores by using automated tools on Credit.com, and you will gain insight into your credit score. Build your credit score slowly and limit new applications for loans and credits with Credit.com.
On a contrary note, Credit.com sells additional financial products to earn more money. You can buy credit scores at an additional price.
However, the Credit.com app is currently available for iOS users. Well, you can use its web version if you find Credi.com trustworthy.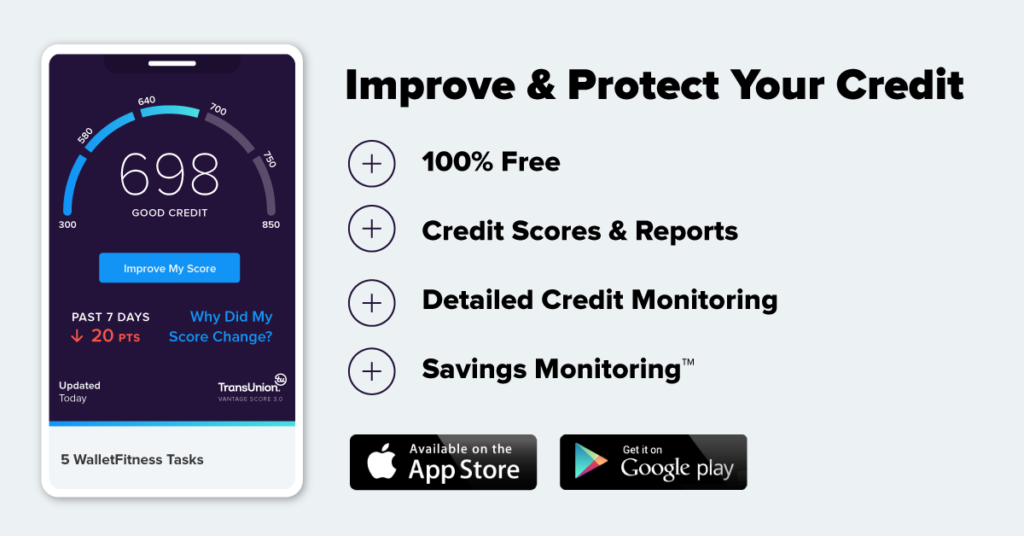 Get credit reports from TransUnion with the help of WalletHub, one of the best suitable alternatives to Credit Karma. Additionally, users can get a free credit check on WalletHub. You must provide your monthly earnings and expenses to submit the registration form.
Moreover, the service allows you to check all your credit accounts and balances in a specialized category. The app also keeps its users notified about the upcoming bill patent. Therefore, users can avoid mistakes that might negatively impact their credit scores.
Here's what you should know about WalletHub before committing:
The app rewards users with free daily updates on credit scores.
It builds full credit reports that are based on VantageScore from the TransUnion bureau.
The app offers numerous financial tools along with a question-and-answer form.
You must enter your personal details into WalletHub for better analysis and financial management. However, it keeps your data safe and sound, unlike Credit Karma.
Credit Karma is accused of showing users' data anonymously 2 years after users close their accounts on Credit Karma. That's why WalletHub can be one of the secure alternatives to Credit Karma.
Read Also: 7 Best Urgent Loans For Bad Credit (2023)
Why is Credit Monitoring so Crucial?
Stay on the peak of your financial health with credit monitoring. This particular service helps you avoid identity theft and credit fraud mistakes. Check out if there has been any change in your credit report with credit monitoring services. Then, you can take the necessary actions on time and accordingly.
Credit Karma is a prominent choice. However, users have been looking for alternatives to Credit Karma as the service provider has certain cons. Check out the above-mentioned services to monitor your credits, accounts, credit score, investment, and more.