Digital display screens have been growing in popularity in recent years – and for good reason too. These visual tools present limitless possibilities for any growing business. Whether you are operating a restaurant and want to present a menu, a company looking to display all available services your business offers, or you are looking for a way to advertise your organization better, digital display screens offer the flexibility required to meet all of these needs. Here are some ways in which they can be used.
Menu Boards
One of the first ways that this technology was utilized was to provide easier-to-manage and eye-catching menus for the restaurant industry. Chances are, you have probably seen one where you get your lunch, buy your morning coffee, or even do your weekly shopping. Not only are they great for showing the individual prices of everything on the menu, but they can also be used to advertise specific items. On a single board, you can transition from showing a certain portion of your regular menu to advertising your special of the day. Or perhaps you have a new product that you want to showcase to your customers, and what better way to advertise it than to include it on the digital menu?
Advertisements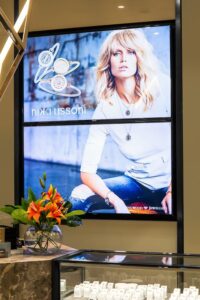 Although it would be nice to operate a business profitably without ever having to advertise a single thing, in a world where competition is high, you need every advantage that you can get. Digital display advertisements have become increasingly popular today. On a smaller scale, they are composed of a simple flatscreen and some software. But there are humongous LED display panels that are designed specifically for billboards. What better way to stand out than to animate your company through visually stunning, graphical advertisements? A small display mounted at the door of your business is enough to attract new customers. This is why so many organizations have begun using digital display screens specifically for advertisement purposes.
Greetings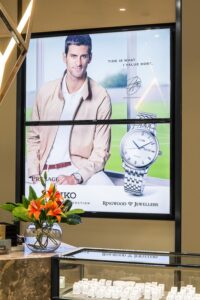 If you are more than 30 years old, then you probably remember going to restaurants as a kid and seeing beautiful greeting signs next to the hostess stand. They came in all different designs and shapes, but the two most popular were the colorful, handwritten chalkboards and backlit display boards that were drawn on with crayons. But those took time to create, and it wasn't uncommon to have to redraw them every single day. However, a lot has changed over the decades because now everything can be done digitally and then displayed in minutes. Any business can benefit from a sign that greets everyone as soon as they walk in and provides them with information on any specials, or your organization's most popular products.
News
No, we're not talking about displaying the local news channel but rather providing your waiting customers with current and up-to-date information about your particular company or the industry that it is in. How much time does the average person spend sitting in your lobby? Do they ever actually pick up any of the reading material that you leave on the coffee table for them? The fact is that most of the people waiting in your lobby will never actually do anything other than wait. Keep them occupied with interesting digital displays.
Schedules
Inside a business, digital display screens can be used to monitor the schedules of different training and conference rooms. Imagine going to a hotel for a conference, and rather than seeing a poster at the entrance of the conference hall, there is a visually stunning, animated display that provides you with the information you need regarding your meeting. Maybe, the meeting is split into different groups or segments and you don't need to attend all of them. These boards can be easily controlled with Adflux digital signage software, making it easier to change and update after each event.
Words of Inspiration
Why not offer words of inspiration? If you have ever gone to a gym for a workout, it can get very depressing when you look around and realize that you are not as physically fit as many of those around you. Now imagine running on a treadmill with a digital display screen in front of you, reminding you with every step that you can do it, that you can meet your goals, and that you can accomplish your dreams. Even a house of worship can benefit from a screen that displays inspirational quotes and words of wisdom.
To say that the sky is the limit is an understatement when it comes to digital technology. Advancements occur at lightning speed, making it impossible to ever put a limit on them. So, we must stay as up-to-date as we can – because the competition is just waiting for us to fall behind.