In the digital age, businesses have found managing the vast amounts of data they generate increasingly challenging. This is where the enterprise search becomes crucial as it offers a solution to this challenge. This article will explore best practices for implementing such solutions in your organization. Keep reading to appreciate further the enterprise search and its importance in a modern business environment.
Understanding Enterprise Search Solutions
Enterprise search solutions help retrieve information from various data storage platforms within an organization. These could include databases, intranets, emails, or cloud storage systems. Essentially, they offer a single point of access for all corporate information.
This technology leverages techniques like text analysis, metadata, and tagging to deliver accurate results. Advanced solutions utilize machine learning and artificial intelligence (AI) to provide more refined search outputs.
For large corporations handling vast amounts of data, these solutions offer a more streamlined and effective way to find and use information. It brings in efficiency, saving employees time spent searching through multiple platforms or systems for necessary data.
Moreover, advanced enterprise search solutions offer features like content management, workflow modules, and security controls to ensure data integrity.
Importance of Enterprise Search Solutions for Modern Businesses
Having an efficient enterprise search system within an organization has become a game-changer. It allows employees to find the information they need, increasing productivity quickly.
Considering the data growth rate, it also takes precedence where businesses generate vast amounts of data daily. Without a proper system, this could lead to ineffective data management and poor decision-making.
Moreover, advanced solutions allow businesses to unlock hidden insights from their data. This includes understanding customer behavior, analyzing market trends, and gaining a competitive advantage.
Key Methods for Implementing Enterprise Search Solutions
The first step in implementing an enterprise search solution is understanding the business's data requirements. This involves analyzing the types of data the organization handles, the amount, and where it's stored.
Secondly, choosing the right solution is crucial. Factors to consider include the solution's scalability, features offered, ease of use, and implementation process.
Training the employees on how to use the solution is also essential. This includes explaining the functionality, providing best practices, and resolving doubts.
Routine maintenance and updates are necessary to ensure the solution works efficiently and is up-to-date with the latest features and security standards.
Challenges in Implementing Enterprise Search Solutions and Overcoming Them
While implementing enterprise search solutions offers many benefits, it has challenges. One of the primary issues includes data privacy and security. This requires the solution to have robust security measures in place.
The second challenge is the seamless integration of the solution with other existing systems within the organization. This requires the solution to be compatible and adaptable.
Additionally, user adoption is another concern. Employees may resist change, which can be mitigated by offering comprehensive training and promptly addressing their concerns.
Keeping up with the evolving technology and trends can also be challenging. This can be addressed by choosing a solution that offers regular updates and new features.
Leveraging Advanced Techniques for Enterprise Search Solutions Optimization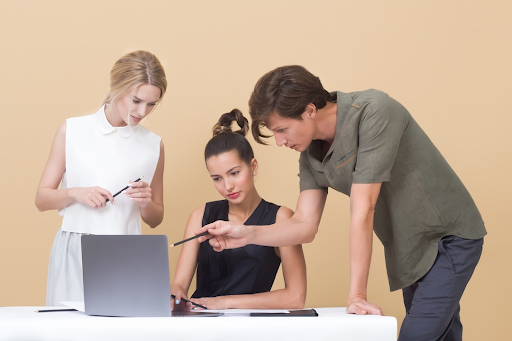 Alt text: Three people looking at a laptop discussing enterprise search against a tan background.
With the advent of technologies like AI and machine learning, businesses can optimize their enterprise search solutions. These technologies offer enhanced search capabilities, delivering more accurate and timely results.
For instance, AI can learn from previous search patterns to deliver more personalized results. Similarly, machine learning algorithms can categorize data more efficiently, searching even faster.
Another advanced technique is real-time indexing, where new information is instantly available for search. This allows businesses to stay updated with their data in real-time.
Predictive search is another feature offered by advanced solutions. This gives users suggestions as they start typing their queries, saving time and increasing efficiency.
Implementing enterprise search solutions is becoming necessary for modern businesses striving to handle their data effectively and efficiently. Businesses can make the most of their investment by understanding the requirements, choosing the right solution, overcoming challenges, and leveraging advanced techniques.