Google announced Android 12 during its opening keynote at I/O 2021, and you can now check it out as part of the first public beta. The Android 12 public beta is now available for Google Pixel phones (versions 3 and up), as well as OnePlus, Lenovo, Asus, Oppo, Realme, Sharp, Tecno, TCL, Vivo, Xiaomi, and ZTE smartphones. On Google's Android beta site, you can enroll your Pixel phone, and on the Android Developers page, you can find detailed instructions for other supported phones.
Android 12 comes with a slew of new features, but the new visuals are the most exciting. Along with new animations, widgets, and a redesigned lock screen, Android 12 now supports themes, which allows you to alter the colors used in the operating system simply by changing your wallpaper. Not all of the dramatic visual improvements will be included in this first beta, but as we get closer to release, they should become available.
Other aspects of the Android experience, such as alerts and fast settings, are also being tweaked by Google. It also improves privacy and protection by providing indicators for when your phone's camera or microphones are in use, as well as easier access to all of your apps' different permissions from a single dashboard. Check out our full preview of Android 12 for a more in-depth look. If you want to start using the beta right away, follow the instructions below.
Which Phones Currently Work With Android 12 Beta?
Pixel 3, 3 XL
Pixel 3A, 3A XL
Pixel 4, 4 XL
Pixel 4A, 4A 5G
Pixel 5
Asus Zenfone 8
OnePlus 9, 9 Pro
Oppo Find X3 Pro (model CPH2173)
TCL 20 Pro 5G
Vivo iQOO 7
Xiaomi Mi 11, Mi 11 Ultra, Mi 11I, Mi 11X Pro
ZTE Axon 30 Ultra 5G
as well as models from Sharp, Tecno, and Realme
New Features of Android 12
The largest interface update in Android's history is included in Android 12. From the colours to the forms, illumination, and motion, we reimagined the whole experience. As a result, Android 12 is more expressive, creative, and personalized than it has ever been.
Personalization
You'll be able to fully customize your phone with a custom color palette and revamped widgets starting with Android 12 on Pixel devices. You pick your wallpaper and the machine automatically decides which colors are dominant, complementary, and just look good using a technique known as color extraction. The colors are then applied throughout the entire OS, including the notification shade, lock screen, volume controls, new widgets, and more.
Our tech, hardware, and Material Design teams are working together closely on this project. We're unifying our software and hardware ecosystems under the Material You design language.
Fluid motion and animations
You'll notice how an Android 12 computer comes alive with every press, swipe, and scroll the moment you pick it up. With smooth motion and animations, your phone responds to your touch easily. When you turn off your alerts on the lock screen, for example, your clock will grow bigger, letting you know when you're up to date.
To make your experience more smooth and functional, we've streamlined interactions and redesigned the entire underlying structure. Your Android devices are now quicker and more sensitive, with improved power consumption, allowing you to use them for longer periods of time without needing to charge them. This was accomplished through some under-the-hood changes, such as reducing the CPU time needed for core system services by up to 22% and the system server's usage of big cores by up to 15%.
Redesigned system spaces
Some of your phone's most popular features, such as the notification shade, fast settings, and even the power button, have been redesigned to help you get more done.
With a clean, at-a-glance view of your app alerts, whatever you're currently listening to or watching, and Quick Settings that let you monitor virtually the entire operating system with a swipe and a tap, the notification shade is more intuitive and playful. The Fast Settings area isn't just different in appearance. It's been redesigned to include Google Pay and Home Controls while also allowing for customization, so you can keep everything you need in one convenient location.
You can now long-press the power button to invoke Assistant to make a phone call, open applications, ask questions, or read aloud text-heavy posts, ensuring that you always have Google's support at your fingertips.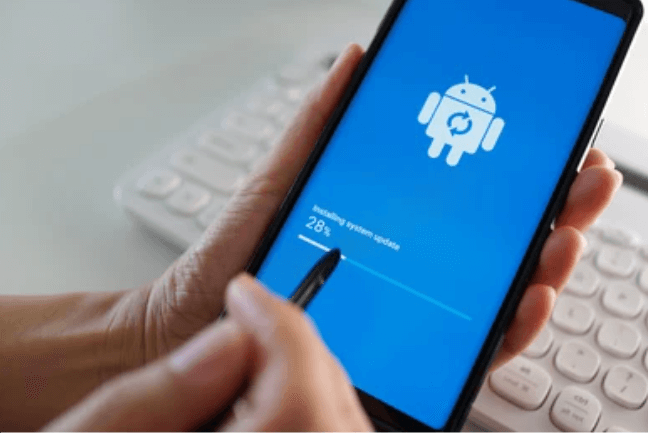 Private and secure by design
New features in Android 12 give you more visibility into which apps are accessing your data and more controls so you can make educated decisions about how much personal information your apps can access.
The new Privacy Dashboard gives you a single view of your permissions settings, as well as information about what data is accessed, how often, and by which users. You may also revoke app permissions directly from the dashboard.
To let you know when your apps are accessing your microphone or camera. Added a new indicator to the top right of your status bar. We've also introduced two new toggles in Quick Settings if you want to disable app access to these sensors for the entire device.
How To Install The Android 12 Beta?
The method for installing Android 12 beta on your phone can be as simple as a few clicks or as complicated as you want it to be. It's much easier to get this beta download on one of the Google Pixel phones that are supported.
To enroll your Pixel in the Android 12 beta, go to the Android 12 beta site. When you click "View your eligible devices" you should see your phone named. You can receive a notification on your phone when the program is ready to install after you enroll your device. If you want to search manually, go to System > System Update in your phone's settings menu. To see if you can download the latest app, tap "Check for Update."
You have no choice but to wait if nothing happens right away. I've had the beta update on my phone within minutes of enrolling in the past, but it can take hours. Wait for the app to be ready to run on your phone, which may take up to 24 hours.
Follow the instructions on each page from Google's list of qualified phones for approved phones from other brands like OnePlus, Realme, Sharp, and others, as the installation process appears to vary depending on the manufacturer.