Do you love deck building games? If so, then you'll want to check out Draconis Invasion! This is a brand new game that was just released on Steam, and it's quickly gaining popularity. The premise of the game is simple – you must build a deck of cards and use it to defeat your opponents. But there is more to the game than meets the eye. In Draconis Invasion, you must carefully choose your cards if you want to be successful. Let's take a closer look at this exciting new game!
Quick Overview of Draconis Invasion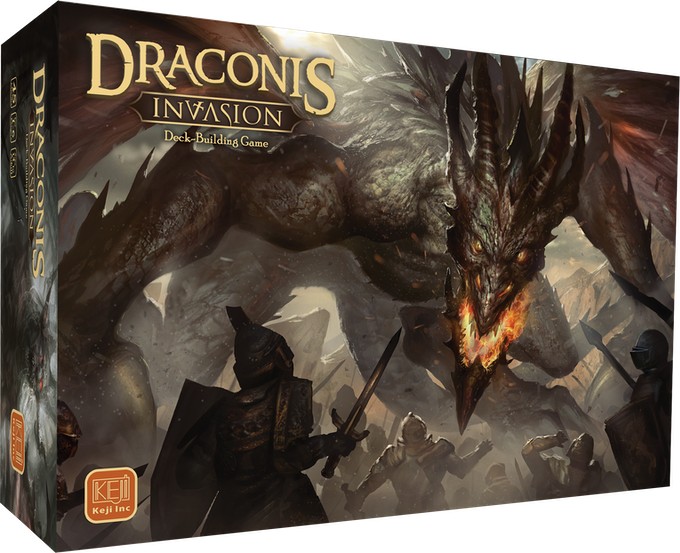 Draconis Invasion is a strategic card game that lasts 45-90 minutes and plays from 1-6 players. Built with a focus on strategy, this game will test your ability to plan ahead and think creatively. Like other games in the deck-building genre; all players start off weak but aim for stronger decks by purchasing new cards throughout play!
Draconis Invasion introduces some unique mechanics that set it apart from other games in the genre. In particular, the primary challenge in Draconis Invasion is creating the optimal mix of Defender, Action, and Gold cards.
There are a lot of things to keep track of in this game. You'll use your skill cards, attack strength and luck factors among other stats like how many punishment points you've collected so far or what building types have been destroyed already- but finding the right balance can be tough! Meanwhile, there will always remain those useless punishments that just pile up as time progresses…
Draconis Invasion Glory Expansion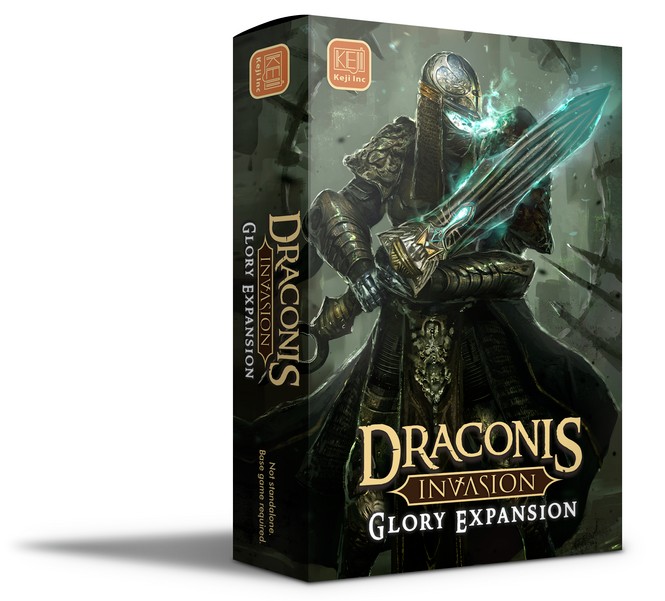 The base game of Draconis Invasion is great, but the Glory Expansion really takes it to the next level! With three modular expansions, each with its own unique gameplay modifications, this mini-expansion is sure to keep you coming back for more. Plus, it's compatible with all previous expansions, so you can keep growing your collection.
This compact expansion includes 3 modular expansions, each of which presents different asymmetric powers to form your strategy.
Invocation cards – With invocation cards, you can summon powerful past cards to your hand.
Champion cards – Champion cards give you an array of bonus points to aim for in the end game.
Bonus cards – And with bonus cards, you can get different variations on those end-game bonuses.
So call upon your army, ready your spells, and charge into combat! The fate of the world is at stake – only you can save it!
Glory Rules
3 new options for the Glory expansion:
First, Champions provide asymmetrical abilities that can be called upon at critical junctures. When the game begins, players are given these cards, which detail several tactics they can employ to increase their chances of success. A player can make use of their asymmetrical abilities when doing so will help their deckbuilding strategies to the greatest extent possible.
Invoking a card from your deck alters the game's dynamic by allowing you to put it away for later use. After making a "Buy," a player can place exactly one card under the Invocation card. When using Invocation, you can only put one card into that slot. During their turn, a player can "Invoke" a card by adding it to their hand from their reserve pile. When the Invocation card is depleted, another card can be bought during the Buy phase and placed underneath it.
Each game has its own unique set of goals for the final bonus round that are determined by the bonus cards played. Players can change their strategies to maximize their chances of securing the bonuses they've chosen before the game even begins. The final tally could be drastically altered by the presence or absence of Bonus cards. bonuses at the game's conclusion are determined by a deck of cards and might change from game to game.
5 Reasons Why You Should Play Draconis Invasion
It's a great way to relieve stress.
It's a fun way to connect with friends and family.
It's an easy game to learn how to play.
There are many different ways to play the game.
The graphics are amazing and it's very immersive.
Draconis Invasion Details
Designer: Jeff Lai
Artists: Grzegorz Pedrycz, Juan Pablo Fernández, Manthos Lappas, Unrealsmoker, Vuk Kostic
Publishers: KEJI Inc
Release Date: 2016
Player Count: 1 – 6
Age Range: 14+
Time Range: 30 – 90 minutes
Mechanism(s): Card Drafting, Deck, Bag, and Pool Building
Final Thoughts
If you're looking for more of a challenge, you can check out the Draconis Invasion Glory Expansion. This expansion adds an additional layer of complexity to the game, and it's not for the faint of heart. With this expansion, you'll have to contend with new card types and abilities, as well as increased difficulty levels. But if you're up for the challenge, the Draconis Invasion Glory Expansion is a great way to take your game to the next level.
So, what are you waiting for? If you love deck-building games, then you need to check out Draconis Invasion! With its unique mechanics and challenging gameplay, Draconis Invasion is sure to provide you with hours of enjoyment. So why not give it a try today? You might just find yourself hooked!
What do you think about Draconis Invasion? Have you had a chance to play it yet? Let us know in the comments below!
Happy Playing!