Zealandia is an almost entirely submerged mass of continental crust in Oceania that subsided after breaking away from Gondwana 83–79 million years ago.
It's been called a microcontinent, a continental remnant, and even a submerged continent.
It is the largest and most populous of the world's microcontinents, and some geologists consider it to be the eighth continent of Earth.
Discovering Zealandia
The Missing Continent Was Hidden for 375 Years
The existence of Zealandia was first suggested by the French explorer Jules Dumont d'Urville in 1840, who named it Tasmantis after the island of Tasmania. He noticed that the flora and fauna of New Zealand, New Caledonia, and Tasmania were similar, and speculated that they were once part of a larger landmass that sank into the sea.
However, his idea was not widely accepted until the late 20th century, when advances in geology and geophysics revealed more evidence for Zealandia. The name and concept for Zealandia was proposed by Bruce Luyendyk in 1995, based on the analysis of seafloor data and gravity anomalies. He argued that Zealandia was not just a collection of continental fragments, but a coherent entity with a distinct geological history.
Mapping of Earth's 8th Continent
In 2017, a team of scientists from New Zealand, Australia, and New Caledonia published a paper in the journal GSA Today, in which they presented a detailed geological and geophysical case for Zealandia as a continent. They estimated that Zealandia has a total area of approximately 4.9 million square kilometers, of which only 6% is above sea level. They also defined its boundaries and subdivisions based on various criteria, such as crustal thickness, elevation, and rock types.
The mapping of Zealandia was completed in 2023, after a decade-long effort by international researchers and organizations. They used various techniques and technologies, such as multibeam sonar, satellite altimetry, gravity measurements, and seismic surveys, to create high-resolution maps of Zealandia's topography, bathymetry, geology, and tectonics. The maps revealed new features and insights into Zealandia's structure, evolution, and resources.
Geological Subdivisions
Zealandia consists of four major geological subdivisions: North Zealandia (also known as Western Province), South Zealandia (also known as Eastern Province), New Caledonia (also known as Loyalty), and Chatham Rise. These subdivisions are separated by major faults and basins, such as the Hikurangi Plateau, the Challenger Plateau, the Lord Howe Rise, and the Norfolk Ridge.
North Zealandia includes most of New Zealand's North Island and some offshore islands. It is composed mainly of Cretaceous to Cenozoic volcanic rocks and sediments. South Zealandia includes most of New Zealand's South Island and some offshore islands. It is composed mainly of Paleozoic to Mesozoic metamorphic rocks and granites. New Caledonia includes the main island of New Caledonia and some smaller islands. It is composed mainly of Jurassic to Cretaceous ultramafic rocks and ophiolites. Chatham Rise includes the Chatham Islands and some submarine plateaus. It is composed mainly of Cretaceous to Cenozoic volcanic rocks and sediments.
History and Geology of Zealandia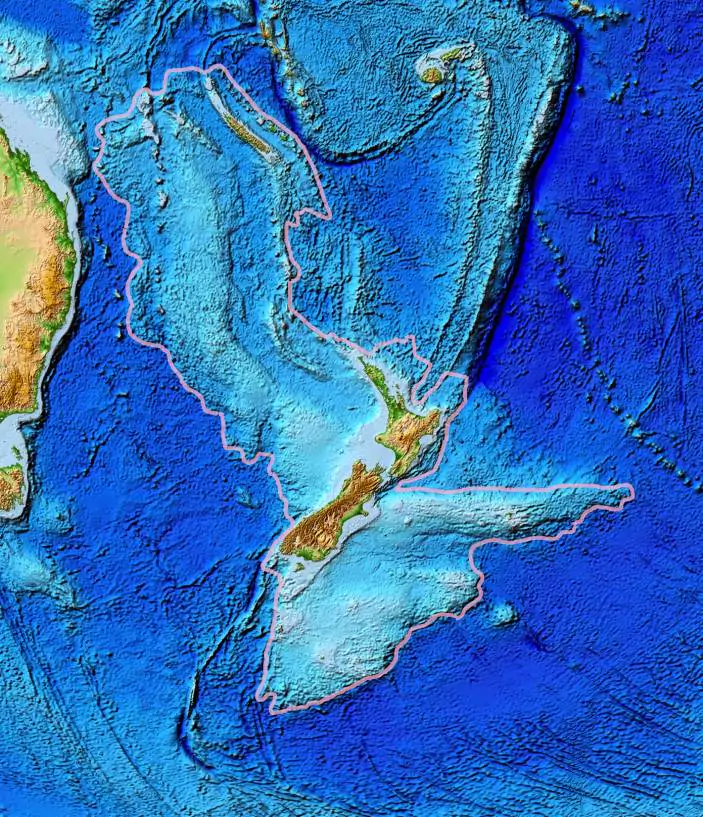 Etymology and Former Connection to Gondwana
The name Zealandia comes from the Latin name for New Zealand, which is derived from the Dutch name Zeeland (meaning "sea land"). The name Zeeland was given by the Dutch explorer Abel Tasman in 1642, who was the first European to sight New Zealand. The name Tasmantis was also used by some early geographers to refer to the hypothetical sunken continent that included New Zealand and Tasmania.
Zealandia was once part of the supercontinent Gondwana, which included most of the landmasses in the Southern Hemisphere. About 100 million years ago, during the Cretaceous period, Zealandia began to rift away from Antarctica along with Australia. About 80 million years ago, during the Late Cretaceous period, Zealandia separated from Australia along a transform fault that later became the Tasman Sea.
Volcanism and Tectonics
Zealandia is located at the boundary between two major tectonic plates: the Australian Plate and the Pacific Plate. The relative motion between these plates causes various types of deformation and volcanism in different parts of Zealandia.
In North Zealandia, the Pacific Plate subducts beneath the Australian Plate along the Hikurangi Trench and the Kermadec Trench, creating a volcanic arc that includes the Taupo Volcanic Zone, the Kermadec Islands, and the Tonga Islands. This subduction zone also generates frequent earthquakes and tsunamis.
In South Zealandia, the Australian Plate and the Pacific Plate converge obliquely, creating a transpressional zone that uplifts the Southern Alps and forms the Alpine Fault. This fault is one of the most active and fastest-moving faults in the world, with an average slip rate of about 27 millimeters per year. The fault also produces large earthquakes, such as the 2016 Kaikoura earthquake.
In New Caledonia, the Australian Plate and the Pacific Plate diverge along a back-arc basin that separates New Caledonia from the Loyalty Islands. This basin is filled with oceanic crust and sediments and is influenced by mantle plumes that cause volcanic activity and mineralization.
In Chatham Rise, the Australian Plate and the Pacific Plate move parallel to each other along a transform fault that connects the Hikurangi Trench and the Puysegur Trench. This fault is relatively inactive, but it controls the shape and orientation of Chatham Rise.
Popularity and Significance of Zealandia
Biogeography and Political Divisions
Zealandia is home to a diverse range of flora and fauna, many of which are endemic to the region. Some of the most notable examples are the kiwi, the tuatara, the kauri, and the kaka. Zealandia also has a rich human history and culture, with various indigenous groups such as the Māori, the Moriori, and the Kanak.
New Zealand and New Caledonia are the two independent countries that make up Zealandia. New Zealand is a parliamentary democracy ruled by a constitutional monarchy. About 5 million people call it home, and its GDP is about $200 billion. France recognizes New Caledonia as a "special collectivity" with limited independence. It is home to over 300 thousand people and has a GDP of around $10 billion.
Earth's Hidden 8th Continent
Zealandia is often referred to as Earth's hidden or lost continent because it is mostly submerged and unknown to many people. However, it has gained more attention and recognition in recent years, thanks to scientific research and public awareness campaigns. Some geologists argue that Zealandia meets all the criteria to be considered a continent, such as having a large area, high elevation, distinct geology, well-defined boundaries, and crustal thickness. They also claim that Zealandia has important implications for understanding Earth's history, geodynamics, climate, and biodiversity.
Zealandia is a fascinating and unique part of our planet that deserves more exploration and appreciation. It is not only a geological wonder but also a cultural treasure and a natural resource. It is Earth's 8th lost continent finally found.