Do you want to make compass in Minecraft, but you're not sure how? The trick that I used for making a compass is opening the crafting table and positioning a Redstone in the center of the 3×3 grid. After that, I placed an iron ingot surrounding each side of the Redstone to complete the compass.
This should give you a working compass that will help you find your way around the world of Minecraft.
A compass in Minecraft is an item that helps players navigate their way around the world. With a compass, players can easily find their way back to their original destination. Compasses can be found in the world of Minecraft by exploring dungeons and looting chests. They can also be crafted using a few simple ingredients.
I will explain how to make a compass in Minecraft in detail below.
How to Make Compass in Minecraft? (Step by Step)
Time Needed : 5 minutes
The compasses in Minecraft always point to your world spawn, no matter where you have set it. This can be found by traders and crafted from them at an expert level librarian or found as a chest deposit with luck bonuses attached.
Find Iron Ingots and Redstone Dust

For making a compass you will need 4 iron ingots and 1 Redstone dust. Get a stone pickaxe and head out to a place containing iron ore. Iron ingots can be found in dungeon chests. Mining Redstone ore is the most common way to get Redstone dust. You can mine for Redstone ore 10 blocks above bedrock, or in the spaces between bedrock levels. So, it's most common between blocks 5 and 12, and only rarely seen between layers 16 and 2. For any Redstone ore to be mined, an iron pickaxe is required.

Identify Iron and Redstone

Iron has a brownish tint when viewed up close. If you're in the mines, look out for Redstone ore. It has red flecks and once I hit or walk over one of these shiny objects – they light up! You will need at least one iron pickaxe to mine the Redstone ore.

Craft The Compass

Put the ore in a furnace and let it cook until the iron emerges. Get a crafting table, and arrange your ingots around the center slot like a plus sign. Put your Redstone dust in the center slot.
Tools
Iron Pickaxe
Crafting Table
Materials
1 Redstone Dust
4 Iron Ingots
How to Get a Compass in Minecraft?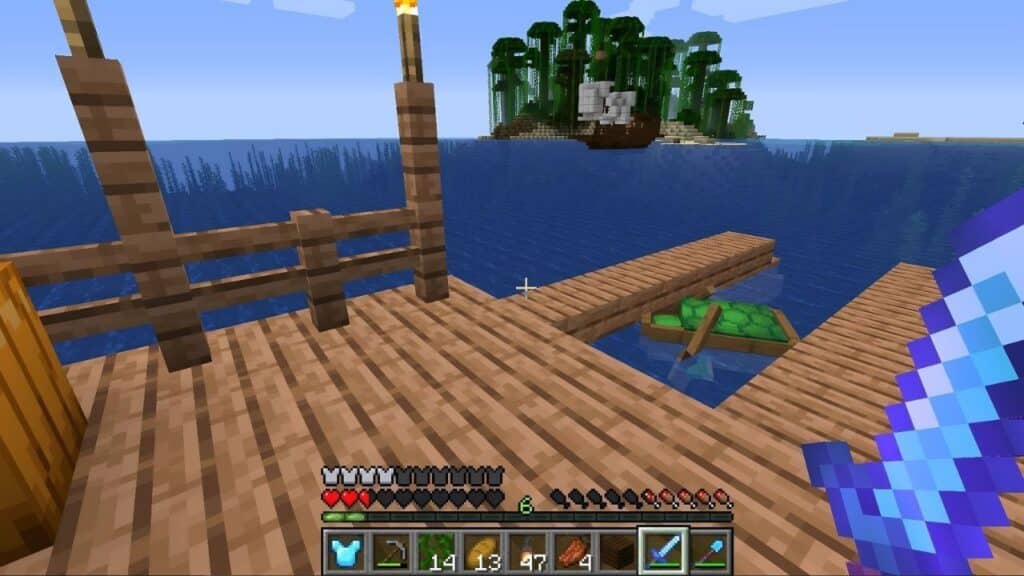 I have found that compasses can be found in three naturally generated locations. You might be able to locate them in the chests of a shipwreck, a stronghold library, or a village cartographer.
Expert librarians may also be able to trade four emeralds for a compass.
How to Use a Compass in Minecraft?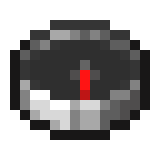 A compass points to the world spawn point. If you change your spawn point, the compass will still point to the old spawn location.
Compasses can be used in two ways: as an item or as a block.
As an item – Compasses are held in the player's hand and can be used without opening the inventory.
As a block – Compasses are placed on the ground like most blocks. When right-clicked, a GUI will open with options to change the needle's orientation.
How Does a Compass Work in Minecraft?
Although a compass in Minecraft looks like one in the real world, it has a different function. The compass in Minecraft points toward your world's spawn point rather than a specific location. When you first load into the game, you spawn in this area. To go to the world spawn point, simply move in the direction that its red pointer is pointing.
The compass points randomly while in the Nether and the End dimension because that point is in the overworld. The compass continues to point in the same direction during activation. The compass always points in the direction of the designated point, regardless of where it is—in your hand, in your inventory, or even in an item frame. With the aid of a loadstone, you can customize where it points, but we'll get to that later.
The players are also attempting to find solutions to associated queries like where the compass point and how to utilize a compass in Minecraft. Below is the response to these inquiries. In the game, using a compass is undoubtedly quite simple. To make the red compass arrow point in the direction of the World spawn location, users only need to add the compass to their Hotbar. Get to the world spawn point quickly with the aid of the compass's arrow. In order to create additional useful items for a map in Minecraft, players can also try using the compass.
Crafting iron ingots
It is a compass that is really simple to use; all you have to do is equip it from your inventory, and it will then instantly show you the direction in which you initially originated on that planet. If the red line in the graphic below is going straight, that implies you should stay on that path; otherwise, you should adjust your course accordingly.
How to Craft a Recovery Compass?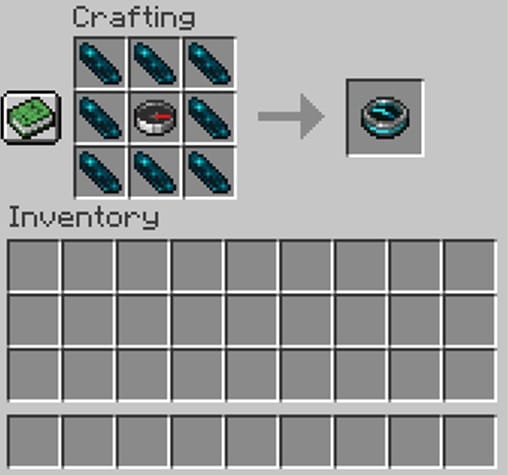 You'll need an ordinary Compass and eight Echo Shards to make a Recovery Compass for yourself in Minecraft. You must visit the Ancient City in the Deep Dark biome if you want to find eight Echo Shards. To dodge Wardens, you'll need to sneak around a lot and be cautious. Take your Compass and the eight shards to a crafting bench, where you should arrange the shards in a square around the instrument. Ta-dah! Now that you have passed away, you can find your misplaced possessions!
A brand-new tool that came with the Minecraft
The Wild update, the Recovery Compass aids in locating lost objects after death. A really useful tool to have with you if you happen to be mining far from your Minecraft base for materials like diamonds. To make one, though, you'll need a strange assortment of materials, including the new Echo Shards, which are exclusive to Ancient Cities in Deep Dark biomes, which are brand-new with The Wild update. Find out more about the Recovery Compass item in Minecraft and how to make one by reading the information below.
There aren't many options in Minecraft to direct us because the planet seems to go on forever. In some cases, it could even be impossible to locate your house in Minecraft. Fortunately, the majority of these issues can be resolved by just learning how to create a compass in Minecraft.
On every Minecraft Java and Bedrock edition, it functions in the same way. We have discussed the compass's crafting recipe as well as how to direct it to particular areas in-game. All you have to do in advance is construct a home in Minecraft and designate a bed as your spawn place so that the compass will point there. So without further ado, let's get started learning how to create a compass in Minecraft.
The Dog City was recently featured in a blog article on the official website of the Minecraft developers. According to the official description, "Ever longed to live in a city full of dogs? You will love Dogs City! Playing with your new pet dog while exploring a huge city centered around dogs! Pet many breeds of dogs, ride vehicles with dog themes, and decorate your city with dog decor! 12 distinct dog breeds are included in the mod, along with a variety of options for your home's furniture and even clothes and clothing for your dogs. According to a recent Nadella report, gamers have downloaded Minecraft mods and add-ons more than 1 billion times.
Conclusion
Some of the largest maps in the entire game universe are included with Minecraft. There are many different objects you can employ in the game for various situations, but the only way to acquire them is through exploration and travel. Therefore, having a compass on hand is crucial if you don't want to get lost. With this, you may monitor your progress and go back to where you started if necessary. After reading this article, you ought to be able to make one on your own.
FAQs
How do you make a compass point to your spawn point in Minecraft?

Simply drop a compass onto your Hotbar. When you have the compass in your Hotbar, the red arrow will point in the direction of the World spawn location. Follow the arrow's direction of travel by turning so that it points upward.

How do I find my way back in Minecraft?

If you've lost your way in Minecraft, the first thing you should do is check the world map. The world map will show your location as a small blue dot, and it will also indicate the direction you're facing.

If you're still lost, it might help to orient yourself by looking at the sun. The sun always rises in the east and sets in the west. So if you're looking for north, find the direction in which the sun is rising; if you're looking for the south, find the direction in which the sun is setting.

How do I stop getting lost in Minecraft?

Craft A Compass and Pay Attention To The Sun And Moon.