Designed to be tougher than normal glass, tempered glass is made harder to break which would automatically suggest while cleaning it we need a few steps to follow.
We all already know how screen protectors are known to maximize the life of a particular device be it your phone, laptop, or desktop since it helps avoid certain damage, fingerprints, and scratches. Noticing bubbles or dust particles underneath the tempered glass can trigger paranoia in certain people since it is really annoying to see your electronic devices get dirty. Today's blog will sketch out how to clean tempered glass on any device and since tempered glass is quite similar to the phone's screen in terms of texture and finishing, these rules can be applied to a bare phone screen as well.
Key takeaways:
Much tempered glass comes with an oleophobic coating that resists smudges and wiping them with microfiber is sometimes all that's needed to get them cleaned.
Spray a mixture of dish soap and water on the surface of the screen and wipe it clean
Avoid using alcohol wipes directly on your phone screen since it can lead to scratches and damage the screen
Some very simple and easily available materials are required to clean tempered glass which are:
Dish soap
Spray water bottle
Microfiber cloth
What is a Tempered Glass?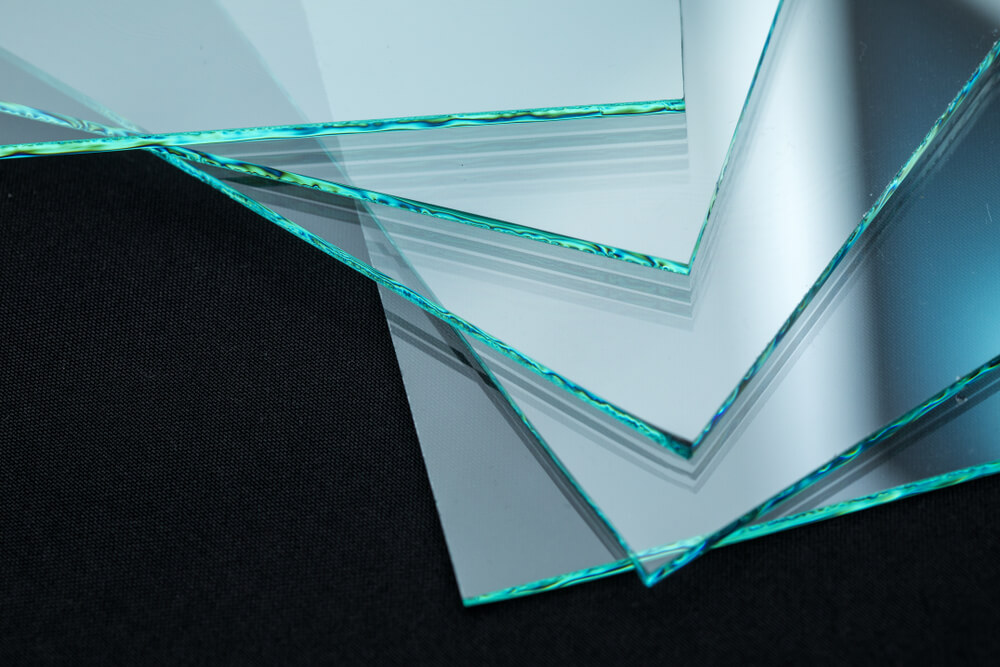 Having tempered glass which is known for its strength and durability means you already have double protection on your respective screen and it is mandatory to have a knowledge of how to clean this glass surface the easiest would be to look for tempered glass cleaning solutions which are easily available in tech shops and the cleaning is necessary to avoid any kind of damage on the glass. Tempered glass is a translucent material designed around 4 times tougher than your phone screen and it acquires its strength when chemical treatment and controlled thermal treatment are put together. When this glass breaks you will not notice jagged shards rather a fracture into smaller granular chunks will be reinforced which makes it common to be used on surfaces of tv strands, doors, PCs, iPhones, and shower partitions.
What is an oleophobic coating?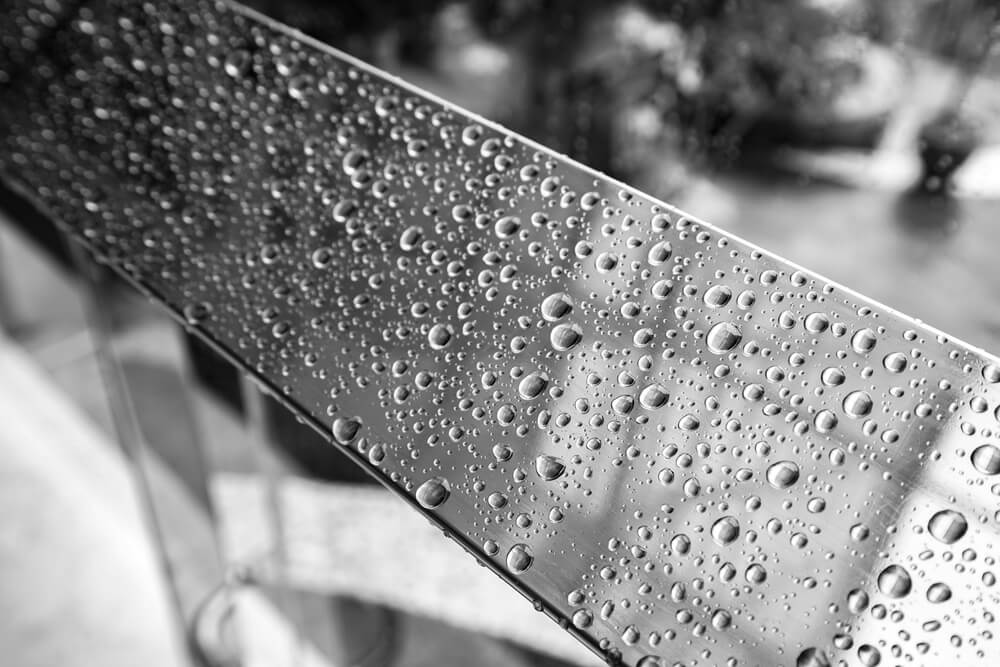 These coatings on glass and ceramic surfaces provide finger smudge resistance to your smartphone's display and create an oil-resistant surface that keeps away dirt particles and dust. This coating has a 2-year life expectancy if kept in good hands otherwise misuse can cause wear out within just a few months and with frequent use of your phone screen this later often wears away.
How to clean tempered glass the easiest way: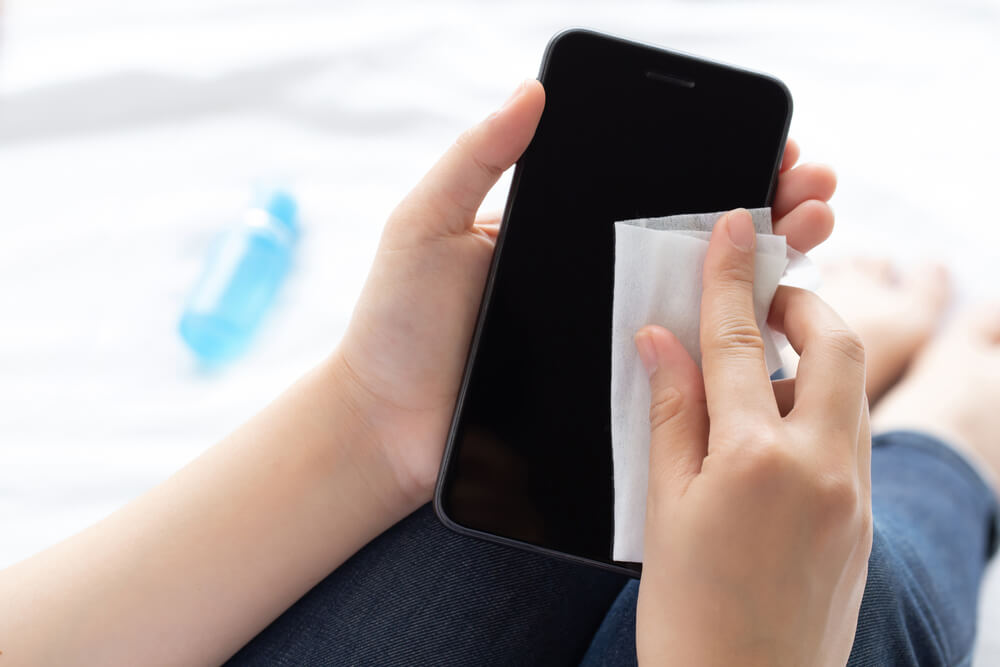 Tips 1:
Place the sticky side of the screen under cool running water.
Mix 1 tablespoon of dish soap with 2 cups of water and put it in a spray bottle.
Spray this mixture on the tempered glass that needs to be cleaned which will help remove fingerprint stains and dirt.
Aim for the dirt areas particularly and scrub them well.
Let it sit for a few moments to absorb all the dirt.
Use a soft cotton/microfiber cloth to wipe off the surface and remove the mixed cleaner.
You can choose to use a blow dryer to quickly dry both the sticky and the nonsticky sides of the glass.
If you're cleaning tempered glass in a dusty room, chances are the dust particles will sit on the glass. To avoid this, take packaging tape and turn it into a loop.
Start to dab this looped tape lightly on the screen protector which will hopefully bring out the dirt particles.
Once the entire process is done you can wipes off the screen one final time with the help of a microfiber cloth.
Tips 2:
Switch off the cell phone and remove the cord if it is plugged in.
With the help of a blunt tool like a debit card, gently remove the tempered glass in order to separate the cover from the screen
Use alcohol wipes which are supposed to be used for the same to clean both sides of the tempered glass to remove the dirt
You can also roll a lint roller over the phone surface and tempered glass
After drying the screen cover thoroughly place it edge by edge on the phone screen
By pressing on the screen remove any air bubbles trapped in between the tempered glass and the screen
Key points to keep in mind while cleaning tempered glass:
Using white vinegar, commercial glass cleaners, cream-based cleaners, bleach, and baking soda on tempered glass is strongly disapproved of due to their damaging properties.
You should never leave the glass sprayed with a soap solution for too long since this might leave deposits across the surface.
Do not use any hard steel scrubber, scraping tools, razor blades, or melamine sponges while cleaning the tempered glass.
Instead of opting for tougher chemicals, reach out for elbow grease and soak with dish soap to remove hard water stains.
While using chemicals like alcohol and ammonia take necessary precautions.
Only opt for using a microfiber cloth while cleaning the surface of tempered glasses.
Pro tip:
It is advisable to clean tempered glass during the cooler time of the day which will delay its drying off and give you enough time to clean the glass dry before any more dirt streaks can appear.
Final thought
Since tempered glass is tougher than regular glass, it is a great way to be used as a protective shield for your phone screen and it takes a gentle touch to sparkle again. Dish soap as suggested in this blog is uniquely tough enough to cut through any serious grease sidelining any risk of damage. If you follow the few simple steps provided, it will be extremely easy to clean your tempered glass and if you guys have any doubt regarding this let me know in the comment section.
FAQs-
Can tempered glass be washed?

It is highly advisable to use a solvent mixture that has equal amounts of dish soap and water and let it sit for around 15 seconds to work its way into the grime in order to clean a tempered glass

Can you use alcohol wipes on tempered glass?

Acid, vinegar, and chemical-based cleaners should be avoided on tempered glass. Alcohol wipes which are specially designed for wiping tempered glass should only be used to wipe both sides of the glass

Can vinegar damage tempered glass?

You might think of Diy ideas to clean tempered glass but solutions like vinegar should always be avoided while cleaning it since it is too abrasive and can lead to damage of the tempered glass.

Why is it necessary to clean tempered glass? 

Trapped dirt leads to the formation of bubbles in your screen protector and makes it look old and marred which might tempt you to clean both sides of a tempered glass so it's necessary to clean both sides of the screen protector following some simple steps.