Streamers on Twitch can talk to their viewers over the video feed, but they'll need to look for a response in Twitch chat. Twitch chat is a chatroom associated with a stream that allows viewers to interact with the streamer as well as talk with one another while the streamer is playing.
How to Change the Color of Your Name on Twitch
Twitch chat creates an environment where people with a common interest can meet friends by putting a real-time communication mechanism alongside the stream. These friendships often result in a fan network that enjoys socialising as much as they enjoy watching the streamer. This sense of camaraderie among viewers aids streamers in expanding and maintaining their audience.
It can be tough to get your message heard in a large group with a fast-paced chat. Using a different colour in the chat can help you boost the chances of your message being seen. The colour of your text in Twitch chat has no bearing on the colour of the text you write. Instead, the colour of your Twitch chat is the same as your username in the conversation.
Note that some individuals use third-party chat applications, which may or may not adhere to Twitch's colour scheme settings, thus your custom colour may not appear.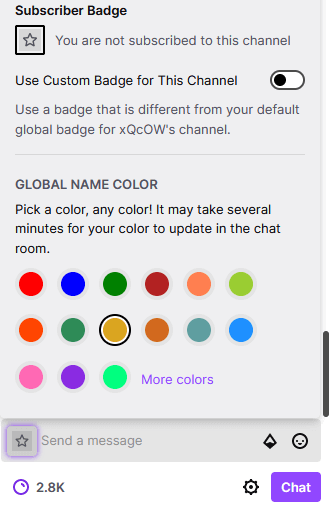 In Twitch chat, click the "Chat Identity" icon to the left of the message box at the bottom of the chat column to change your colour. You can choose one of the 15 default named colours in the "Name Color" part of the chat identity window.
If you have Twitch Prime or Twitch Turbo, you can also choose any RGB colour combination by clicking "More colours," which will take you to your account settings.
It may take a few minutes for any colour change to take effect globally. You won't need to reload the page because it will update itself.
Clicking "More colours" will take you to the "Prime Gaming" option in your account preferences. You can use the colour picker or enter an RGB hexadecimal colour code to select a colour. To the right of the colour picker, you can see a preview of your colour against both light and dark mode backdrops. When you're satisfied with your colour, click "Confirm Color" to make the change permanent.
The Final Word
Twitch has millions of users all around the world. The majority of gamers are always streaming on Twitch. In fact, if you want to, you can start streaming at any time. You could want to alter the chat colour in Twitch, whether you're a viewer or a streamer.
As a result, we've shared this article with all Twitch users. If you've read the last piece, you're already aware of how to change the Twitch chat colour. Remember that you can't change the colour of the chat. Rather, you can alter the colour of the Chat Identity. We hope you found this article useful.