Most wireless routers users are unaware of the fact that the Wi-Fi speed depends on the signal channel they choose. For instance, the router delivers up to 450 Mbps speed when using the 2.4 GHz channel. However, a 5GHz channel supports up to 1300 Mbps speed. Thus, you can stream movies or surf the web faster when enabling the 5Ghz channel.
Moreover, the 5Ghz Wi-Fi channel offers more reliable connections than the 2.4Ghz band. You can transfer 1TB of data from one computer to another in minutes while using this network. Besides, more channels are available in the 5 GHz Wi-Fi band. 
However, choosing the right channel for a 5GHz connection might be difficult. You have to take a few considerations into account to get the right channel. If you use a 5Ghz router but don't know which channel to choose, you've come to the right guide.
Now, let's see what the best channel for 5Ghz which can improve the internet speed:
What is a 2.4 GHz and 5GHz Band?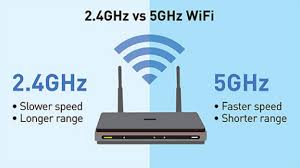 First, check out the definition of routers before continuing with the best 5GHz channel. Basically, routers are network system that transmits data through radio waves. A radio wave is sent in any direction and data is received on computers attached to it. That's how a router operates quickly.
The band and channel's idea is now at stake. Two frequencies are popular in routers: 2.4GHz and 5GHz. these two frequencies have their advantages and drawbacks. 2.4 GHz has a longer range but lower bandwidth whereas 5GHz has a higher bandwidth but a shorter range.
The 2.4GHz band is divided into 11 (1-11) channels and 20MHz each. We've got channels between 36 and 165 on the 5GHz band, and we have between 1 and 233 channels on the 6 GHz band. The channel range from 20 MHz-160 MHz is usable in both frequencies.
Now we've come to networks with a simple understanding. The channels are simply the broadness of a band where routers relay open-space signals. The bigger the channel, the broader the bandwidth. Simply put, with an improvement in channel frequency, you can encounter a big bump in inefficiency. Below, I will analyze in-depth the networks and find the best 5GHz routers.
Which is the Best 5GHz Channel for Speed?
25 predefined 5GHz channels begin from 36, 40, 44, 48 to 149, 153, 157, 161, 165. The networks are used for correspondence purposes not only by routers but also by military stations and the science industry. The first 36, 40, 44, and 48 channels have the tag of UNII-1 channels. The UNII-1 is considered the Best 5GHz Channel because it is particularly used in-house, but it does have more.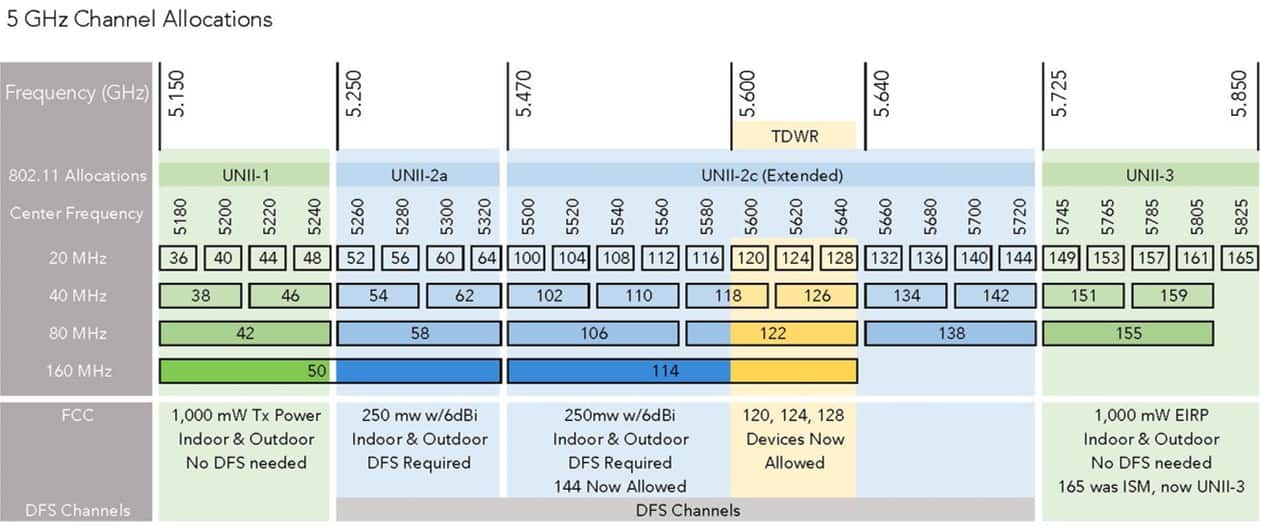 Specially restricted to military and sensitive communication is the 165 channel. With a higher channel, you can help link and widen bandwidth, but you can still overlap with other networks. 
5GHz has 25 channels, as opposed to 3 channels on 2.4GHz
To solve this issue, routers have DFS  which is dynamic frequency selection. Without overlapping the military and weather stations, the router selects the best channel. Now, what's the best 5GHz channel?  As you can see 36, 40, 44, and 48, are the recommended ones but if your router supports DFS, you can move on to a higher channel.
The same UNII-1 channel is used for communication for home appliances and mobile devices. There is also a possibility that these instruments will disrupt. Try to keep the router away from a fridge, smart bulbs, or any wireless communication devices.
Channels Available on the 5Ghz Wi-Fi Network
The old Wi-Fi routers with a 2.4 GHz band have only three channels. However, the high-end routers with a 5Ghz band have 25 predefined channels. 
All the available channels at 5Ghz are further divided into four bands. These 5Ghz bands are intended to serve users' different bandwidth activities.
Here's a brief rundown of each 5Ghz channel which every Wi-Fi router owner must check:
UNII-1
The lowest four channels on the 5Ghz band are collectively referred to as "UNII-1". The channels the UNII-1 band covers are 36,40,44 and 48. Wireless router users can get up to 5,150MHz to 5,250MHz speed on this band. 
Almost all the latest mobile devices, including computers, support the UNII-1 channel.
This 5GHz channel is best for general domestic use and can be accessed easily. 
However, as these channels are mostly used by router owners, it can lead to network congestion. 
Sometimes, you can experience connectivity issues when using UNII-1. But, you can eliminate this internet issue by using a secure password to keep unwanted users away. Disconnect the smart devices that are not using Wi-Fi.
UNII-2
The UNII-2 band contains four channels, like the 5GHz band's UNII-1 channel. The channels this Wi-Fi band covers are 52,56,60, and 64. They offer bandwidth from 5,250Mhz to 5,350MHz to wireless router users. You can extend the Wi-Fi range from 5,470Mgz to 5,725MHz using the UNII-2/UNII-2C band. This band covers channels from 100 to 140.
If you want to use the UNII-2 band, ensure the device has Dynamic Frequency Selection (DFS). Additionally, the wireless router must be equipped with Transmit Power Control (TPC). These two technical mechanisms ensure the router does not generate network lags even in the worst weather conditions. 
UNII-3
The UNII-3 or the UNII-Upper range has five channels. It covers 149,153,157,161, and 165 channels on the 5Ghz network. When using the UNII-3 band, you will get from 5,725MHz to 5,850MHz internet speed. From streaming movies to playing games, users can perform high-bandwidth activities on this band.
The wireless router's UNII-3 band is called the "ISM" band. Because it overlaps with the frequencies designated to the ISM band. The router must have the SPF and TPC features to access this 5GHZ channel. If the device doesn't have any of these features, using the UNII-3 band might be difficult.
UNII-4
The highest region in a router's 5GHz band is UNII4 or DSRC/ITS. The term DSCR is short for Dedicated Short Range Communications Service. This Wi-Fi band only includes one channel – 165, which is the lowest in the region. 
The channels in this range are only assigned to licensed radio amateurs and DSRC. We would recommend not using this channel to avoid unwanted network interruption. 
Which 5GHz Channel will be Suitable for You?
By now, you must have acknowledged how the different 5Ghz channels work. Now, it's time to choose the best one for a seamless browsing experience. 
While UNII-1 channels are considered the best for most users, there's still a lot to consider. You might have to choose an alternative option if you own a big house or office.
Here are the factors that you must consider before choosing the best channel for 5GHz:
Wi-Fi Interference
Due to Wi-Fi interference, you can encounter a slow internet issue and network latency. There are two types of interferences that you might experience when accessing the internet. 
First, other Wi-Fi devices can cause unexpected interference. Second, the electronic devices that use the Wi-Fi signal can also cause interference. 
Thus, you must choose the right 5GHZ channel to avoid Wi-Fi interference.
Here is the 5GHz channel which can help prevent unwanted network interferences:
Routers that use UNII-1 channels can't produce signals that cause strong interference. Thus, they consider the lowest Wi-Fi channel.
The UNII-2 and UNII-2 Extended channels cause less Wi-Fi interference. However, you'll need TPC and DFS when using the channels from 52-40.
Channels in the UNII-3 range tend to cause the most interference problems. Like the UNII-2 channels, users need TPC and DFC to use them.
Channel Traffic
Router owners must check how much traffic there is on the 5GHz channel. If there are not many users on the channel, consider using it. Otherwise, you might encounter frequent internet loss issues when doing your important work. However, if the interference is strong, you can go with a busy 5GHz channel. The UNII-1 band will be the best option in such instances.
Location
Depending on where you live, you must know the laws and rules regarding using 5GHz channels. In countries like the US and Canada, the UNII-1 channels are best for general use. 
In the US, you can access the UNII-2 and UNII-3 channels, but certain restrictions will apply. Thus, check the 5GHz channel's limitations before using any of them.
DFS
In the United States, having the Dynamic Frequency Selection is important to access UNII-2 channels. DFS scans for radars, and it will connect the device to the channel if it has no radar on it. 
The Dynamic Frequency Selection takes at least 30-35 seconds to complete the scanning. If the 5Ghz channel you want to use does not have any radar, look for alternative options.
How to Change the Channel for the 5GHz Wi-Fi Connection?
UNII-1 channel will be the best option for the routers with a 5GHz band. However, you must know the device's default IP address to change the channel. The default IP address and login credentials are present at the router's backside. Note that and open a web browser to enter the default gateway IP and press "Enter".
Provide the default username and password on the router's login page. Click "Log in" to open the Wi-Fi router's web interface. Head towards "Advanced Settings" and choose "Wireless" afterwards. 
Select "5Ghz" and go to "Channel Number" to enter any UNII-1 channel range. Choose "Save" after choosing the best channel for 5Ghz. You will now access high-speed internet on computers, smartphones or laptops.
Getting Rid of the Congestion
It was previously clear that 36, 40, 44, and 48 are the best 5ghz channel but latency problems are also a concern. If there are several devices with the same channel, it can conflict with your router and slow it down. Since 5GHz routers can not penetrate a powerful signal, this may pose another challenge. 
There is an application named WiFi Analyzer to overcome this issue, which tests the congestion of the channel on the router and provides the best channel. It takes into consideration the location, the waves of radios, and the number of devices around the router. The rating of each channel can be seen and chosen accordingly.
So What Now?
You learned that 36, 40, 44, and 48 are the best 5GHz channels for routers, as you have checked through all required points. If however, you can bump the frequency much higher if your router supports DFS. Rest assured, Dynamic Frequency Selection is incorporated into all new routers. In any case, it will also be a safe idea to retain the Auto channel range. If you want to track the congestion, you can also use the WiFi Analyzer software.
Read Us 24×7 hopes this will provide an overview of 5GHz networks, wireless Internet bands, and frequency and include in-depth detail. In this guide, the technicality of routers and networks as a whole is understandable. I have done my best to clarify in basic terms abstract ideas and this is an endeavor. I hope that you can find the right 5GHz channel to upgrade your router performance.
FAQs-
Are higher 5GHz channels better?

Until 2014 there were limits on transmit power for the lower frequencies. Try channels with various 5Ghz bands and see which gives a better signal.

How do I know which WiFi channel is best for 5GHz?

Scanning for the "Best 2.4 GHz Channels" and "Best 5 GHz Channels" fields will recommend the ideal Wi-Fi channels you should be using on your router.

What is the max speed of 5GHz WiFi?

5 GHz Wi-Fi supports up to 1300 Mbps.
Best 5Ghz Routers