Have you ever been caught in the rain without an umbrella, despite a sunny forecast? GraphCast is revolutionizing how we predict the weather, delivering accurate 10-day forecasts in under a minute.
This blog will dive into how AI is enhancing our ability to foresee weather from hours to centuries ahead, helping us plan better and stay safe. Discover the future of forecasting—keep reading!
"Okay, Google. Will it Rain on July 11, 2097?"
How AI is Revolutionizing Weather Forecasting?
AI is transforming weather forecasting by providing hourly predictions, weekly forecasts, and long-term insights with improved accuracy, real-time updates, and detailed localized information.
Hourly Predictions With AI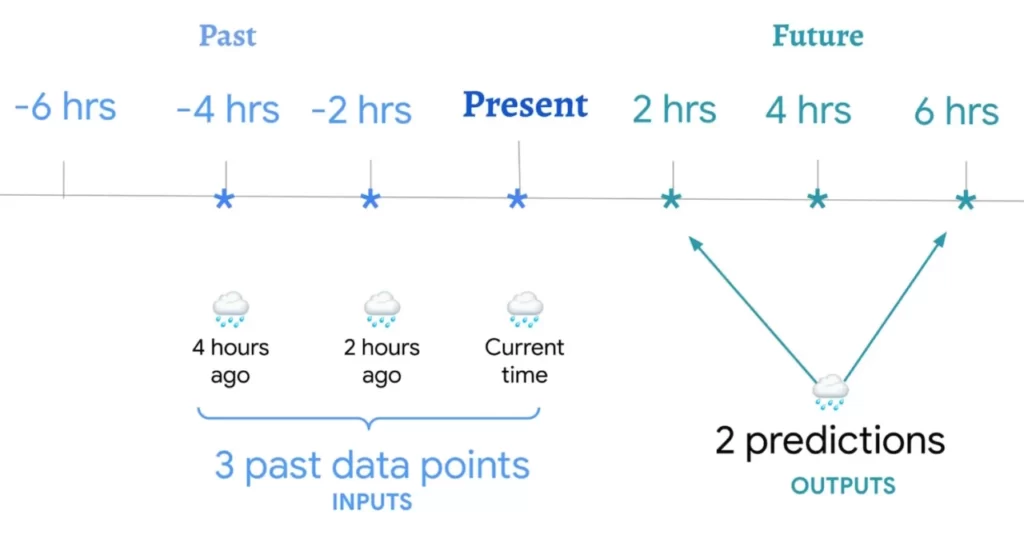 Hourly weather predictions are getting a big boost from AI. Machine learning models, like the ones made by Google's DeepMind, can look at rain and snow patterns almost like they're pictures in a book.
These models study many hours of past weather to guess what might happen soon.
With this smart tech, you don't have to wait long to know if you'll need a jacket or an umbrella. It's faster than older ways of guessing the weather because it uses lots of data instead of just physics rules.
Nowcasting from DeepMind helps people decide if they should bring their raincoats when they step out for lunch or if it's better to wait inside until the storm passes.
Weekly Forecasting Using AI

AI is getting really good at predicting the weather for a whole week. A new system called GraphCast does something pretty cool: it can tell us what the weather might be like up to 10 days ahead.
It's fast too – it gives these forecasts in less than a minute! The best part is that GraphCast uses lots of old weather data to learn how to make better predictions.
This AI doesn't just guess; it has shown that more than 90% of the time, its forecasts are spot on. That's even better than some traditional ways we've used before for checking next week's weather.
Now, scientists and forecasters have another tool to help them out.
Imagine being able to know if a big storm or heavy rain will hit your city next Wednesday so you can plan ahead. That's possible because GraphCast looks at the whole Earth and figures out where storms might happen.
This helps people get ready for bad weather and stay safe. Plus, anyone can try this technology because its creators shared how they made it with everyone online!
Long-term Predictions With AI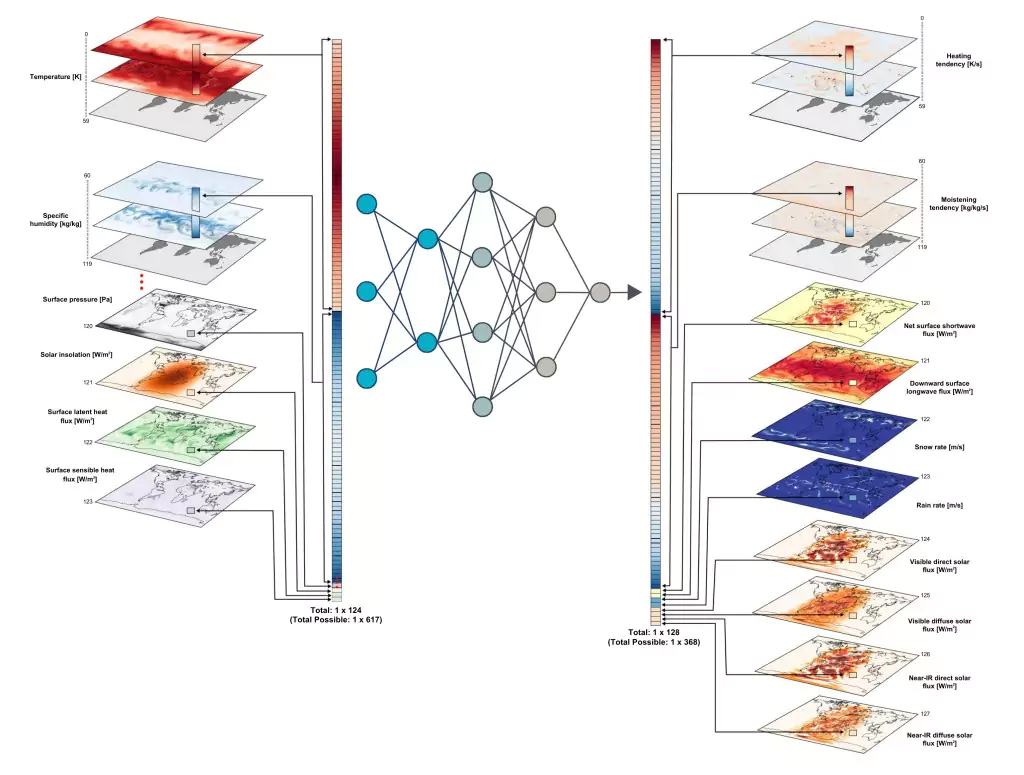 Predicting the weather for a whole century is now within reach thanks to AI. With powerful computers and smart programs, we can look at huge sets of weather data. This helps us guess what might happen with the climate years from now.
It's like making a really long story out of all the weather facts we've gathered.
Using this tech, experts are building models that see how different things in nature connect. They might notice that when something goes up, another thing goes down. The model remembers these patterns without understanding them completely, just like pieces fitting together in a puzzle.
This new way isn't here to push out old methods. Instead, it adds to them, giving scientists another tool for their work on climate change. They're careful but also excited about using AI to help people plan better for future weather changes.
Advantages of AI in Weather Forecasting
AI in weather forecasting offers improved accuracy and reliability, providing real-time and continuous updates for detailed and localized predictions.
Improved Accuracy and Reliability
AI in weather forecasting has led to improved accuracy and reliability. For instance, the GraphCast model can predict weather conditions up to 10 days in advance more accurately and much faster than traditional systems.
It outperformed traditional approaches by providing more accurate predictions on over 90% of test variables. Additionally, this AI-powered system accurately predicted Hurricane Lee's landfall in Nova Scotia about nine days in advance, showcasing its superior reliability compared to conventional forecasts.
Furthermore, AI has enabled more detailed and localized predictions, allowing for real-time and continuous updates. This advancement is particularly crucial for various sectors such as agriculture, transportation, and disaster management.
With AI-generated weather forecasts offering enhanced accuracy and reliability, industries can benefit from improved crop management, efficient route planning, and early warning systems for effective disaster management.
Real-time and Continuous Updates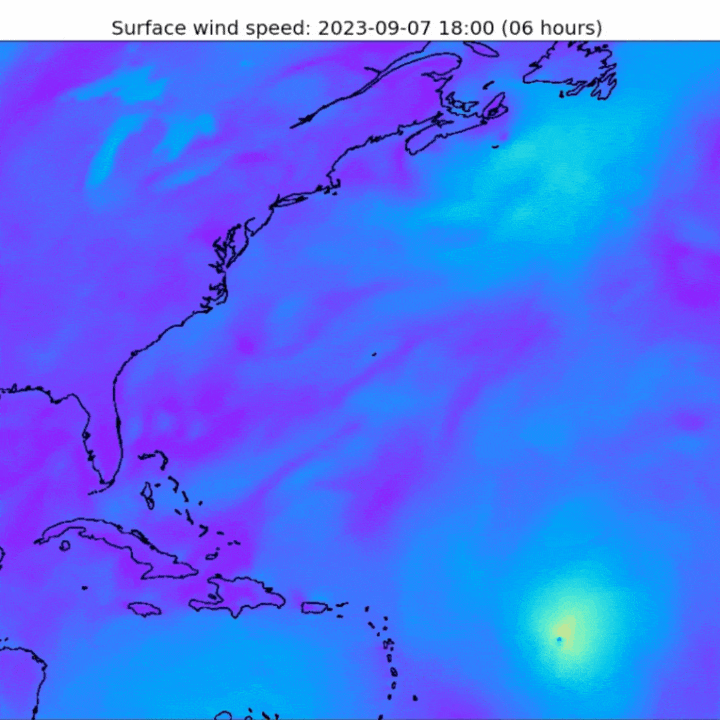 AI in weather forecasting provides real-time and continuous updates, ensuring that predictions are constantly refined and adjusted as new data becomes available. This allows for improved accuracy and reliability in forecasts, especially for rapidly changing weather conditions such as thunderstorms or snowstorms.
By integrating real-time data from various sources like Doppler radar and weather stations, AI can provide up-to-the-minute information about precipitation, wind patterns, and other crucial factors.
These continuous updates enable detailed and localized predictions, offering specific insights into the weather at different locations. Instead of generalizing a forecast for an entire region, AI models can deliver precise information tailored to individual neighborhoods or even smaller areas.
Detailed and Localized Predictions
AI in weather forecasting enables detailed and localized predictions, improving the accuracy of forecasts for specific locations. GraphCast, a Google DeepMind model, can predict weather conditions up to 10 days in advance with unparalleled precision at a global scale.
It covers the entire planet with fine resolution, providing forecasts for over a million points around the Earth. While it may not give exact local predictions, it is invaluable for major weather events like storms and dangerous anomalies occurring on large scales, aiding in preparedness and response efforts.
GraphCast's exceptional efficiency also stands out as it generates these detailed predictions in less than a minute using just one Google compute unit. This contrasts with traditional physics-based models that are computationally expensive and time-consuming.
Impact of AI-Generated Weather Forecasts
AI-generated weather forecasts have a significant impact on various industries, from agriculture to transportation and disaster management. These accurate predictions can improve crop management, enable more efficient route planning, and enhance early warning systems for natural disasters.
The potential benefits of AI in weather forecasting are extensive and crucial for many sectors. Read on to discover the future implications of this technological advancement.
Agriculture: Improving Crop Management
AI-generated weather forecasts have a significant impact on agriculture by improving crop management. Accurate predictions of extreme temperatures, cyclone movements, and atmospheric rivers enable farmers to prepare for potential challenges such as flood forecasts.
GraphCast, an AI-powered weather prediction system, offers earlier warnings of extreme weather events and provides detailed localized predictions that empower the global community to tackle environmental challenges related to crop management.
The use of AI in weather forecasting also aids in efficient resource allocation for agriculture. Predictions about precipitation patterns and temperature fluctuations allow farmers to plan irrigation schedules effectively while mitigating water wastage.
Furthermore, advanced warning systems provided by AI-generated forecasts help farmers protect crops from damage caused by adverse weather conditions such as hail or heat waves.
Transportation: Efficient Route Planning
AI-generated weather forecasts can revolutionize transportation by enabling efficient route planning. With accurate and timely predictions of weather conditions, such as storms or extreme temperatures, transportation companies can optimize their routes to minimize delays and ensure the safety of passengers and cargo.
By leveraging AI technology for weather forecasting, transportation providers can make real-time adjustments to their schedules and itineraries, ultimately improving efficiency and reducing operational costs.
Moreover, AI-generated weather forecasts offer detailed insights into localized weather patterns, allowing transportation companies to tailor their route planning based on specific geographic areas.
Disaster Management: Early Warning Systems
AI-generated weather forecasts play a crucial role in disaster management by providing early warning systems for severe weather events. These advanced predictions help authorities and communities prepare and take necessary precautions to minimize the impact of storms, floods, and other natural disasters.
For instance, Google DeepMind's GraphCast has demonstrated the ability to predict weather conditions up to 10 days in advance with exceptional accuracy, enabling proactive measures such as evacuations and resource deployments well ahead of time.
Moreover, AI-powered climate modeling like ClimSim is instrumental in predicting extreme weather events on a larger scale, allowing for strategic planning and preparedness at both local and global levels.
By harnessing machine learning technology, these systems aid in mitigating the effects of climate change by equipping society with vital information to adapt to changing environmental conditions while reducing risks associated with natural calamities such as flooding or wildfires.
The Future of AI in Weather Forecasting
AI in weather forecasting will pave the way for advanced climate modeling, predicting extreme weather events, and mitigating the effects of climate change.
AI-Powered Climate Modeling
AI-powered climate modeling is revolutionizing long-term weather predictions. With projects like ClimSim using machine learning to enhance century-level forecasts, the focus has shifted to predicting extreme weather events and mitigating the effects of climate change.
By analyzing interconnected data as a vector field, these models are improving accuracy while reducing computational costs significantly.
The innovative approach leverages deep learning and data instead of physical equations, enabling more efficient and impactful predictions for climate scientists and meteorologists worldwide.
Predicting Extreme Weather Events
AI-powered weather forecasting models like GraphCast are proving to be invaluable in predicting extreme weather events, such as cyclones and atmospheric rivers. With its ability to accurately simulate these events up to 10 days in advance, GraphCast provides crucial insights for disaster management and emergency preparedness.
By covering the entire planet at a high resolution, it can predict major weather patterns globally, helping authorities make informed decisions and take proactive measures to mitigate the impact of severe weather phenomena.
Furthermore, the development of AI models like ClimSim is revolutionizing long-term climate predictions by leveraging machine learning to analyze interconnected data fields. These advancements are essential for addressing the challenges posed by rapid climate change and improving our understanding of long-term environmental trends.
Mitigating the Effects of Climate Change
To mitigate the effects of climate change, AI-powered weather forecasting plays a crucial role in providing early warnings for severe weather events. By identifying and predicting extreme weather conditions such as storms and heatwaves in advance, communities can better prepare and respond to minimize damage and protect lives.
Additionally, AI models like GraphCast contribute to long-term climate science by enhancing predictions at the century scale, aiding in planning for environmental changes and potential hazards.
Furthermore, the efficiency of AI-generated weather forecasts facilitates proactive measures for disaster management. With improved accuracy and faster predictions, emergency services can be better organized ahead of time during natural disasters such as floods or wildfires.
This advancement empowers authorities with timely information needed to execute evacuation plans and allocate resources effectively, ultimately reducing the impact of climate-related emergencies on communities while saving lives.
Conclusion
AI is reshaping weather forecasting and offering improved predictions. From hourly updates to century-long projections, AI models like GraphCast are providing accurate forecasts in record time.
This revolution is not only enhancing our day-to-day planning but also improving agriculture, transportation, and disaster management. As AI continues to advance, we can expect even more precise climate modeling and better preparation for extreme weather events.
The impact of AI on weather forecasting is undeniable, shaping a safer and more informed future for us all.