Starting your life as a college student involves facing some of the most significant life changes. One of these is that you become responsible for handling your finances. And surprisingly, it might be the best time to get started with investing. 
In fact, it is never too early to learn about investments. Moreover, making an investment no longer requires you to risk substantial amounts of money. There are numerous online brokerages that allow you to buy tech stocks for just $10. 
So, with that note of encouragement, let us offer you some tips that you need to keep in mind when you start investing in tech as a student. 
1. Understand the Tech Industry 
Students these days are well aware of the influence of technology in our daily lives. No matter which aspect of student life you consider, tech plays a significant role – whether it is to choose a paper writer from WritePaper, submit assignments, take classes, order food, do shopping, or even make an investment, everything is handled via online platforms these days. 
When thinking of investing in tech, you will be essentially buying stocks of companies that operate in this industry. This means that you have sufficient knowledge about the asset you are choosing. While some tech stocks have a history of significant growth, the golden rule of investing is that past performance is not an indicator of future results. 
Therefore, you need to do your due diligence and understand the factors that affect your chosen tech stocks before you risk your money. 
2. Consider the Different Types of Tech Stocks 
It is not uncommon for one to think solely of software companies when thinking of tech. However, this sector can be divided into several categories, and each has to be valued differently. Some of the most prominent sub-sectors include:
Software companies such as businesses that develop and sell software, web platforms and apps. Examples include Microsoft, Alphabet, SAP, Oracle, Adobe, etc. 

Telecommunications companies that are involved in the operation of telephone and broadband networks, such as AT&T, Verizon, China Mobile, and Deutsche Telekom. 

Semiconductors stocks are companies involved in the manufacturing and distribution of semiconductors, chips, and other hardware widely used in computing devices. Notable names include Taiwan Semiconductor, Intel, and Qualcomm. 
As you can see, there are a variety of companies that you can look into when investing in tech as a student. You should learn the differences and the scope of each before you put your money into one. 
3. Diversify, Diversify, Diversify 
When it comes to investments, there is no knowing how the market can turn out to be in the future. The only way to mitigate against the inherent risk of investing is to build a diversified portfolio. 
Meaning, instead of investing in one tech company, you should be buying a variety of stocks. In fact, we would suggest that you do not stop with the tech industry alone but diversify into other sectors as well. 
However, understandably, it can be challenging for you as a student to find enough time to research each company and evaluate it. There is an alternative here, which is to invest in ETFs. These are Exchange-Traded Funds that track the value of a basket of companies. You can find ETFs that are classified based on different sectors, market capitalization, and more. 
Here are some examples for you to consider:
SPDR S&P Semiconductor ETF

Invesco Dynamic Semiconductors ETF

Vanguard Information Technology ETF

iShares U.S. Technology ETF

iShares Global Tech ETF
These allow you to diversify in one go by making an investment into multiple companies. You can choose these based on whether you want to invest in the US market or across global exchanges.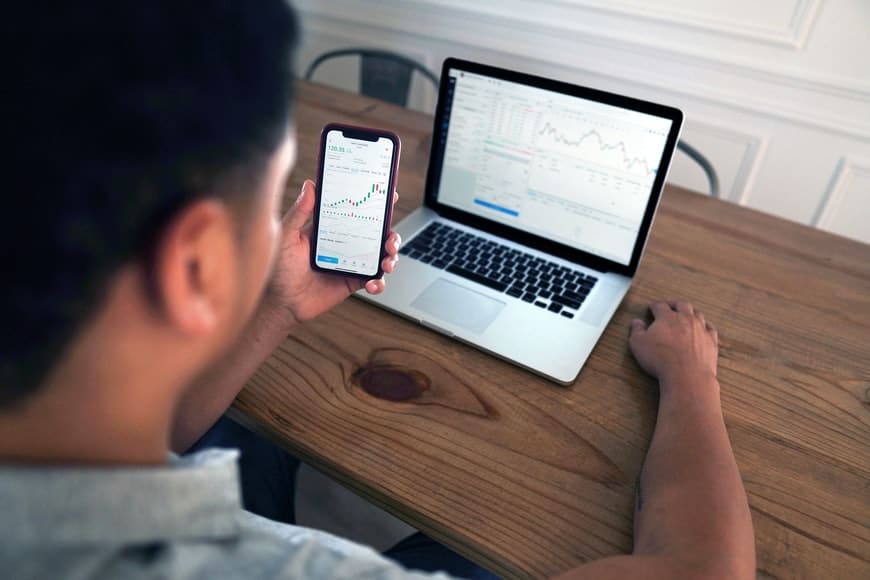 4. Invest Small Amounts Regularly 
As we said earlier, being limited by a student budget need not be a concern when making investments in tech. Instead, you can make small investments every month. This way, even if you can put away $20 or $50 a month, you will be able to build a diversified portfolio in a while. Many online brokers support fractional shares making such a strategy possible. 
Another way to consider this is to adopt a 'dollar cost averaging method. In this case, you will be making regular investments into one stock every month instead of diversifying. This allows you to mitigate against market volatility. 
5. Choose Automated Investing 
Being a student, you have enough things that demand your attention. And not so surprisingly, this might not leave you with enough time to do research to choose the right investments. However, today, some online brokers also support automated investing. 
This comes in all shapes and sizes. Generally, you can select some basic characteristics you want in your portfolio, such as how much you want to invest, what your risk appetite is, what your financial goals are, and how many returns you expect to make. Based on your answers, the broker then suggests a portfolio that best fits your criteria. These are also regularly rebalanced based on market conditions. 
A few traders like eToro have prebuilt tech portfolios that you can invest in. You can also choose to copy the positions of other experienced investors who are active in the tech space, so you do not have to do the legwork yourself. 
6. Choose the Right Broker 
Above all, a crucial part of getting tech investing right is to find a suitable broker. There is no shortage of investment platforms online; however, not every provider offers the same services. 
The fees and commissions you end up paying to your broker can significantly cut back your profits. You also need to check whether a platform is beginner-friendly so that you can learn the ropes of investing in tech along the way. Some providers offer plenty of educational resources for newbie traders and students. 
In addition to this, if you are looking to take advantage of features such as recurring investments or automated investing, you should also make sure that your chosen broker supports them. 
With the shift to online platforms, investing has become really accessible. If you are a student, all you need to do is invest some time into learning about the tech industry. With due diligence and the right broker, you can get started with investments with as little as $10.