One of the most popular WordPress theme Astra has been suspended for five weeks by WordPress for violating rules and regulations on affiliate links. Astra theme Developers denied WordPress claim of affiliate links to the theme.
Astra has over one million users base. Users will no longer be able to download the theme from the WordPress Repository. The penalty is for violations of adding affiliate links to the theme.
WordPress Removed Astra Theme From its Repository
On checking the WordPress Repository for Astra Them we found that there are no such themes found.

Searching for the theme on WordPress.org also shows nothing.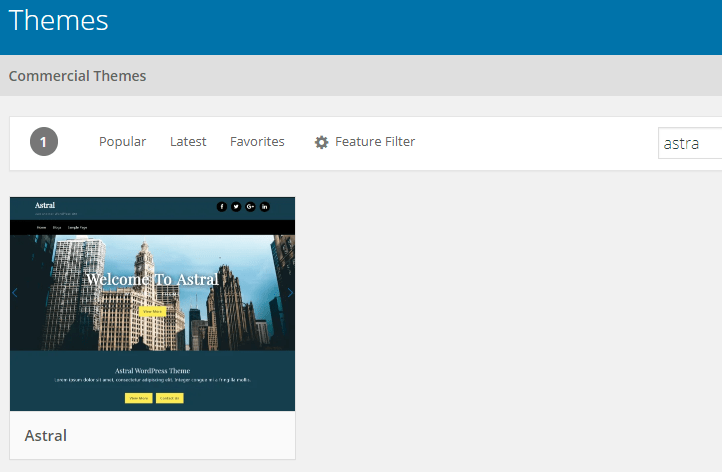 Official WordPress Announcement
On 7 August 2020, TRT Messenger (Theme Review Team Bot), announced the theme Suspension from WordPress.
According to WordPress, Brainstorm Force had been also warned previously.
Official WordPress Statement:
"18 months ago you started adding affiliate links in your theme.

…We have this requirement against this:
Themes are not allowed to have affiliate URLs or links.

We added this requirement more than 18 months ago, specifically for this kind of issue.

We also asked other theme authors to remove such links from their themes and discussed this topic, on Slack & the blog, for many weeks.

We don't understand how you can miss something like this, and it's also not the first time we have to come and tell you something is wrong with your theme.

Because of this, your theme will be suspended for the next 5 weeks (until September 11th, 2020)."
Brainstorm Force Responded
In reply, Brainstorm Force, the Astra publishers, said that the affiliate links are not included in the theme itself. But since the theme itself includes no affiliate links, they say that the theme complies with the rules of WordPress.
Brainstorm Force acknowledged the Astra theme passes referral codes by using third-party plugins.
They Explained:
"We however admit that we used filters available in third party plugins where we only pass our referral code.

But at the same time, we do NOT add any affiliate links or whatsoever as per the requirement.

We're not sure if using the referral filter is against the requirement. But if it is, we're happy to remove it immediately and submit the new version."
Injected Affiliate Links
It has been cleared by Brainstorm Force that affiliate codes are not included. They said that only third-party Plugins incorporated "referral codes."
WordPress linked code in its announcement with the Astra theme that appears to show links from the famous LinkShare / Rakuten affiliate network.


Examples of Code with Affiliate Links
Source: Search Engine Journal