A major explosion has shaken Lebanon Capital Beirut, resulted in shattered windows, knocked doors, and shaking buildings.
It seems the highly reactive chemical ammonium nitrate has been the probable cause of the massive explosion in Beirut on Tuesday.
Prime Minister Hassan Diab, of Lebanon, said that after six years' unseen lying in a warehouse 2,700 tons of ammonium nitrate had exploded, reporting that in 2013, a ship carrying a comparable quantity of the chemical unloaded its cargo at the port. What caused the chemical to ignite remains unclear.
Ammonium nitrate, as a good nitrogen source for plants, is a popular industrial chemical mainly used for fertilizer. It is a major component of mining explosive materials.
It is not explosive on its own, but oxidizer and pulls oxygen into the fire – so it gets much more serious, says Gabriel da Silva, a senior professor of chemistry at the University of Melbourne.
The explosion killed around 78 people with injuring 3700 and sending shockwaves across the Lebanese capital. The explosion took place in the town's harbour, where the storehouses held explosives, NNA and two security sources from Lebanon said. The third source of security said chemicals were stored in the area.
#Beirut #Lebanon 💥💨 pic.twitter.com/pFXvDeKAgF

— Best Tweet (@BestTweet___) August 4, 2020
After the explosion, a red cloud formed over the city, as the firefighters raced to the scene to try to put the fire out. Around 3700 were injured in the explosion, officials said, and the scene photos showed the wounded in the streets of the capital.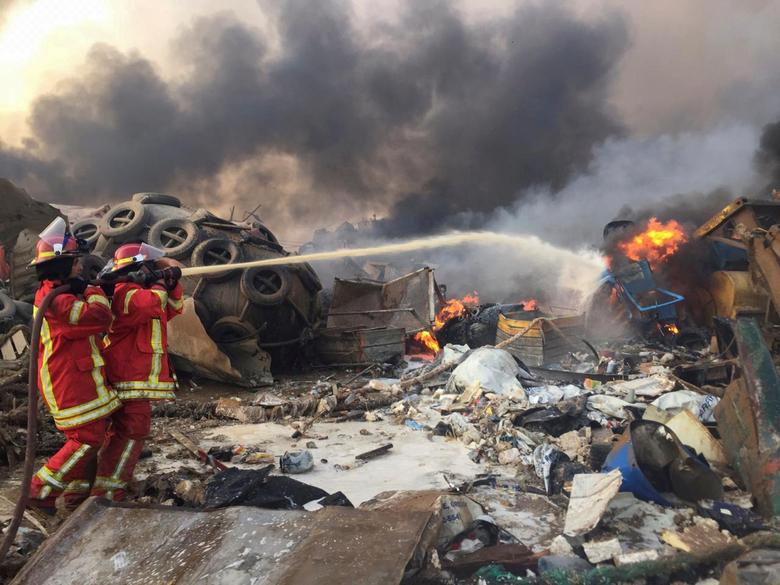 The health minister of the country directed all hospitals in the area to prepare for injuries.
According to witnesses, homes up to 10 kilometres away have been destroyed. A resident of Beirut, several kilometres from the blast site, said that her windows were broken by the explosion. Rania Masri told CNN, "I had thought it was an earthquake"